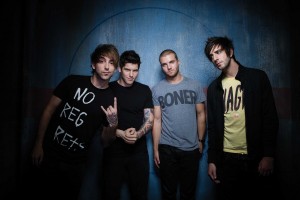 After a brief hiatus,
SKYWAY
are back with plans to dominate the Australian scene with the release of a brand new EP in the latter half of 2013. With an impressive list of supports already under their belt, the band will be sharing the stage with All Time Low in Brisbane.
SWING FROM A STREETLIGHT combine catchy vocal hooks, clever riffs and stunning harmonies to create their own unique blend of high energy rock. Armed with their independently released EP "For a Better Story", the band will be bringing their impassioned and electric live show to Sydney.
BUILT ON SECRETS have fast made a name for themselves after bursting onto the scene in 2008. Their instantly catchy take on ambient-rock translates to an exhilarating live show that will be on display at all three Melbourne dates.
Adelaide's premier pop punkers ALL YEAR ROUND have just returned from recording their debut EP 'In Perspective'. Well known for delivering an energetic live set filled to the brim with catchy melodies, they will be bringing their infectious tunes to the Adelaide show.
————————————————————————————————————————————–
Pop punk perfection… that's ALL TIME LOW in a nutshell!
Not many bands can continually lay claim to constantly selling out shows whenever they tour Australia, but ALL TIME LOW can proudly wear that badge.
ALL TIME LOW have succeeded where so many have failed; in bringing back the glory days of pop punk and their latest album 'Don't Panic' sees "All Time Low at its very best". – Absolute Punk.
TICKETS ON SALE NOW (what's left of them)

WEDNESDAY 28 AUGUST – BRISBANE, THE TIVOLI – All Ages
www.ticketek.com.au
FRIDAY 30 AUGUST – SYDNEY, UNSW ROUNDHOUSE – Licensed All Ages – SOLD OUT!
SATURDAY 31 AUGUST – MELBOURNE, BILLBOARD – 18+ – SOLD OUT!
SUNDAY 1 SEPTEMBER – MELBOURNE, BILLBOARD – Under 18 – SOLD OUT!
SECOND AND DEFINITELY FINAL SHOW
MONDAY 2 SEPTEMBER – MELBOURNE, BILLBOARD – 18+
www.oztix.com.au / www.ticketek.com.au / www.moshtix.com.au
TUESDAY 3 SEPTEMBER  – ADELAIDE, HQ – Licensed All Ages – SOLD OUT!

Presented by Soundwave Touring.