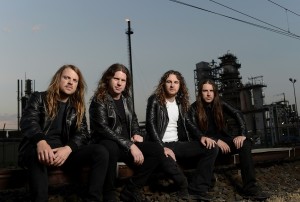 Aussie rock is alive and well, even if it may not always be at the top of the charts or all over mainstream radio (well not the new stuff anyway, you're safe if you released a song before 2000) so when Airbourne are back in Australia, you know you're in for a show that is loud, heavy and a damn good time! So here at The Hi-Fi tonight let's 'Live It Up!'
Now, it's rare that an opening band has the entire crowd rocking on from their first song but Palace of the King came out swinging and they hit the mark. Watching the nodding heads down here on the floor is testament to a great choice of support. This is some great rock and roll and I can't even compare this to anyone as it's a perfect mix of so many bands but man it works, but maybe if you threw Buckcherry and the Black Crowes in a blender you may get close?  Musically they are tight and the songs are catchy and should, no, deserve to be heard by more people. I have to say that there aren't many times I could say that I'd be happy if I left after the support slot, but tonight that could've been accomplished as Palace of the King absolutely killed it. Look out for these guys!!
The wall of Marshall's is revealed as the crowd eagerly awaits Airbourne, at one point singing along as a whole to 'Aces High' by Iron Maiden which received thunderous applause afterwards, so you know that this crowd is ready to rock.
As the Terminator music blasts out as an intro tape Airbourne appear on stage with more than guns blazing, more like these guys brought the whole arsenal. 'Are You Ready to Rock?' kicks off the set and this baby ain't going to slow down that's for sure. 'Chewin' The fat' follows to more mayhem including a can of VB getting a right head banging, literally, on Joel's head and truly as 'bogan' as it may have looked, it was in fact pretty awesome and the crowd loved every second of it. The mosh erupts for 'Diamond in The Rough' and you can see the band feeding off the crowd energy which is amazing or maybe it's the other way around as these guys are running all over the stage without a care in the world other than to rock.
It's rock and more rock with 'Back In The Game' taken from their newest album and 'No Way But The Hard Way' as Joel makes his way through the crowd to the back of the room to shred and straight back up on stage and doesn't miss a beat, damn these guys are tight. Let us now take a moment as it's now we pay respect to the Gibson guitar that sadly passed away after it was thrown back onto the stage by Joel and was damaged. It will be missed.
Time for a ballad. Just kidding. I don't even think Airbourne can spell ballad and if they did they'd probably put the word 'Fuckin' in front of it, it's all about the rock tonight and with a favourite of mine with some some killer guitar synchronization work for 'Raise The Flag' and a sculled bottle of wine, this is just one hell of a show, it's in a way captivating!
Throwing out the title track from their newest album 'Black Dog Barking' and it fits in perfectly with the set as of course keeping that trademark Airbourne sound intact. The air raid siren is sounded as they stick with the new album and it's first single 'Live It Up' and I wish I could type and show you how amazing the mosh looks for this one. Again with new material you can be somewhat dubious of how it'll be received but I can tell you that this song will never leave the set, but it's almost fair to say it's gotten the best reaction of the night so far. A guitar solo from Joel was full of screams and as the rest of the band once again just appear on stage (it's like magic) they tear into Too Much, Too Young, Too Fast' featuring guitar sync part 2. I honestly can't fault this band, they are as tight as me on the last few days before pay day and have an amazing stage presence that can't really be rivalled in this country. My only complaint (for lack of a better word, and if really at all) is that sometimes the vocals got a bit lost in the mix, but when a band is this loud, you just go with it.
Time for 'Runnin' Wild' with a nice little 'Paranoid' riff thrown in for good measure and a little bit of 'Take a Long Line' by The Angels, this song has turned into a monster. They leave the stage and return for an encore… 'Stand Up For Rock and Roll ' is and anthem, it's faster and more intense than everything else heard tonight but with this one they leave us and it's over, if only there was more, as you could tell that they weren't really done yet, nor were those here who have just witnessed a kick ass rock show! So, are Airbourne the most fun live band I've seen in ages? Yes, hands down. That was an entertaining night of balls out rock and roll.
I'll leave the last words to Joel O'Keeffe – "As long as you are alive, and we are alive, Rock and Roll will never die."
Essential Information
Venue: The Hi-Fi, Sydney
Date: July 27, 2013
Website: www.airbournerock.com
Support: Palace of the King – www.palaceofthekingmusic.com
Check out our chat with 'Roadsy' of Airbourne HERE
Set List
Ready To Rock
Chewin' The Fat
Diamond in The Rough
Back In The Game
No Way But The Hard Way
Raise The Flag
Black Dog Barking
Live It Up
Too Much, Too Young, Too Fast
Runnin' Wild
Stand Up For Rock and Roll