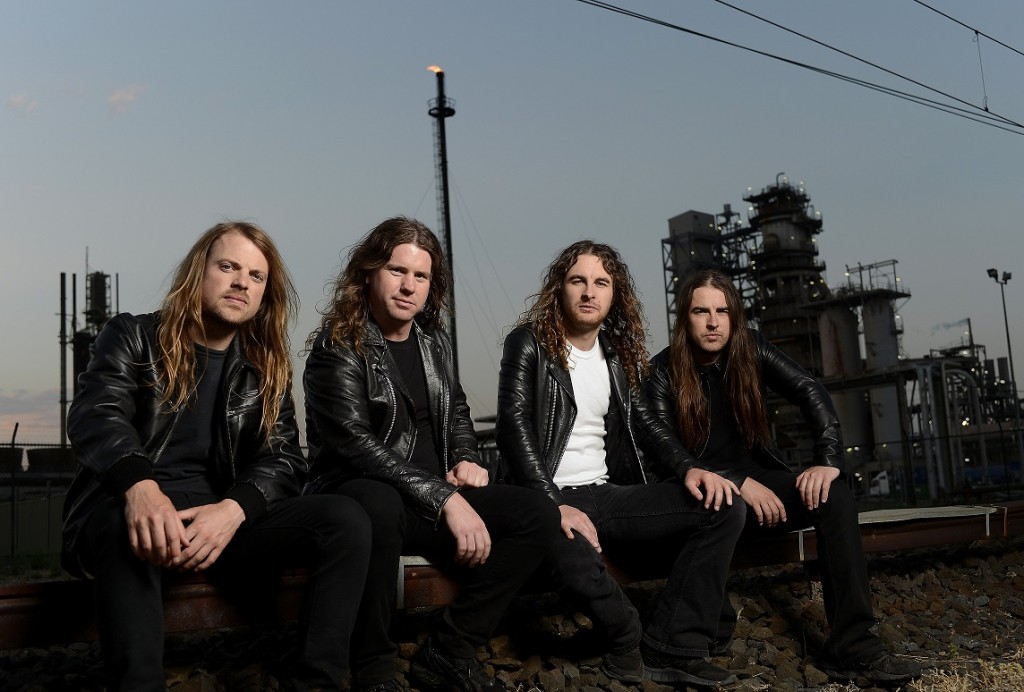 "We're the kind of band that's a live band, we always just want to be touring and playing shows but at the same time you've got to tell yourself that you can't do that until you write a good album and make sure you do it right and release it *laughs*."
From Bio and this sums the band up perfectly: Airbourne is the walking, talking, living, breathing, screaming, spitting, fist-pumping embodiment of all that hard rock has encompassed since the movement began.  Fun-loving, rip-roaring, hard-partying and filled with melodic danger and grinning optimism, Airbourne craft underdog-championing anthems with reckless abandon.
With their third album just around the corner (released May 17) and the two already before it that carved Airbourne a name in the rock world as not only a kick ass rock band as mentioned above, but also one of the best live acts out there at the moment, and they're not slowing down…
We chatted to Roadsy ahead of the release of the band's new album 'Black Dog Barking' to talk about it and its creation as well as touring and his love of his home country.
You're about to release your third record, and congratulations on it, it's a ripper.
Thanks mate.
So can you tell us about the title track and album title 'Black Dog Barking' and the meaning behind it…
Yeah no worries, the title 'Black Dog…' is something that Joel and Ryan came up with and there's actually a few different meanings to it and Joel would probably give you the best description of it ever, but it's kind of like one of the meanings is what we've been through as a band, all the rigors, the ups and the downs throughout our career, the good times and bad times and it's kind of felt like at times we've had a black dog on our shoulder riding us when going through the hardships of touring and when things have gone wrong. There's even relations to Winston Churchill back in World War 2, they called him 'The Black Dog' cause of some of his speeches he used to give his troops before going into battle, and I think as a band we have inter-band lingo and names for things like 'No Guts. No Glory.' the name of the last record for example is something we've just always said and are inspiring kind of words and I guess 'Black Dog Barking' is the same kind of things. Those little sayings we say always end up making a good rock and roll album title, not to mention the artwork to go with it.
It's been three years since your last release, after so much touring, what was it like getting back in the studio and pardon the pun 'Back in the Game'?
Yeah it was good, I mean we spent a lot of time back in Australia on this record, a lot of time writing and wanting to make sure we got it right and do a good album and so we were happy to get into the studio to see the end of pre-production and finally get it recorded, but it's not long until we get itchy feet when we're in the studio. It's all stressful though because you're still working on songs and doing last minute fine tuning on songs and stuff, when you're in there you're thinking I can't wait to wrap this album up and be happy with it and just can't wait to get back out on the road. We're the kind of band that's a live band, we always just want to be touring and playing shows but at the same time you've got to tell yourself that you can't do that until you write a good album and make sure you do it right and release it *laughs*. So it was a good experience on this album, if anything it was a bit more chilled out I reckon with our producer Brian Howes, we get along with him and his engineer Jay, we got on really good, so we had a very good working friendship there that was enjoyable I guess.
You mention you worked with Brian Howes as your producer on the album, changing it up again from the first two albums, but did he bring to the album that you hadn't done before or had not thought to have done?
Yeah, he did, he's a very singer orientated type producer, he's very influenced by bands like Def Leppard and Whitesnake, he loves all those 80's type bands and he loves a lot of bands that we all like and him working with us, he was like a fifth member of the band really, we're on the same page and he knew what we were. In the likes of guitar tones and stuff, Joel and I just worked with his engineer Jay Van Poederooyen and we managed to get some ripping tones there. Brian was really good on just coming in and letting us have our space and work on stuff, but if we got stuck on certain bits like song structure, he would come in and help us out and we'd discuss stuff together . So in a way he really did bring a lot to the table and he kind of really did crack the whip on us all like singing and performance wise like to hit the right melody and if it wasn't right he'd make you sing it over and over again until you nail it, and we didn't have that on the last couple of albums, but this album you can notice it.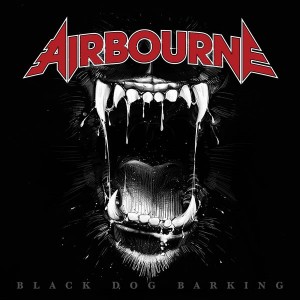 At just under 35 minutes, the album is just rock from start to finish, you mention that Brian loves Def Leppard and Whitesnake, so are you working up to the big stadium ballad on album number four?
*laughs* I don't know about like ballads, but we've always got stadiums in mind when we're writing songs though, we always actually mention that, we say 'can you imagine playing this in a stadium?' or 'can you imagine playing this at Wacken festival in Germany in front of 80 – 100,000 people?' and if we can't imagine that we won't put it on the album, so we kind of treat every song like that in a way.
It's hard to reinvent the wheel with balls out rock and roll, but did you have a plan going into making this new record to try something different that you hadn't attempted before song wise?
Well yeah, I guess we're becoming more and more our Airbourne sound. I know we've always worn our influences quite heavily on our sleeves, but we've definitely got out own Airbourne sound, it's always meat and potatoes rock and roll but we just want to have I guess a young, fresh, modern approach to it if that makes sense. Not like a modern style band or sound like it's from the 70's, or the 80's and try and create it so it's new and fresh like it's rock and roll roots.
With the Australian rock scene at the moment, what are your thoughts on it compared to what you've seen around the world?
Well most rock fans and crowds are all the same, they just love to come down, have fun, get drunk and have a good time, I guess the markets small in some places and bigger in others. Obviously in Europe they have those big festivals that attract two – three times the size of what Big Day Out would ever have. Australia's great, we always have good shows there, we're so far away, we're such a massive country land mass wise but the music market's small in Australia you know? Without Triple J and Triple M, I mean Triple M has been playing the new song quite a bit and to have mainstream radio play here in Australia is a big thing to get you out there more, where Europe and those kind of markets, I don't know how they work, they seem to have your diehard fans that will follow your every step kind of thing. It's pretty similar though, yeah.
Touring is something you guys do pretty much more than anyone, with a slurry of festivals and overseas dates coming up, but more importantly you're heading back home to play some shows this July as well as the Splendour In The Grass festival. What's it like coming home to play shows for you guys compared to those overseas?
I love it, I love playing Europe and big festivals as well, but there's just a comfort factor about coming to your home country you know? We can be away on tour, but I still miss Australia every day, and I love getting back there, I love the country and it's just great to get back there and be comfortable and familiar with your own surroundings. Even when you're driving, you know what to eat, what's healthy, when you're driving around America it's so hard to eat healthy on the road *laughs* and stuff like that. It's great, I'm glad we're coming back so soon on this touring cycle as well, as on the last tour we didn't get back to Australia for three years, so it's good that we're coming back for a quick run at the end of July.
For someone who has never seen you before, give us three words that sum up an Airbourne show…
High Energy Rock.
Are you planning on adding any more dates to the run in July?
Yeah well on this run we're going Warrnambool, Melbourne, Canberra, Sydney, Splendour. We may do more touring in Australia next year, it's just that our booking agent overseas and our record label in America have booked in so much stuff for us overseas we were happy we had that little gap to get back and throw those few shows in. Unfortunately we couldn't get Adelaide and Perth and do a more extensive tour, but we'll definitely be coming back at a later time to do a proper tour again.
Since the formation of the band in 2003 how have you seen the band evolve in these ten years?
Well we have changed a hell of a lot as a band and as players and that's all just been through playing every night, we've been together for going on ten years now and I think our singing, our stage presence and performance on stage, even individually as a player, everybody's kind of evolved and created their own character as to what they do on stage. I guess we've just gotten better as players and gotten better as a band from playing every night and all that extensive touring has been the best. We've become pretty tight as brothers and friends as well, all that living together on busses and stuff. *laughs*
Essential Information
From: Australia
Band members: Joel O'Keeffe – vocals/lead guitar, David Roads – guitar, Justin Street – bass, Ryan O'Keeffe – drums
Website: http://www.airbournerock.com
Forthcoming release: Black Dog Barking (May 17 – Roadrunner Records Australia)
Catch Airbourne on tour in Australia this July:

Tickets are also on sale May 17 at 9am EST from www.airbournerock.com
Friday 19 July 2013
Whalers Hotel, Warrnambool, VIC
Saturday 20 July 2013
Corner Hotel, Richmond, VIC
Friday 26 July 2013
ANU Bar, Canberra, ACT
Saturday 27 July 2013
HiFi Sydney, NSW
Sunday 28 July 2013
Splendour in the Grass, Byron Bay, NSW