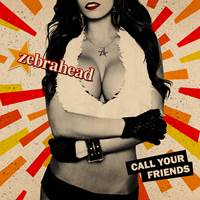 LISTEN TO 'CALL YOUR FRIENDS' SNEAK PEAK HERE
Formed in the mist of the Orange County punk explosion the La Habra, CA-based punk inspired rock outfit ZEBRAHEAD is gearing up to once again bring the distinctive fun-filled sound to the masses with the upcoming worldwide release of Call Your Friends, produced by Cameron Webb (Pennywise, Megadeth, Motorhead) with an Australian release on August 16th on 3Wise/Sony Music, the album will be available at both retail and digital outlets.
"We were really lucky to work with Cameron Webb again on Call Your Friends.   He has really become part of the zebrahead family" explains bassist Ben Osmundson.  "We had a great experience working with Cameron Webb, he supplied us with a stocked fridge and drove us to lunch" adds singer/guitarist Matty Lewis
Call Your Friends is the bands tenth studio album since their incarnation and together they have shared highs and lows, sold over 2 million albums to date, survived label changes, garnered a Grammy nomination with Motorhead for best metal performance and toured the globe nonstop.
"I think the zhead fans will be stoked on the new album, it contains songs that not only have our trademark pop-punk feel but also heavier songs that will be great to play at live shows and should really get the crowd going" — says vocalist/rapper Ali Tabatabaee
ZEBRAHEAD is vocalist/rapper Ali Tabatabaee, vocalist/guitarist Matty Lewis, bassist Ben Osmundson, drummer Ed Udhus and the band officially welcomes guitarist Dan Palmer to the zebrahead family.
It all started with the release of the EP Yellow on the indie label Dr. Dream in May 1998, the buzz began and ZEBRAHEAD signed to major label Columbia to release their full-length debut, Waste of Mind, which appeared later that same year. Playmate of the Year was issued in mid-2000 to rave reviews, the album's infectious title track received over 4000 spins on Modern Rock and Rock radio, garnering airplay on some of the planets biggest alternative stations. Stupid Fat Americans EP followed only in Japan the next year. Then came the 2003 release of ZEBRAHEAD's critically acclaimed MFZB.  MFZB had the highest testing alternative song for months running with "Rescue Me".  MFZB also went gold in Japan!  The band spent the summer of 2006 on the Vans Warped Tour as Broadcast to the World was released overseas that July through SPV/Sony. The album went gold in Japan in just a month's time, and the guys spent fall on dates throughout Europe.  In 2008 the band released Phoenix with a warning from Absolute Punk "listen with caution as your face may melt right off of your head", in 2009 the band released Panty Raid followed by their 2011 release Get Nice and nonstop touring ensued throughout.
"I think the fans will really like the new record if they like songs about beer played by really sexy good looking guys" explains Ed, "This will without a doubt be our fans favorite album since MFZB.  If it isn't I should never go to Vegas again!" says Ben.  "I hope the fans will be stoked on the new album…or else I'll be on the TV show "Pawn Stars", pawning stuff for money" adds Matty.