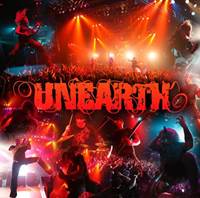 Metal veterans UNEARTH have signed an Australia record deal with 3Wise Records. The band plans to release a brand new LP later this year, their sixth spanning the band's 15 year tenure. Vocalist Trevor Phipps offers the state of the band and their intentions for this new release in his comments below:
 "A new chapter has begun for Unearth as we have found a few new places to call home. By joining forces with E1 (North America), Century Media (Europe), Howling Bull (Japan) and 3Wise (Australia) we will have a more focused attack from some of the most well-known and respected labels in the world. We know this new beginning of sorts will bring bigger and better things for Unearth and our fans and we couldn't be more excited for the future of all things Unearth. We are currently in the studio recording some of the most aggressive, anthemic and energized metal we have ever written and we look forward to unleashing it to you all when it is finished.  Expect to hear more about our new album, release dates and future world wide touring plans later this summer."
 After an awe-inspiring 15 years of blazing trails and dominating stages, UNEARTH is now institutionalized as a relentless force in heavy metal, standing the test of time with consistently triumphant creative output, tireless road warrior resilience, Blue Collar style workmanship and a resolute determination to deliver the goods.
Like Slayer, Cannibal Corpse, Testament and Anthrax before them, UNEARTH emerged as part of a burgeoning revolution in heavy music but continued to maintain their relevance and mastery of their craft. They've resisted and prevailed against changing trends, subcultural fashions and the way music is obtained and distributed with their credibility, integrity and unique persona intact.
With roughly 500,000 in worldwide sales, UNEARTH's continued staying power has also hinged on their highly interactive and toweringly heavy live performances. Over the course of a relentlessly impressive career, UNEARTH have played amphitheatres, sheds, theatres, halls and clubs with a diverse group of bands that includes Slipknot, Slayer, Killswitch Engage, Lamb Of God, All That Remains, DevilDriver, Dimmu Borgir, Gwar and Whitechapel. They've appeared at prestigious festivals like Soundwave in Australia, Download in the UK, Germany's With Full Force and Wacken, Belgium's Graspop, Hellfest in France and Japan's Loud Park.
With an average age still well behind the genre-forefathers and legends ahead of them, UNEARTH are committed to collaborating on uncharted new heights within their music. No sell-out, no experimental adventurousness and no letdown for their extremely dedicated fans on the horizon. With a blank slate in front of them, UNEARTH will always steadily maintain and powerfully proclaim their allegiance to the lifestyle, the ethos and the community of heavy metal, both now and forever.