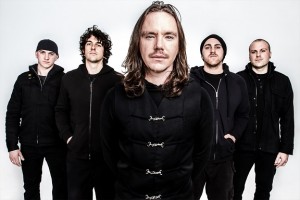 TWELVE FOOT NINJA are one of the most talked about bands in Australia and with damn good reason! They have just come off a sold out national tour supporting the release of their killer new album, 'Silent Machine' which Beat Magazine exclaimed as "a unique and eclectic rock masterpiece".
TWELVE FOOT NINJA embodies originality in everything they do and they're now ready to take on the rest of the World!  Although the world needs to wait a few more weeks as they have just been confirmed to support Fear Factory on their upcoming July tour!
———————————————————————————————————————-
FEAR FACTORY's 'Demanufacture' is "a landmark of '90s metal that defied categorisation and remains a touchstone of the genre. " – Kerrang!
Metallica's Black album may have set the marker for highest selling metal album on the 90's, but only 1 album can lay claim to being the decade's most innovative and revolutionary: FEAR FACTORY's 'Demanufacture'.
Metal Hammer recently exclaimed "'Demanufature' was so far ahead of its time that bands are still failing to rip it off convincingly today, Fear Factory's ultra-precise extreme metal attack dragged metal into the future."
For the first time ever FEAR FACTORY will be performing their classic album 'Demanufacture' in its entirety and Australian fans will get to witness this first hand in July.
_______________________________________________________________________
TICKETS ON SALE NOW
THURSDAY 4 JULY – BRISBANE, THE TIVOLI – 18+
www.ticketek.com.au 132 849
FRIDAY 5 JULY – SYDNEY, UNSW ROUNDHOUSE – Licensed All Ages
www.ticketek.com.au 132 849
SUNDAY 7 JULY – MELBOURNE, THE PALACE – 18+
www.oztix.com.au & www.ticketek.com.au 132 849
TUESDAY 9 JULY – ADELAIDE, HQ – 18+
www.oztix.com.au & www.venuetix.com.au
THURSDAY 11 JULY – PERTH, METRO CITY – 18+
www.oztix.com.au
Presented by Soundwave Touring