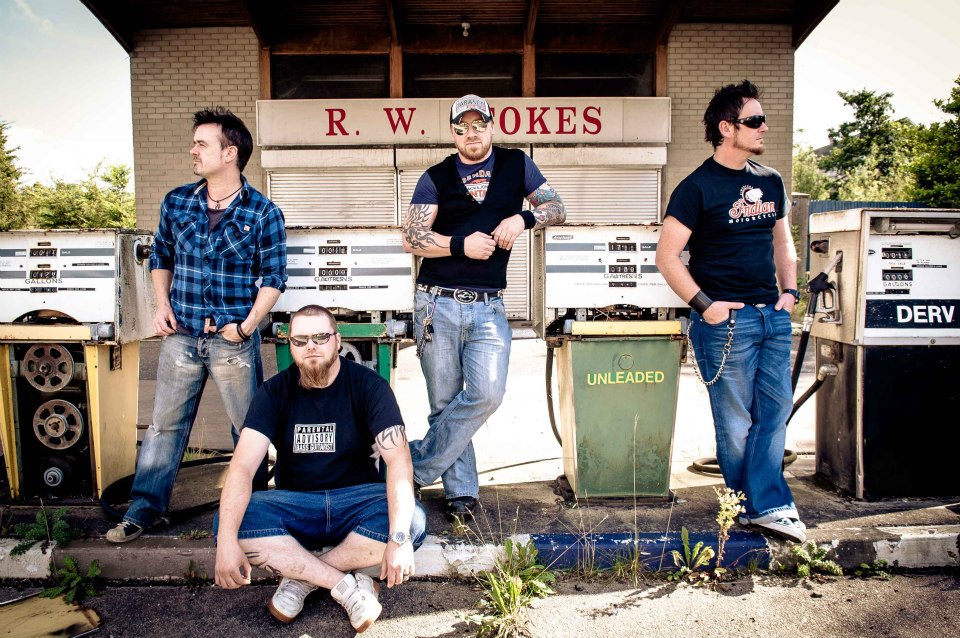 "There's no real gimmicks with us and we just try and stay true to ourselves and I think that's part of the reason they follow us, partly because of the music, but partly us as people because we take the time to talk to people, we drink beer with the fans, there's no real difference it's almost like a blue collar rock and roll type of thing."
From Bio: ….And the Big Truck keeps on rolling. As their catchphrase states, the Big Truck certainly does keep on rolling. Trucker Diablo are a band that have gone from strength to strength, through hard work and dedication to their craft. What does 2013 have in store for the Trucker boys? After the success of their debut album 'The Devil Rhythm', the band will start 2013 with the release of the highly anticipated second album 'Songs of Iron', was released officially in May of 2013 by Ripple Music and first single 'The Rebel' was released on the 1st February.  There's a big open road in front of Trucker Diablo, jump on board, be a part of the convoy and catch the Big Truck on tour in the U.S, Europe and U.K in 2013.
We've backed them from day one, we love the Truckers, so I loaded up on some beers and had a great chat with singer Tom all about their new album 'Songs of Iron' as well as the evolution of the band. We hope for big things for these guys and they truly are one of the Best Things You've Never Heard.
In putting 'Songs of Iron' together, did you consciously set out to do anything different from your debut?
I think this time we tried to get it all done in two weeks, I thinks the first album was a quick process it was like grand, people are starting to like the band, let's do an album and how many songs have we got? Five… Ok, well let's do another five and then Bob's your uncle. This time around we were a lot more conscious as it's the second album which everyone always goes on about, but we road tested some of these songs live and we were pretty confident that it was going to be good, and when we heard the album, we were just blown away, we were like holy crap, this is fuckin' amazing, hopefully I can quit my job and start rockin' full time.
I can hear the evolution of the band instantly when listening to the new album, how do you feel you've grown as a band musically since the release?
Just in terms of songs, I think the songs have grown, not just lyrics, *laughs* on the first album we were like, we've got a verse, let's just repeat that verse two times and that's the song done. This time we sat down and really tried to pour some personal stuff into it so people could relate a bit better, so I took a lot more time with the lyrics and made sure they really fitted the music. I think we were more picky of riffs and stuff and I'd written quite a lot of the album on my own as I have a rock shed at home where I sort of keep beer and guitars, so it was kind of the best place for me to go and get inspired and I took a good three to six months in refining all the riffs and all the songs and just making sure we were ready. So there was definitely more time and I think they're more mature the songs this time around, but the same kind of formula, the big choruses and the big riffs that get everyone singing along.
Song wise, what inspired the songs for 'Songs of Iron'?
I think growing up in Northern Ireland I think everyone gets inspired or motivated or demotivated by the shenanigans over the last thirty years, and I remember as a kid being surrounded by that and I think it's hard for you not to write about that, but I can't talk, especially on one of the songs, 'The Streets Run Red', that was about me growing up in all the troubles going on in Northern Ireland, but using music and rock and my motivation and writing about how I didn't get caught up in that, that I chose down that road. So it was searching all the old memory bank and what was memorable at the time, so probably more in depth this time.
In particular, first single 'The Rebel' has one hell of a groove, is there a story behind that one?
It's not a personal song, it's just a story that I sat down and wrote out about a guy breaking a deal and doing whatever he can to get back to the girl he loves, so a bit of a Rebel love story type of thing, so it's about that and it really came together really well.
Now, I'm a sucker for a ballad, like a big sucker… and a song like 'Maybe You're The One' is such an unexpected treat on a rockin' album. What was the idea the one behind running with this big power ballad?
It was never really going to be on the album, it was a song I'd written on an acoustic, an old acoustic and I was just sitting around playing it in the house and I really can't remember how it came about, but I was just playing it in rehearsal one time and one of the guys said 'what's that tune there?' and I said, well just a song I've been writing and I think when I played it we really started to evolve it and it really became the best it could be in the studio. We sat down and really worked on it and after we heard it we were like holy crap, this is flippin' some kind of big power ballad you'd hear years ago, it was one of those unintentional one, and when we heard it in the studio there was just no way we could leave it off the album, it's just too good you know? It's great, it just showed a different side of us and that it's not all about a hundred miles an hour, we can park the Truck and chill out for a bit.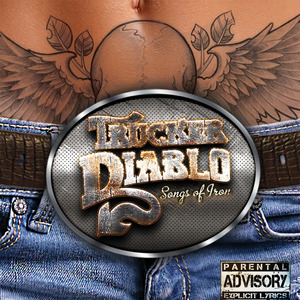 I'm a bit worried that there are a couple of songs on the album that come in under 4 minutes, what happened there? Ha ha
I don't know, I know on the first album 'Drink Beer Destroy' was the perfect single length, it was definitely unintentional, definitely looking back at the album we were thinking, shit, these songs are quite long for us but you're struggling to take parts out and not do justice to the songs, but it was definitely unintentional.
At any time did you step aside from the first album and think that you need to re-evaluate the band and we're going to make this second album and this is what it's going to be?
Yeah I don't think it was a conscious decision, I think it was circumstantial, I mean the band really started to shift after the first album came out and we got picked up by Ripple in the States and people really started to get into the band and we needed to step up as if we want to do this full time, we need to make sure that these songs are completely kick ass and people love them. I think there was something there, a bit of fire in us and I think it was just the reaction from people, when people react in such a good way, how can you not deliver something that's really good and that you love, you wouldn't be doing it justice, you just wouldn't.
Touring wise, you're heading over to the US this year I believe as well as the UK, explain a typical Trucker Diablo show to someone who may not have seen you before…
When we walk on stage we usually have beer in our hands, so statement of intent, we're drinking beer, and if you're not drinking beer you should probably go and get a beer and be ready to rock and we're going to have a party and if you want to be involved, let's party. It's pretty much good times we're a good time band, we all like to laugh and have a bit of a drink and I think that transcends onto the stage with the music, so I think a lot of people can relate to that.
Tell us about the experience of opening for bands like Thin Lizzy and Foo Fighters…
It's really surreal because I grew up with some of these bands and holy Christ to be even on the same stage as some of these guys is a dream come true, but before you go on the stage you're more concentrating on putting on a good show, so you're not concentrating on getting star struck or getting caught up in the moment and right guys, let's make this a really good show, we're here to do ourselves proud and also warm up the fans of these great bands, so put on a great show and touch wood so far all shows have been great and all shows have been received really well.
When I chatted to Ricky Warwick, he only had nice things to say, how does it feel when you get praise from an artist you've not only worked with but have been a fan of for years?
It's so unbelievable, like the first time I saw Ricky was with The Almighty, they were on the Fear of The Dark tour with Iron Maiden and I remember hearing 'Free 'n' Easy' and then three years ago Ricky was on stage with us playing 'Free 'n' Easy' and you're going Jesus Christ, how do these things happen? It's just unbelievable… Ricky's been just a great friend to us and a really good supporter of the band, he sent us a message recently to say he was talking about us on this Rock TV show that goes out national, so hopefully when that goes out we can start spreading it around and really see if it does us any justice. It's great of Ricky to do that and the pints are definitely on us next time we see him.
So… when are you coming to have a beer with us?
Look, book the shows and we will come… in Australia we've had some great reviews and I know MMM have been playing us and been on MTV in Australia, we really think we're a good fit for Australia and I think the Irish and Australians have so much in common that it's unbelievable but it's just getting there. I know the guys from Soundwave have tweeted us a few times and thought the band was great, if we can get it out there we'll make it happen it's as simple as that.
No stranger to a beer, so after a few, who in the band is always the in bed first?
Hands down I'm the first one to bed, I'm borderline narcoleptic, beer makes me pass out, I have a limit and when I reach that limit my brain says 'Right Tom, you're going to sleep' and nite nite it's game over…
In only five years as a band, what's the most important thing you've learned?
I think it's probably to stay humble and just appreciate everything you get from your fans, because your fans are the people that really put you there and you've got to stay real. There's no real gimmicks with us and we just try and stay true to ourselves and I think that's part of the reason they follow us, partly because of the music, but partly us as people because we take the time to talk to people, we drink beer with the fans, there's no real difference it's almost like a blue collar rock and roll type of thing. I think the best bands who have that kind of attitude really achieve and have the longest fans.
If there's one message that you're trying to get across with the music of Trucker Diablo, what would it be?
When I was a kid listening to bands like Pearl Jam and Metallica, those songs really impacted emotionally and made me feel a certain way, and I just want people to feel something when they listen to our music and it's not just something that they just pass off, we want people to really touch people and them to fall in love with them, so it's just realty we want these songs to be a part of their lives as much as they're a part of our lives.
What does the remainder of 2013 have in store for the Truckers?
We played in Paris last week and it was unbelievable and we're back in France at the end of June, then we're back in the UK for a few shows at the end of July. After that we're going to plan a tour to promote the album and hopefully towards the end of the year there's normally a couple of tour supports that come about, so we're just going to keep pumping the album and hopefully all the next year all the hard work that's happened this year can really help us propel into something special next year. We were supposed to go to the states this year but it's purely down to the booking, and we have to get a booker to get us over there and that's more than likely going to happen next year, when we get a chance to play it'll be a one shot so hopefully that happens. We're definitely just getting out there more and hopefully we can start doing this full time and stop working.
Essential information
From: Northern Ireland
Check them out if you like: Rock and Roll
Band members: Tom Harte – Guitar/Vocals, Simon Haddock – Guitar/Vocals, Glenn Harrison – Bass Guitar, Terry Crawford – Drums
Website: http://www.truckerdiablo.com
Latest release: Songs of Iron (Ripple Music)