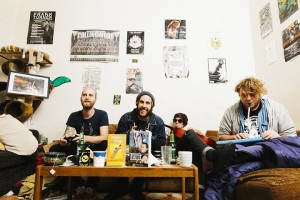 In their grand spirit of never
ever
ever slowing down, Melbourne's beloved 
THE SMITH STREET BAND
have announced that they'll be venturing overseas to explore lands unknown off the back of their new EP. They'll take off just days after wrapping up their August headline tour in support of new 5-track EP/10″
'Don't Fuck With Our Dreams',
and hit the UK, Europe, USA and Canada.
The band's first ever European tour will see them team up with new UK pals Apologies, I Have None to travel from Belgium through to France and then join forces with Great Cynics for ten shows spanning Kingston to Cardiff. They'll then embark on a marathon  42-date North American tour as main support for friend and former Australian touring buddy Frank Turner and his band The Sleeping Souls.
See all tour dates below.
 Wrap your ears around new track
'Bigger Than Us'
via Poison City Records
here
.
EP/10″ pre-orders now available
here
.
The Smith Street Band – 'Don't Fuck With Our Dreams' – EP/10″ Out August 9th via Poison City Records
AUGUST/SEPTEMBER AUSTRALIAN TOUR
With JOYCE MANOR & CHEAP GIRLS (Tix here)
Thu Aug 22 – Rosemount Hotel, Perth
Fri Aug 23 – Prince of Wales, Bunbury
Sat Aug 24 – Adelaide Uni Bar, Adelaide
Sun Aug 25 – Karova Lounge, Ballarat
Wed Aug 28 – Brisbane Hotel, Hobart
Thu Aug 29 – The Zoo, Brisbane
Fri Aug 30 – Great Northern Hotel, Newcastle
Sat Aug 31 – Annandale Hotel, Sydney
Wed Sep 04 – Transit Bar, Canberra
Sat Sep 07 – The Corner Hotel, Melbourne – 
SOLD OUT!
SEPTEMBER – UK & EUROPEAN TOUR
With APOLOGIES, I HAVE NONE
Wed Sep 11 – Birthdays, London, UK
Thu Sep 12 – Youth Centre, Zoersel, Belgium
Fri Sep 13 – Riddim, Venray, Holland
Sat Sep 14 – Tower, Bremen, Germany
Sun Sep 15 – AJZ, Bielfeld, Germany
Mon Sep 16 – Schlathof Club, Wiesbaden, Germany
Tue Sep 17 – Juna West, Stuttgart, Germany
Wed Sep 18 – Circus Maxmus, Koblenz, Germany
Thu Sep 19 – Stummsche Reithalle, Neunkirchen/Saar, Germany
Fri Sep 20 – La Miroitere, Paris, France
Sun Sep 22 – The Fighting Cocks, Kingston
Mon Sep 23 – Corner House, Cambridge
Tue Sep 24 – Corporation, Sheffield
Wed Sep 25 – Red Room, Nottingham
Thu Sep 26 – Wharf Chambers, Leeds
Fri Sep 27 – Wahl Bar, Manchester
Sat Sep 28 – Kage, Dundee
Sun Sep 29 – 13th Note, Glasgow
Tue Oct 01 – Joiners, Southampton
Wed Oct 02 – Clwb Ifor Bach, Cardiff
OCTOBER/NOVEMBER – NORTH AMERICAN TOUR
October 04 – Beachland Ballroom, Cleveland, OH
October 05 – Intersection, Grand Rapids, MI
October 06 – Wooly's, Des Moines, IA
October 07 – The Waiting Room, Omaha, NE
October 09 – Ogden Theatre, Denver, CO
October 11 – Urban Lounge, Salt Lake City, UT
October 12 – Hard Rock Live Las Vegas, Las Vegas, NV
October 14 – The Fonda, Los Angeles, CA
October 15 – House of Blues, San Diego, CA
October 16 – The Fillmore, San Francisco, CA
October 18 – The Neptune, Seattle, WA
October 19 – Wonder Ballroom, Portland, OR
October 20 – Commodore Ballroom, Vancouver, BC
October 22 – MacEwan Ballroom, Calgary, AB
October 23 – The Union Hall, Edmonton, AB
October 25 – Louis', Saskatoon, SK
October 26 – The Garrick, Winnipeg, MB
October 28 – Varsity Theatre, Minneapolis, MN
October 29 – The Vic, Chicago, IL
October 30 – The Blue Note, Columbia, MO
November 01 – Granada Theater, Dallas, TX
November 02 – Mohawk, Austin, TX
November 04 – Fitzgerald's, Houston, TX
November 05 – Soul Kitchen, Mobile, AL
November 06 – Jack Rabbits, Jacksonville, FL
November 08 – Culture Room, Ft. Lauderdale, FL
November 09 – Beachum Theatre, Orlando, FL
November 10 – Center Stage Theater, Atlanta, GA
November 12 – The Music Farm, Charleston, SC
November 13 – Jillian's, Columbia, SC
November 15 – Amos' Southend, Charlotte, NC
November 16 – The Norva, Norfolk, VA
November 18 – The Orange Peel, Asheville, NC
November 19 – Jefferson Theater, Charlottesville, VA
November 20 – The Taft Ballroom, Cincinnati, OH
November 22 – St. Andrew's Hall, Detroit, MI
November 23 – Town Ballroom, Buffalo, NY
November 24 – Calvin Theater, Northampton, MA
November 25 – Upstate Concert Theater, Albany, NY
November 27 – Terminal 5, New York, NY
November 29 – Electric Factory, Philadelphia, PA
November 30 – House of Blues, Boston, MA
Sun Nov 03 – Venue TBA, Gainesville, FL