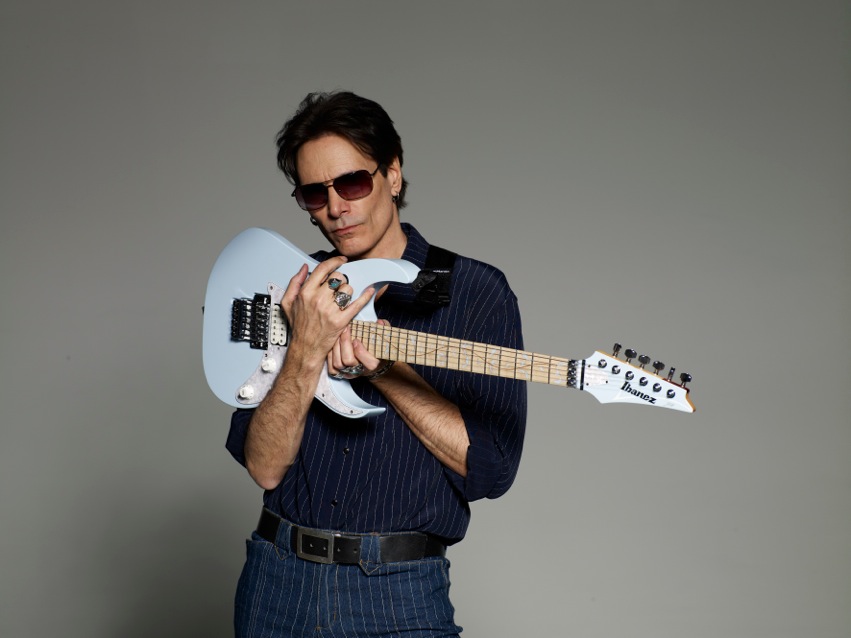 "I like to let each musician shine a bit in their own light, and I like to have a bit of an acoustic set and at least one part of the set that is a bit outlandish. This time I came up with something absurd. At one point in the show I invite a few audience members up to build a song for the band to jam on. It's been working out amazingly well and some pretty funny things have happened."
For guitarists, Steve Vai needs no introduction, in fact raise your hand if you started playing guitar because of Steve Vai… thought so. His thirty years in the business has seen him play with artists such as Whitesnake and David Lee Roth to releasing his numerous solo albums and touring the world solo, as well as with the amazing G3 tour and with the likes of Dweezil Zappa and more. Basically, there isn't much that he hasn't done. To watch him play is something you definitely need to see and Australian audiences are in for a treat this July.
So before heading to Australia for his first run of solo shows in a while, we had Mr Vai answer some questions for us about his upcoming shows, touring, music and the best way to woken up… yeah… read on…
Thanks for taking the time to answer some questions for us today, Steve.
No worries, Thank you.
Now, you're heading back to Australia for your own headline shows, your first in a while here, are you pumped to be able to come back and share your music with us again in your own shows?
Very much so! I have been to Ausi with Dweezil and G3 etc., but nothing is more exciting to me as my own full show. I very much enjoy doing G3, but my solo shows have a different energy.
You were of course here for the G3 shows last year, how did you enjoy that run with Joe Satriani and Steve Lukather?
I believe I have to say it was one of my very favourite G3 tours. Steve, Joe and I laughed hard most of the time. It was a great vibe, beautiful timing and weather and a top knotch crew and band, all the things that makes a musicians life on the road grand. I've changed a lot over the years and appreciate touring more now than ever.
With over thirty years now in the business and eight solo albums, how do you create your set these days? Is it something that is ever changing?
When touring, I'm usually in support of a new record so there is 6-7 new tracks in the set list, some usual suspects that the fans expect, and a handful of tracks from the catalogue that have either not been played for a while, or have never been played.
I like to let each musician shine a bit in their own light, and I like to have a bit of an acoustic set and at least one part of the set that is a bit outlandish. This time I came up with something absurd. At one point in the show I invite a few audience members up to build a song for the band to jam on. It's been working out amazingly well and some pretty funny things have happened.
How do you approach a G3 show compared to your own shows? Is there a different 'ritual' for lack of a better word in your preparation?
My set for a G3 show is usually around 45 minutes and the solo show can run up to, and sometimes over 2.5 hours. The songs I choose for the G3 are usually very straight forward guitar instrumentals and the solo show does that, but adds more dense material and some vocal songs. Plus, I change my clothes like 4 times during my solo shows!
You've had a bevy of musicians play in your band over the years, but the guys in your band presently you've had for a while now, what is it about this line up that works to bring your songs to life?
They are solid, dependable, big eared, uniquely talented musicians, and I feel fortunate to have them in the band. Besides being all that, the first thing I look for in a musician is their attitude and road worthiness. Once you get out there on tour, there are no secrets at sea and you want to be with guys that know how to have a good time.  A bad apple can ruin the experience for everyone.
'The Story Of Light' is your first album in seven years, has this given you the bug again and can we expect to hear more material from you sooner rather than later?
Yes, for sure. When I look back and realize all the side projects I did and how I spent time on other things, even though I enjoyed doing those things, nothing is as rewarding to me as doing my own music. In that period I did release a double live orchestra record and DVD, a live DVD and CD and some Vai-Tunes, but I'm eager to start my next record now. And I did. I'm on tour right now with a 50 piece orchestra and we are playing tracks that will be recorded and released as my next record. It's a wild ride.
Also the second part of the trilogy, is there a chance we'll have to wait another seven years for the conclusion of the story?
Perhaps longer. It's a life project.
You have been around Australia more times than I think half the people that live here have, but do you have a stand out memory of a visit that you can share with us?
Whenever I'm in Australia my favourite place to visit is Rottnest Island off the coast of Perth. It seems as though I'm there once every 18 months and we are kicking our tour off in Perth so if I have the time I'm going to try and get there this July.
Once I was there and rented a bike and rode about 45 minutes to a remote little beach. It was early in the day and I had a show that night and the last shuttle boat back to Perth left at 4pm.
It was just gorgeous and the sun was screaming. I found a quiet little beach and there was no one around so I took off all my clothes and laid on my stomach in the sun. I fell asleep there. Not a good thing I tell you. I woke up when I felt something sniffing around and licking my ass. It was a cute little Quokka. I thought all this very amusing, until I realized that it was 3:45 and the last boat was leaving in 15 minutes and it was a 45 minute bike ride, and to top all that off, my ass was completely sun burned and bright, bright red!
As you can imagine, I freaked out, threw my shorts on and ran to my bike and rode as fast and as hard as I could. The problem was that my ass was so sunburned that I could not sit on the seat of the bike without feeling like someone had ripped my skin off.
I literally made it to the boat and jumped on it with my bike as it was pulling away from the dock. Needless to say, that night at the gig my dancing around was a little… stiff.
But thanks to the little Quokka for the wakeup call.
I have to mention this as it's always stuck with me, I met you at an in store in Melbourne back in 1997 and you were running a little late, but when you arrived you said that you weren't leaving until you'd met everyone and because of that your show started late that night. I guess I wanted to say thank you and ask about your interactions with fans, where as many would've left regardless of time, why was that important for you to do that?
I'm still fascinated over the idea that people want to take photos with me and have my autograph. Not fascinated in the way that my ego is gratified but just… I don't know, in wonder.. and deep gratitude.
I always felt that if you're an artist then you have a responsibility to use your talent to bring your gift to those in society that actually find some value in it. This is why the diversity of music is so important, as there is something for everyone.
So if I say I'm going to be someplace and meet people for autographs or whatever, and then they take the time to go there and wait, and wait and wait, then it's my responsibility to make sure that none of them waited for nothing. That would be worse than trying to make a 45 minute bike trip in 15 minutes with a sunburned ass.
On fans, tell us a bit about the EVO package that you offer to your diehard fans…
Besides the swag you can get, I recommend checking out Vai.com for that because I forget what it all is, I really enjoy talking with the fans. I have to talk to press a lot and most of the times the press just get's the press release and asks you the same questions for 20 years… I mean 30 years in some cases. But the fans have an emotional investment in the music and in you as the artist so their questions are genuine and sincere and some of them know things about me that I have forgotten. So it's really a beautiful exchange and I usually sit and talk with them for an hour. I have to be reminded to end it like three times because I hate leaving anyone with a question that was not answered. That would be worse than… never mind.
Over the years obviously technology changes, so what do you feel you're able to do now that you may not have been able to do thirty years ago?
Edit tracks individually is the biggest thing.
I always wanted to ask about the original floral Ibanez JEM guitars which I never was able to afford when they were around, but I heard that you were actually buying those up at one stage when you could find them, is that true? And if so, what was it about that guitar that warranted that?
I could never find anyone to sell one to me, and I only have one. I don't know why but for some reason they seem to be the best sounding Jems to me. Perhaps it has something to do with the fabric and how it effects the resonation of the wood.
So would you say there is one of your songs from your catalogue that you feel encompasses Steve Vai as a whole?
I like to think of every note in every song as a hologram. In a hologram every part of it contains the information of the whole. Some scientists are starting to believe that the universe is actually reflective of that concept. It's the microcosm in the macrocosm.
But spiritually enlightened people are totally aware that this is the case with everything. There is only one consciousness and it exists in everything. So the answer to your question is yes and no. But then again, reality is based on paradoxes.
Lastly, what does the remainder of 2013 have in store for Steve Vai?
I am on tour right now with a 50 piece orchestra called the "Evolution Orchestra". I started in Holland in May with the NNO, performing a new piece called "The Still Small Voice" where I hold a note on the guitar for 17 minutes while the orchestra weaves in and out of it. Then we performed the whole "Fire Garden Suite".
Then I kicked off with this orchestra in Russia, travelling to Siberia, Ukraine, off to Poland tomorrow then Italy, Spain and Romania. Then I pick up with the Rock band in Ausi and NZ, then Jakarta, Shanghai, Beijing, Korea, Japan, Taiwan, Bangkok, then to Europe, then the USA, South America, Mexico and then it's Christmas. Then in Jan-March I'm looking at Africa, India, Dubai, Tel Aviv and perhaps Russia with the Rock band.
Then I'm going to go to sleep… on a beach somewhere… naked… with little Quokkas gently tonguing my ass.
Essential Information
From: New York, USA
Band members: Steve Vai – (touring band Dave Weiner on guitar, Jeremy Colson on drums, Philip Bynoe on bass and Michael Arrom on keyboards)
Website: http://www.vai.com
Catch Steve Vai on tour in Australia this July
PERTH – CONCERT HALL WEDNESDAY JULY 10
ADELAIDE – HER MAJESTY'S THEATRE FRIDAY JULY 12
MELBOURNE – PALAIS THEATRE SATURDAY JULY 13
CANBERRA – CANBERRA THEATRE SUNDAY JULY 14
SYDNEY – ENMORE THEATRE MONDAY JULY 15
BRISBANE – QPAC CONCERT HALL TUESDAY JULY 16
For complete tour and ticket information, visit: www.vai.com & www.livenation.com.au
Presented by Live Nation