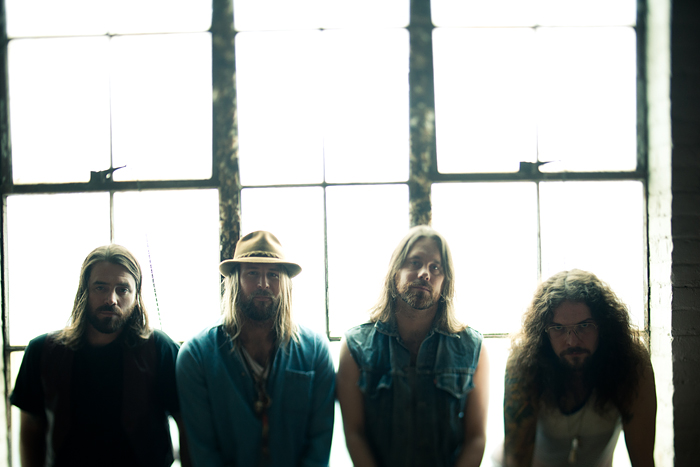 From official bio: The term Rock n' Roll gets thrown around pretty haphazardly. One can go as far as stating it's been bastardized to the point of being unrecognizable, ironically shouted on stages worldwide, and classified dead or MIA by the very musicians that once upheld its standard. Enter Monster Truck. There's something comforting about a band name that delivers exactly what you expect to hear. Born in 2009 from the ashes of various Canadian Indie bands, Monster Truck began as a sonic affront to the very industry its members were bred from…
With two EP's prior and just releasing their debut album 'Furiosity' this truck won't be slowing down anytime soon… trust us…
Hungover and road weary, we chatted to Monster Truck guitarist Jeremy Widerman about their new album, touring and labels in music… we dig these guys and they are most certainly one of the best things you've never heard.
You're just about to release your debut album, now, to save me doing a review, can you give us say five words that you think sum up the album perfectly?
Man we've only got one word and it's the name of the album and it's 'Furiosity' and when I say that, people conjure up ideas of anger but I think it's more just intensity and high energy kind of rolled into a word that we feel like we kind of invented. So yeah, just the combination of Ferocious, Energetic and Intensity, so I guess that's three words that sum it up ok…
In putting the album together, how did you approach it compared to your previous two EP releases?
Well in terms of song writing, we didn't really approach it any differently at all, we just kind of concentrated on songs that really come together quickly in the jam space and if we had to over work them too hard, we usually just scrapped them and moved on to something else. One of the main differences in putting the listing of tracks together, on the EP's we really tried to keep it together all on the same vein, where you only have four of five songs to make an impression, I think putting too many different styles of song writing on an EP can be dangerous, as no one really ends up understanding what your band is about… if you've got a hard song, then groovy and then ballady you confuse people, so with the EP's we tried to keep it all along the same vein, but when we put together this album we were allowed the space and time to put in a couple of different songs and make sure that it had a very diverse pallet so it didn't wear the listener out and you're not just getting pounded by twelve rock songs, more of a metal tune in there then maybe a ballad, then more soulful and then the other six or seven standard upbeat rock songs.
So it doesn't sound like it was it a tedious thing, and it all came together nicely and fell into place?
Yeah well we had the time to do it like that which was really nice, we put together the record over the course a year and a half and we also recorded it once before and had it totally fail and we learned a lot from that experience. We went to LA with a different producer last Spring and it really didn't turn out to be what we wanted, and in having that failure, we learned so much about ourselves and about the songs and it made it that much easier to really know how to approach it the second times and the mistakes we made.
Was there ever a time after you'd thought you'd failed where you thought 'why are we bothering?' or did you know that you just had to do it right?
It was really a process of everybody coming to terms with that idea, I got a bad feeling while we were doing it, I was in a really bad spot while we were recording it, as a week into it I got the feeling that things weren't going the way I'd hoped and it wasn't sounding the way I wanted and I didn't have everyone on my side, so it was kind of a situation where I thought there was a good chance I was wrong as everyone had been drawn in thinking it was going well, so it really took a long time afterwards when it was finished for me to even have the confidence to put my foot down about it and have everyone on the same side where we all thought it wasn't good enough. The turning point was our label spoke to us and said that maybe we should so better, and as soon as they said that it was almost like a house of cards toppling, where everybody was on the fence and then the label was like 'you know you can do better than this', then everyone was like 'ok let's do it again'… at that point it was full steam ahead and I really couldn't be happier with how it turned out the second time.
You worked with Eric Ratz, more known for his work with punk style bands, why was he the right choice to help you create 'Furiosity'?
I think he's just generally known for loud and big tones, he's not the kind of guy that just uses a standard game plan for every band, he really tailors the style of music and the type of band he's working with. That's his strength, to be able to adapt and get the giant sounds that work for whatever band he's recording.
The label 'Vintage Rock' or 'Classic Rock' seems to follow you around, does that bother you in any way? Can't we just call it rock and roll?
Yeah, I agree with that. It doesn't bother me, if people want to call us a Classic rock theme band that's fine with me, the label that bothers me is 'revival' because it kind of insinuates that rock had died at some point, and I don't think there's been an absence of really high energy rock bands in the last years, but to suggest that we're trying to bring back something that's dead, I don't really think that's the case, I don't think we are a revival type band because we have a lot of modern influences and a lot of elements to our music that is Modern Rock, and at the end of the day, you're right, I'd rather just call it rock and roll and be done with it, so you kind of hit the nail on the head with that one.
So I guess the question in, when are you coming to see us down here in Australia?
I don't have an answer for you, I know it's in the game plan, right now the record just came out and we're seeing where it's getting traction and people are enjoying it. Right now it seems everywhere is which is great but it's really about seeing how scheduling works out and what offers we're getting and who really wants us to get over there, so time will tell on that one but I guess time will tell soon.
Touring wise though, are you heading out to any territories soon to get the music out that you never thought you would be?
A little bit with this tour we're finishing up now, I'm in Florida as we speak, we've been down here for four days and it's awesome. The surprise and the shock has come from the bands that we've opened for, they are the situations the most that we all stand around and say 'How the hell did we get here?' Last year with Deep Purple, then Slash and now this Summer with Alice In Chains, just situations that I never expected us to be in, so to me that is the most surprising element of what we run on,
I was going to ask that, so how does it feel when an artist like Slash picks you guys to open for them?
It was kind of mind boggling because they kind of told us we were in running for the tour and we kind of dismissed it as we all thought there's no way that's going to happen, so let's just not think of it too much, Right around the time I'd forgotten about it we got the call that we got it and again, it's really kind of standing next to yourself and saying what the hell is going on? What alternate reality is it here that we get to go open for Slash. That whole tour was amazing, he was so good to us and an unreal experience from top to bottom. Like on the first day of the tour he just came up and introduced himself and he seemed to take a real liking to the band and was available and approachable and just generally a treat to kind of watch and learn from, you really can take a lot of lessons from him, especially these days where he's sober and worked his ass off, nonstop. He's an inspiration to say the least.
Not to mention that it's pretty cool when a guy like that wears your T-shirt…
Man, that was a moment I will never forget, I was walking down the hallway of the venue, I turn around and I see him standing there with our shirt on and you don't know what to think, it's just such a… one of those moments where you think you're dreaming.
Now from listening to your album, is it fair to say that your live show is pretty much as we hear on record?
I think it's better, I mean that's what we're told by a lot of our fans too, they love our records but there's nothing that lives up to the live show and I think that's a testament to the musicianship of the group and I think that's the way it should be. I would hate it if the record sounded better than our live show… that would be a disservice to music in general, I think that best way to experience music is in person, it is live and I have a great amount of pride when we play these shows and people say it sounds even better, you know?  You get a big feeling in your chest and you get all the energy from the performance, it's real special to us.
After starting as a side project, were you surprised as to what Monster Truck has now become?
Yeah man, I mean the inception of this band and quitting the band I was in at the time was my middle finger to the music industry and my departure from trying to make a living out of it, trying to impress anybody, trying to get on to festivals or get a record deal, any of that stuff I was absolutely completely irrelevant to me and the only thing I wanted to do was play songs I wanted to hear and that was how the group kind of started in my mind and I think the other guys in the band were kind of on the same page. Different levels of decree and different levels of distain to the music industry, I don't know, I got run through the grinder with my other band, so I just didn't have any patience for it anymore and just wanted to do something for myself.
And it turned out well…
Yeah… Now we're in it deeper than I've ever been in my entire life, it was the last thing I ever thought was going to happen and here we are and I'm just rolling with it.
In only four or so years together, what has been the biggest thing you've learned so far as part of being in this band?
Wow… let me think about that for a sec… you know, honestly, I have to say and I think I maybe touched on this earlier, but the biggest thing I've learned and it's mostly been about song writing, is just the general situation of when you're working on something and having it come together, the easier it comes together or the more it lays it out for you, the better it usually turns out. I feel like our other band wrestled with ideas and stubbornly you'd work on something for weeks that in the end ended up getting scrapped anyways, and I really learned from this band, in looking at this catalogue of songs and how they really came about, the ones that really wrote themselves so to speak ended up being our favourite songs to play and took the last effort and really came from the heart, a special place where song writing should come from. I've kind of latched on to that idea moving forward and really starting the songs from an emotion or from a visceral part of yourself and letting it unfold naturally and that's probably the most important thing you can learn about writing music and I'm glad we've gotten there.
Well thanks for your time Jeremy, all the best with it and here's to having a beer one day. Thanks for the time today.
I would absolutely love that man. No problem at all.
Essential Information
From: Canada
Sounds like: Rock and Roll!
Band members: Jon Harvey – bass, lead vocals, Jeremy Widerman – guitar, vocals, Brandon Bliss – organ, vocals, and Steve Kiely – drums, vocals
Website: www.ilovemonstertruck.com
Latest release: Furiosity (Dine Alone Records) out now