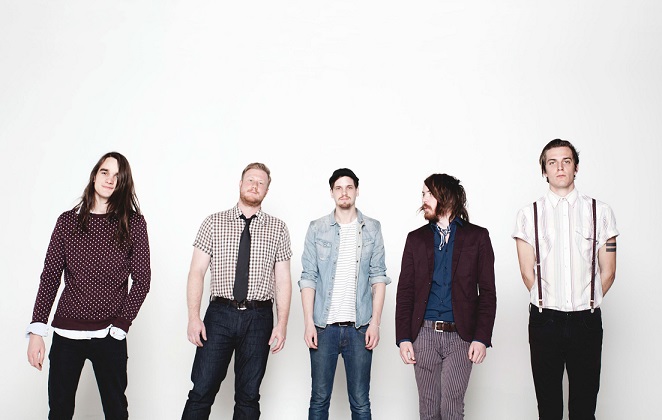 "The road has helped shape our band. We have found what we like and dislike about our music and what we do well and poorly. All of these things have led us to becoming a real band. I feel that the more we tour the more there is to learn."
From Bio: The Maine is an American rock band from Tempe, Arizona formed in January of 2007. Their first full-length 'Can't Stop Won't Stop' was released in 2008 to incredible fan reception. With the momentum of their first release, The Maine dropped 'Black and White' in 2010. It was instantly clear that what the group had was something special – it was this release that the fans and industry started to see their growth and maturity expand as creative artists and musicians. When it came time to release their third album in 2011, 'Pioneer', it was clear that the record needed to be released independently without the input of anyone but the band members themselves. After making the decision to part ways with their major label, The Maine decided to film the experience and released the documentary 'Anthem For A Dying Breed'. On June 7th of this year, The Maine released their fourth full-length album, 'Forever Halloween'.
As you'll read below, in the time between sending these questions out and getting the responses, The Maine are heading back to Australia this September, so we had guitarist Kennedy answer some questions for us about the band's new album 'Forever Halloween' as well as touring, Australia and more.
Thanks for taking the time to answer some questions for us Kennedy; to start off, other than being the closing track on the album, is there a specific reason behind calling your new album 'Forever Halloween'?
It's something John came up with, trying to play with the idea that we all wear costumes in everyday life, to be who we are, not just during Halloween.
The album comes out next week, so here's your chance to give us your mini review of the album, but as it's your fourth album you can do it in only four words… so what four words do you think sum up the album perfectly?
Genuine, raw, human, fun.
Tell us about the experience of recording the album analogue on tape, compared to what you had done before and I guess, why did you decide to record this way this time around?
Recording to tape was an eye opening experience for us. We weren't sure what we were getting into before we began tracking. I think it really helped to bring us closer as a band and made us grow as musicians. Tracking live in a room together was a lot of fun for me. I know it helped shape the vibe on this record, and I'm glad that we chose Brendan, because he genuinely wanted us to learn from him!
Did that allow you to do anything differently that you may not have done on previous releases?
The sound is different from our other releases, just in quality. There is certainly a warmth to a tape recording, that is not possible on digital.
So is it fair to say that making a self-funded album allows you to create what you want to make with no real pressure?
Ya, no pressure from outside sources. At the end of the day on this record, it was only the five of us plus Brendan that had the final say, which was a great feeling.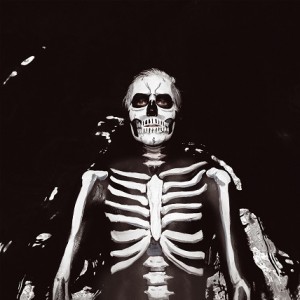 Acting as producer on 'Forever Halloween', what did Brendan Benson bring to the table that you may not have thought to or been able to do before?
He really introduced us to the live tracking. He was crucial to making this record and to furthering our bands creative mindset. Brendan was great to work with, always excited and always trying to make us see our music in new ways.
Song writing wise, was there any specific inspiration for the songs that now make up the complete album?
Nothing specific, just our ongoing love for music in many shapes and forms.
I have to ask about the first single, 'Happy' which is far from it lyrically… so let's make it about its namesake and ask you, what the one thing that makes you truly happy?
For me, the road.
This being your fourth album, looking back over the six years as a band and the last five years since 'Can't Stop, Won't Stop' and subsequent albums, how have you personally seen the band evolve to where you are today?
It's been a very natural process. The road has helped shape our band. We have found what we like and dislike about our music and what we do well and poorly. All of these things have led us to becoming a real band. I feel that the more we tour the more there is to learn.
Has there been an absolute standout highlight moment so far over the five years you can share with us?
It's all been such a blast! There have been countless incredible memories throughout our career, but I'd have to put our shows in Brazil at the top of the list. We filmed a DVD out there last year and I was blown away by the crowd response. Some of the most ecstatic fans in the world live there! I had one of the best times of my life playing those Brazilian shows.
You have been down to Australia before, do you have any memories of a tour you can share with us?
We've actually been twice, our first was for Soundwave. That was really wild, just one huge traveling circus! More recently, we were able to go out on the road with Taking Back Sunday/New Found Glory. It was an incredible experience. I grew up admiring both bands and was lucky enough to share the stage in beautiful Australia of all places! Love it in Australia, and I can't wait to go back.
I personally was introduced to the band around the time of your debut album when I was in the States and have followed you ever since, but were you surprised as to how many people down here were aware of the band when you toured?
It's always a shock to travel around the world and see that people already know us and our music. I don't think it's something I will ever get used to.
Now, are there any plans to come back and see us anytime soon?
Yes, in fact, we are coming back with Anberlin in September
Lastly, what does the remainder of 2013 have in store for The Maine?
A lot of touring in support of our new record. We'll be extremely busy all year!
Essential Information
From: Tempe, AZ, USA
Band members:  John O'Callaghan – Vocals, Garrett Nickelsen – Bass, Pat Kirch – Drums, Kennedy Brock – Guitar, Vocals, Jared Monaco – Guitar
Website:  http://www.wearethemaine.net
Latest release: Forever Halloween (Rude Records)
Catch The Maine on tour in Australia this September with Anberlin & William Beckett:
Tickets are on sale Friday 14th June.
Wednesday 4 September – The HiFi, Brisbane – 18+
Tickets from thehifi.com.au or 1300 843 443
Thursday 5 September – The Coolangatta Hotel, Gold Coast – 18+
Tickets from destroyalllines.oztix.com.au or 1300 438 849
Friday 6 September – Panthers, Newcastle – Lic AA
Tickets from destroyalllines.oztix.com.au, Moshtix outlets, The Venue or 02 4926 620
Saturday 7 September – The Hifi, Sydney – Lic AA
Tickets from thehifi.com.au or 1300 843 443
Sunday 8 September – The Palace, Melbourne – 18+
Tickets from destroyalllines.oztix.com.au, Ticketek.com.au or 13 28 49
Tuesday 10 September June – The Gov, Adelaide – Lic AA
Tickets from moshtix.com.au, venuetix.com.au, The Venue or 8340 0744
Wednesday 11 September – Metro, Fremantle – 18+
Tickets from destroyalllines.oztix.com.au, Heatseeker outlets or 1300 762 545