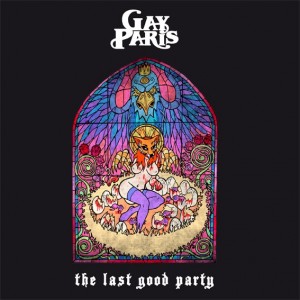 Gritty, rockin', dirty, bluesy, sweaty, loud and louder.
That was my instant reaction to when I put this album on, and that's a good thing. From straight out of the gates it was on, and if you didn't tell me this was an Australian band, I never would've guessed, as this sounds like it's straight out of the Southern swamps of the USA, with that bluesy style blended with hard rock and I'm loving it.
What's even funnier is that the song titles alone intrigue me, and make me want to listen, I mean how could you not with names like 'Ash Wednesday Boudoir Party', 'Son of a Butcher Parliament' and 'The Gospel According To Blood & Bone' and that's just a few of them. While you may read these and think they're some joke band, or just out to have fun, well trust me, this ain't no parody, or piss take, this is rock and roll! Well it was until I just hit the piano driven 'Trash Bird At Confessional' began, but no sooner had I thought we were in for a ballad and my lighter was out of my pocket ready to be hoisted, it blows up into the rock I've now been invested in for the previous tracks.
Let's get heavier for a minute if we can, and 'Minotaur: Shibboleth Brooks No Brotherhood' you can be the one to do that for us… riffing guitars, ripping guitars and a kick ass melody keeps this one rockin' and is a definite favourite for me on the album. The album continues on in the same style, and knows how to rock, remember this isn't called The Last Good Dinner Party, so I wouldn't suggest you bust this out for a group of friends while serving caviar, but if your dinner party involves meat and beer and at least three people with beards then by all means, make this the last good dinner party, what I'm trying to say is that you need to listen to this album when you just want to rock and your end result will be thy being rocked!
Vocally the album changes up from the gritty vocals when we hit 'The Demarcation of Joseph Hollybone' which they released last year as a tease for the album, and with its alternating 'clean' vocals in the verses and then building to the deeper vocals we're accustomed to from the rest of the album throughout the choruses. I like the balance here, and this one is a toe tapper that's for sure. Plus when you have a mid-song break down and guitar solo you really make this one stick out, and that's fine by me. As we reach the last track it's time to Shame… Shame… Shame… 'Shame At The Anvil'… sorry, Motley Crue moment… but this six minute track is a great way to round out this release, it starts as it finishes. Loud. Just the way I like it.
I've never had the chance to see these guys live before, but I'm going to make sure I now get to at my earliest convenience as I need to see how these songs transcribe to the stage as I have a feeling it'd be one hell of a party and possibly the last good one around…
Check out our chat with Gay Paris from last year…
Essential Information
From: Sydney, Australia
For fans of: Blues Rock, Heavy Rock and just Rock!
Release date: out now
Record label: MGM
Producer: Sam Pura
Website: Official facebook
Track listing:
Ash Wednesday Boudoir Party
Jubilee Down Crow Beach
Son of a Butcher Parliament
Trash Bird At Confessional
Minotaur: Shibboleth Brooks No Brotherhood
The Gospel According To Blood & Bone
Ghost Off In Umbra
Black Louie Forgives The Cardinal's Sins
The Demarcation of Joseph Hollybone
Shame At The Anvil