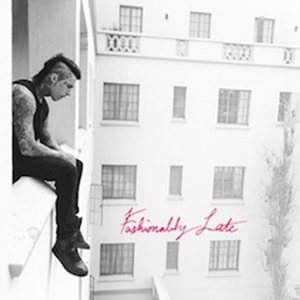 Falling In Reverse have made their forthcoming new album Fashionably Late (in stores Friday 21 June) available for fans to stream in Australia today.  Click here to listen.
The band is confirmed to perform a special live show at The Roxy in Hollywood in celebration of the new release.  Fans will be able to watch the entire show streamed live on the band's website from 7:30am on Wednesday 19 June Australian EST.  For more information click here.
Voted as Alternative Press magazine's 2012 "Artist of the Year," one of Revolver's "100 Greatest Living Rock Stars" and Kerrang's "50 Greatest Rock Stars In The World," Radke's band Falling In Reverse will release Fashionably Late on Friday 21 June on Epitaph Records.   It's the follow up to their Top 20 debut The Drug In Me Is You.
Since forming in 2008, Falling In Reverse have racked up a fanatical fan base, so much so that the band's legendary videos have been viewed over 30 million times.
The attitude of the 1980's Sunset Strip, the bravado of battle-ready rap, the take-no-prisoners bottom end of metalcore and the boundless revelry of underground EDM parties have all beautifully converged in this one band and this new album. It's for everyone on Instagram, on Twitter, or anyone with a brain and two ears.
With Fashionably Late, Falling In Reverse continues to push the envelope musically, while writing songs that are strong enough to cross over into the mainstream.  Their new album is arriving right on time.
Falling In Reverse are:
Ronnie Radke
Jackie Vincent
Derek Jones
Ryan Seaman
Ron Ficarro
www.facebook.com/fallinginreverseofficial