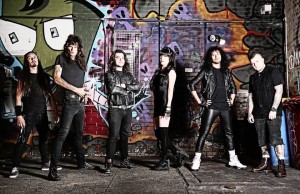 Following on from the epic release "Hair.Denim.Sex.Metal" (New Justice Records, 2011), the mighty Electrik Dynamite are on the eve of releasing their brand new double A-side 7" vinyl "Showgirls / Steel of Fortune". The 7" is the first recordings since Dan Brittan took over vocal duties for the band, and will introduce the listener to a harder edged clean vocal attack that takes as much from 70's hard rock as it does from 80's heavy metal.
The Electrik Dynamite 7" launch will take place at The Espy on Friday 12 July in St Kilda. Joining the metal/rock 6- piece will be Brisbane boys De La Cruz (visiting for only the 2nd time after releasing their debut "Street Level"), and local up and comers Shadows of Hyenas and The Fallen Angels (both of which are causing quite the stir). The night will undoubtedly jam pack The Espy with an unprecedented amount of energy, party and good times.
Known for their passionate and thoroughly entertaining live shows Electrik Dynamite have made a name for themselves on the local scene for their unique sound which has seen them fuse 80s rock n roll with the precision of metal, delivering tracks that are modern, fast paced and kick-arse.
To accompany the release of the 7" the guys will also unveil music videos for both tracks. "Showgirl" was shot by the reputable team at Robot Army Productions, who have delivered offerings from House vs Hurricane, Dream on Dreamer, while "Steel of Fortune" was done by Dusk Music Video Production (Lord). Both videos will be released Tuesday 2nd  July. Stay tuned for more updates.
The brand new double A-side 7" vinyl "Showgirls / Steel of Fortune" is out Tuesday, 2nd  July via Electrik
Dynamite's official web store: http://store.electrikdynamite.com
Electrik Dynamite:
Dan – Vocals
Lockie – Guitar & backing vocals
Cam – Guitar
Duane – Bass
Sarah – Keytar & backing vocals
Benny – Sticks & Skins
Catch Electrik Dynamite Live
Friday , 12th July 2013
The Espy- Gershwin Room, St Kilda
with De La Cruz, Shadows of Hyenas and The Fallen Angels
Tickets $10+bf, available from  www.espy.com.au and www.oztix.com.au
www.electrikdynamite.com www.facebook.com/electrikdynamite