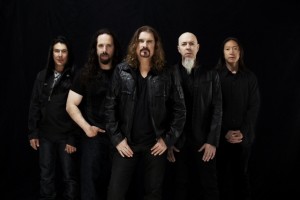 Roadrunner Records has announced the eagerly anticipated new album from the legendary Dream Theater. Dream Theater– the first self-titled collection in theGRAMMY®-nominated band's nearly three decade career – arrives at last on Friday 20 September.
Dream Theater was recorded at Cove City Sound Studios in Glen Cove, New York, with founding guitarist John Petrucci producing and studio luminary Richard Chycki (Aerosmith, Rush) engineering and mixing. The album marks a brilliant new chapter for the always adventurous band, their first to have been written and recorded with drummer Mike Mangini wholly integrated into the creative process from the start.
"I see every new album as an opportunity to start over," says Petrucci. "To either build or improve upon a direction that has been evolving over time or to completely break new ground. This is the first self-titled album of our career and there is nothing I can think of that makes a statement of musical and creative identity stronger than that. We've fully explored all of the elements that make us unique, from the epic and intense to the atmospheric and cinematic. We're incredibly excited about Dream Theater and can't wait for everyone to hear it."
Dream Theater follows 2011's acclaimed A Dramatic Turn Of Events. That album – highlighted by On The Backs Of Angels, which earned the iconic band its first ever GRAMMY® Award nomination (in the "Best Hard Rock/Metal Performance" category) – proved one of Dream Theater's most successful, making  top 10 chart debuts in 14 countries.
With total sales exceeding 10 million albums and DVDs worldwide, Dream Theater have long stood among the upper echelon of hard rock giants. Albums such as 1992's RIAA gold-certified classic Images & Words (featuring the breakthrough USA top 10 single, Pull Me Under) have earned the Long Island-based band countless accolades for their visionary synthesis of melodic power and virtuosic experimentation, including being named as one of Rolling Stone's top 10 "Best Prog Rock Bands of All time."
Since uniting with Roadrunner in 2007, Dream Theater has unleashed a series of remarkable albums, each work revealing stunning new musical facets and creative avenues. 2009's Black Clouds & Silver Linings proved a milestone, debuting at #6 on the Billboard 200 – the band's highest album chart debut to date.
Dream Theater is: John Petrucci (guitar), John Myung (bass), James LaBrie (vocals), Jordan Rudess (keyboards and continuum) and Mike Mangini (drums).  
www.facebook.com/dreamtheaterofficial
www.twitter.com/dreamtheaternet