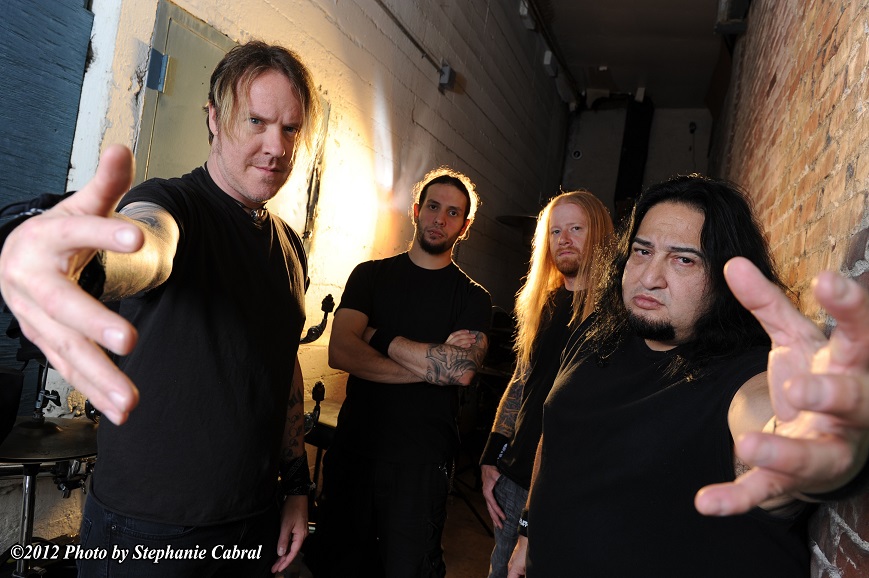 "The fact that it was in Australia that we received our first silver and gold record, and pretty much Australia was the first country to really embrace Fear Factory from 'Soul of a New Machine' on. It was like we owe it to our fans."
No strangers to touring Australia, Fear Factory are headed Down Under again, but this time with something a little special in their road cases for us. The band will for the first time be playing their monumental 'Demanufacture' album in its entirety. A ground breaking album for Fear Factory, and widely renowned as their best work, it will be something special to get a taste of the entire release in a live environment.
We chatted to Fear Factory front man Burton C Bell about their upcoming Australian 'Demanufacture' tour, as well as the bands return to its industrial beginnings, and some banter about a forgotten Australian band…
You're headed back to Australia for some shows where you'll be playing 'Demanufacture' in its entirety. What was the idea behind doing these shows at this time?
Well you know it was when we were in Australia last time, it was almost a year ago, one of the promoters was talking to us and was like 'hey it would be great if you guys did this' and it made us start thinking to just come back and do something special like that. The fact that it was in Australia that we received our first silver and gold record, and pretty much Australia was the first country to really embrace Fear Factory from 'Soul of a New Machine' on. It was like we owe it to our fans.
You're also starting that here in Australia as you've never played that before…
First time ever.
Now a lot of these tracks may not have gotten a run in the set before. Are you excited to be able to share them with the fans?
Absolutely there are songs we haven't played for a long time, since that record, and there's one or two songs we've never played live, like 'A Therapy For Pain' for instance, so yeah I'm truly excited.
What is about that album that stands out for Fear Factory fans?
It was the one that Fear Factory really made its own identity, and it's a really energetic record and really hits close to what was happening in that time period, especially for us in L.A. it's a concept but it's also a play by play of what was going on in our lives.
Being to Australia a number of times, how do our metal fans compare to those around the world?
Australian fans are particularly passionate about our music *laughs* and it's always been a blast going down there and playing shows as they're always pretty much off the hook.
Do you have a standout memory of a past Australian trip you can share with us?
Yeah there's been a lot; our own headlining shows are always great but opening up for Metallica, that was pretty amazing, pretty much the largest crowd we've ever played in front of. The Big Day Out is always fun, I think the first Big Day Out was probably my best and favourite Australian tour, because the first one we did it was The Prodigy, The Offspring and Soundgarden on it on the top bill and The Beasts of Bourbon were on it, Regurgitator were on it, it was a good time and I really enjoyed that tour immensely.
Being here a lot have you had a chance to check out and stay in touch with a lot of those Australian bands?
Some of them, I became friends with a classic Australian band 'Painters & Dockers' and Paul and I are still good friends. Whenever I see Karnivool its always a good time, do we keep in touch every day, no, but when you're in a band and you always come together, and when you see each other it's like it was yesterday.
Painters & Dockers, 'Nude school' what a song!
*laughs* yeah 'Nude School' and their cover of 'House on Highland Avenue' is pretty spectacular as well, 'I know better Queens Than That', that's a good song too…
'The Industrialist' has been out for almost exactly a year now, and the title itself lends to me saying that it's fair to say that the sound on the album returned to a more industrial Fear Factory. Was this a conscious decision or did it just evolve that way when writing it?
It was a conscious effort before we started writing. It was something I was thinking about before we went into the studio and I was thinking back to classic Fear Factory records, such as 'Demanufacture' and 'Obsolete' and the things I liked about those records seemed to be lacking in the past few records and that was the industrial element. So in the studio I spoke to Dino and I spoke to Rhys and said I don't want to make us an industrial band but I want to bring that element back to make this band the industrial metal band it became known for, and so that was a conscious effort. So once I started thinking about that concept and vibe, and titles were coming to us and the title of 'The Industrialist' just came to us at some point and that just really made everything to fall into place.
Plus the reaction from around the world from fans would've been great with this return?
Yeah, absolutely, a lot of fans were very happy to have that sound return, and I was as well, I was like yes, this was one of the best things I liked about Fear Factory and there it is and we sound better than ever and I wish to continue that vibe as well.
How has having Matt and Mike in the band been, they've only been there for a little while, is it working well?
They're working great, they're both very, very great musicians. Matt is the guitar player for Chimaira, and so that's what is perfect for Fear Factory, we need a guitar player who is a bass player, and Mike Heller is a young and upcoming drummer and is fantastic and plays everything for everybody.
Given they didn't record on the album, have you started planning ideas or timings for a new record that they may be involved with?
We're currently discussing ideas for a new record and would like to get it out next year at some point, but we'll see how it goes on who plays on it and who doesn't. The combination that we had on 'The Industrialist' seemed to work really well, just the trifecta of Dino, myself and Rhys, so we'll see how that goes. Programming drums really expedites the whole process and simplifies it even more. It's killing a drummer just being there playing things over and over and over again and then a drummer that records, but you sample and trigger everything and you change the sounds and fix everything in pro-tools, you may as well just program it the first time.
So it's always been fair to say that yourself and Dino are the band and you essentially have touring musicians with you?
At this point that's the way it is, yes.
Being in the band since its inception, what have you seen as the biggest accomplishment throughout the twenty four years?
Longevity *laughs*we're just happy that we are still working and still relevant, that's for a band for our genre that's been around for this long, I think that's an accomplishment all in itself. It's true, it's something that many musicians don't realise, be thankful you're still working. THAT is the goal of working musicians is to continue to work.
Does it ever blow you away that you get to come to places like Australia?
It blows me away that I continue to go there and thankful that are still new places that we still go, there are new places that are still new to us that we go to, like we've never been to Malaysia and we're going there, we've never been to Hawaii and it looks like we'll be going there, and we're going to be touring Russia right after Australia and there are a lot of places in Russia we've never been to. There are still exciting things happening in the touring process. Maybe one day we'll play Hong Kong, that would be interesting.
Do you ever get feedback from the places you want to go to that they're wanting your music, or are these places that you'd just truly like to visit?
You know, it seems that they want us there, we get messages on the bands Facebook, Twitter and it seems the fans are really starving for music and for western bands to come out there and so the fact that we're going, there's a great enough of a demand for us to be there.
Obviously you're coming here to play the 'Demanufacture' album but also still touring on 'The Industrialist' so can we expect to hear a little greatest hits set during the show as well after you play 'Demanufacture' in full?
Oh yeah, the 'Demanufacture' record is an hour long, so we're going to have to bust out some other tracks as well, so we'll definitely do it, but we're not sure how we're going to do it, but there will be other songs played.
What does the remainder of 2013 have in store for Fear Factory?
Well we have six more dates on this tour, then we'll have three weeks off, then we start rehearsing for the 'Demanufacture' tour down in Australia, and then we'll go New Zealand, Hawaii and straight from there we'll go to Europe to do summer festivals there and then straight to directly to Russia, then at the end of August we're done. We're going to take a break and start writing the new record before the end of the year.
Did I see you're also heading out on the seas once again as well?
That's right, the 70,000 tonnes of metal and that's in January. We're going to be doing the 'Demanufacture' on that as well. That boat festival is amazing, four days on nonstop partying, the whole boat is a backstage area *laughs*…
Thanks for your time Burton and look forward to seeing you when you're here.
No worries Troy, we look forward to getting down there and we're ready to do it again.
Essential Information
From: Los Angeles, CA, USA
Band members: Burton C. Bell – Vocals, Dino Cazares – Guitars, Mike Heller – Drums, Matt DeVries – Bass
Website: http://www.fearfactory.com
Recent release: The Industrialist
Catch Fear Factory on tour in Australia this July, tickets are on sale now:
THURSDAY 4 JULY – BRISBANE, THE TIVOLI – 18+
www.ticketek.com.au 132 849
FRIDAY 5 JULY – SYDNEY, UNSW ROUNDHOUSE – Licensed All Ages
www.ticketek.com.au 132 849
SUNDAY 7 JULY – MELBOURNE, THE PALACE – 18+
www.oztix.com.au & www.ticketek.com.au 132 849
TUESDAY 9 JULY – ADELAIDE, HQ – 18+
www.oztix.com.au & www.venuetix.com.au
THURSDAY 11 JULY – PERTH, METRO CITY – 18+
www.oztix.com.au
Presented by Soundwave Touring