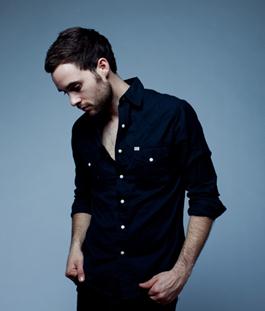 Canadian singer-songwriter Tim Chaisson is once again set to bring his warm, soulful voice, beautiful guitar melodies and renowned violin performances to Australia. On his second visit in 2013, Chaisson will be tackling the national touring circuit with legendary ARIA award winning artist Diesel, as well as being joined by Hein and Little May for several Sydney dates. Chaisson will be performing tunes from his previously released albums including fan favourites from 'Broken Hearted Beat' and will be delighting audiences with treats from current album 'The Other Side' which features 'Too High', a collaboration with renowned artist Ray Beadle.
Already completing several successful solo Australian tours, winning 2013 Best Roots Album at the Canadian East Coast Music Awards, being chosen as Musical Director for the Duke and Duchess of Cambridge's highly-publicised Royal Visit to PEI in 2011, playing at the 2013 SXSW festival, holding an impressive collection of awards and constantly performing to ever-expanding audiences across the globe – from clubs to festivals, local audiences have been waiting to see Chaisson back on our stages bringing fourth his charismatic, humble and artisan approach to his work.
Known for his golden-voiced storytelling, Chaisson will begin touring with two dates at The Vanguard in Sydney starting on Friday the 17th of May, ducking into Brisbane on Thursday the 23rd of May before heading back to Sydney to perform three consecutive dates from the 24th-30th of May at prominent Cronulla venue The Brass Monkey followed by dates in Adelaide and Victoria then back East to finalise his tour at The Coogee Diggers Club on the 16th of June.
Having previously toured with Ray Beadle, Shannon Noll, Ian Moss, Kim Churchill and Jeff Martin, this tour is expected to be full of momentous occasions where Chaisson bares all to his audience and invites you into his world of truth and intrigue, leaving you addicted and dreaming of all that is yet to come.
WATCH Tim Chaisson perform two new songs from 'The Other Side':
http://www.southernsouls.ca/tim-chaisson/
Album 'The Other Side' out now via ABC Music
TIM CHAISSON LIVE TOUR DATES
TICKETS ON SALE NOW
Friday 17th May 2013: The Vanguard – Newtown (NSW) with Diesel
Ph: 02 9557 7992 or www.thevanguard.com.au
Saturday 18th May 2013: The Vanguard – Newtown (NSW) with Diesel
Ph: 02 9557 7992 or www.thevanguard.com.au
Sunday 19th May 2013: The Bunker (Coogee Diggers) – Coogee (NSW) with Hein + Little May
Ph: 02 9665 4466 – www.coogeediggers.com.au
Thursday 23rd May 2013: The Joynt – Brisbane (QLD)
Ph: 07 3255 1579
Friday 24th May 2013: The Brass Monkey – Cronulla (NSW) with Diesel
Tickets from the Venue 02 9544 3844 or www.brassmonkey.com.au
Saturday 25th May 2013: The Brass Monkey – Cronulla (NSW) with Diesel
Tickets from the Venue 02 9544 3844 or www.brassmonkey.com.au
Thursday 30th May 2013: The Brass Monkey – Cronulla (NSW)
Tickets from the Venue 02 9544 3844 or www.brassmonkey.com.au
Friday 31st May: Lizotte's – Dee Why (NSW) with Diesel
Ph: (02) 9984 9933 – Tickets: www.lizottes.com.au
Saturday 1st June: Lizotte's – Dee Why (NSW) with Diesel
Ph: (02) 9984 9933 – Tickets: www.lizottes.com.au
Sunday 2nd June 2013: The Bunker (Coogee Diggers) – Coogee (NSW) with Hein + Little May
Ph: 02 9665 4466 – www.coogeediggers.com.au
Thursday 6th June 2013: Wheatsheaf Hotel – Adelaide (SA)
Ph: (08) 8443 4546 www.wheatsheafhotel.com.au Tickets: www.oztix.com.au
Friday 7th June: Lizotte's – Central Coast (NSW) with Diesel
Ph: (02) 4368 2017 – Tickets: www.lizottes.com.au
Saturday 8th June: Lizotte's – Central Coast (NSW) with Diesel
Ph: (02) 4368 2017 – Tickets: www.lizottes.com.au
Sunday 9th & Monday 10th June 2013: The National Celtic Festival – Portarlington (VIC)
www.nationalcelticfestival.com
Thursday 13th June: Spotted Mallard – Melbourne (VIC)
Ph: (03) 9380 8818 www.spottedmallard.com
Friday 14th June: Lizotte's – Newcastle (NSW) with Diesel
Ph: (02) 4956 2066 – Tickets: www.lizottes.com.au
Saturday 15th June: Lizotte's – Newcastle (NSW) with Diesel
Ph: (02) 02) 4956 2066 – Tickets: www.lizottes.com.au
Sunday 16th June 2013: The Bunker (Coogee Diggers) – Coogee (NSW)
with Hein + Little May
Ph: 02 9665 4466 – www.coogeediggers.com.au
TIM CHAISSON | 'BAIL YOU OUT' SINGLE | AVAILABLE NOW
TIM CHAISSON | 'THE OTHER SIDE' ALBUM | AVAILABLE NOW