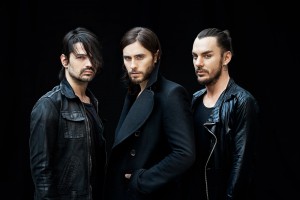 The Frontier Touring Company has confirmed that Thirty Seconds To Mars will be unleashed into Australian arenas for blockbuster performances in Perth, Sydney, Melbourne and Brisbane!
Lead singer Jared Leto revealed the bands intention to return to Australian shores whilst here earlier this month to promote hugely anticipated fourth offering, Love Lust Faith + Dreams (out May 17 through Universal).
Produced by Leto himself along with previous collaborator Steve Lillywhite (U2, The Rolling Stones, The Smiths), the new album promises to be their most exhilarating to date. Leto told BBC Radio 1's Zane Lowe that it's a "complete transformation for us… stronger, better and more evolved".
No strangers to innovation, in partnership with NASA the band literally launched first single 'Up In The Air' into space for an 'out of this world' premiere 230 miles above the earth carried aboard the SpaceX rocket and received its first ever play on the International Space Station.
It's undeniable; their epic and atmospheric sounds combined with meditative almost spiritual lyrics have fashioned songs that were born to be performed in the arena.
Having already blown Australian audiences away with sold out theatre tours in 2007 and again wowing audiences across the country in 2010, the guys are primed to conquer our arenas for the very first time this August.
'…definitely a celebration, in just about every conceivable way.' – MTV
Thirty Seconds To Mars was initially signed in 1998 as a family project between brothers and multi instrumentalists Shannon and Jared, later being joined by guitarist Tomo Mili?evi?.
After impressing with their self-titled debut, it was sophomore album A Beautiful Lie that cemented their position as pioneers of epic and anthemic music.  Their follow up third studio album This Is War was arguably their finest work to date, going multi-platinum throughout Europe, #2 on the U.S. Alternative Albums and Digital Albums charts and triumphant single 'Kings and Queens' becoming 2009's most celebrated anthem.
On stage the band is a force of nature, Leto's captivating showmanship and the band's skillful execution leaving little doubt why their fans – named 'The Echelon' – are so devout. On their last tour, the band even broke a Guinness World Record for longest ever concert tour after performing an astonishing 311 shows over two years in almost 60 countries in 6 continents.
Having sold over five million albums, amassing more than 300 million views on YouTube and with a new album on the horizon, it's a safe bet that the Thirty Seconds To Mars Australian arena tour will be one of the most electrifying events of the year.
MARS IS COMING….. www.marsiscoming.com…..
THIRTY SECONDS TO MARS – AUGUST 2013
Frontier Members pre-sale via www.frontiertouring.com/thirtysecondstomars
2pm AEST Tue 21 May to 2pm AEST Wed 22 May
General public on sale from 9am local time, Mon 27 May 2013
Sat 10 Aug – Melbourne | Rod Laver Arena – (All Ages)
www.ticketek.com.au | Ph: 132 849
Sun 11 Aug – Sydney | Entertainment Centre – (All Ages)
 www.ticketmaster.com.au | Ph: 136 100
Tue 13 Aug  –  Brisbane | Entertainment Centre – (All Ages)
www.ticketek.com.au | Ph: 132 849
Fri 16 Aug – Perth | Challenge Stadium – (All Ages)
www.ticketmaster.com.au | Ph: 136 100
www.thirtysecondstomars.com  | www.facebook.com/thirtysecondstomars | Twitter @30SECONDSTOMARS
www.frontiertouring.com/thirtysecondstomars | www.facebook.com/frontiertouring | Twitter @frontiertouring 
VIP Ticketing available at www.adventuresinwonderland.com