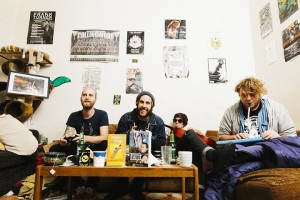 THE SMITH STREET BAND SELL OUT CORNER HOTEL SHOW ANNOUNCE NATIONAL TOUR WITH JOYCE MANOR (USA) & CHEAP GIRLS (USA)
Melbourne favourites
The Smith Street Band
have been busy; they really don't know how to be anything else. As well as working on a batch of new tunes, they've put together an Australian tour, enlisting Poison City Weekender pals
Joyce Manor
(USA) and
Cheap Girls
(USA), who will both be making their first trip to Oz.
It has been an amazing few weeks; TSSB's biggest ever headliner (Melbourne's Corner Hotel) SOLD OUT in just five days. The 'Sunshine & Technology' album placed at at #13 in No Heroes Magazine's Top 50 Australian Heavy Albums Of All Time, raving 'few albums make life seem this special', and the lads announced a month-long, inaugural tour of the UK and Europe, plus a slot on the line-up for the famous 'Fest' in Gainesville, Florida. This tour is your last chance to catch The Smith Street Band before they venture overseas to see all the places and make all the friends with their infectious, lyrically striking, hook-laden punk/rock tunes. All 10 shows through August and September are going to be colossal. And, as punters can expect from The Smith Street Band, tickets are as cheap as possible for this tantalizing team-up…
JOYCE MANOR (USA) play the kind of boisterous punk rock that The Smith Street Band subscribe to, and they tour just as hard. The Torrence, California foursome believe in strong pop sensibilities and gigantic hooks, and with two albums and a bunch of EP's under their belts, they're firing. Direct from FYF Fest in LA, there will be fists and feet in the air when Joyce Manor join the tour. Watch 'em play 'Constant Headache' and 'Leather Jacket' live at Fest and get gee'd up here.
CHEAP GIRLS (USA) are three friends from Landsing, Michigan who love writing downbeat indie rock, jammed with lyrical deftness. They've released records on Paper + Plastick and Rise Records and their third album was produced by the amazing Laura Jane Grace of Against Me! She says they sound like The Replacements, Sugar and early Smoking Popes, and we agree. Get their vibe here, or watch the video for 'Ruby'.
Help The Smith Street Band show their new friends why they love touring Australia so much. Prepare for some joyous parties that will leave you with a grin on your face and a fire in your belly. Tix on sale Tues May 21.
More news from the Smith Street guys coming next month…
WATCH VIDEO FOR 'YOUNG DRUNK' HERE
Bombshellzine, Rice & Bread and Poison City Records present…
THE SMITH STREET BAND
With Joyce Manor (USA) and Cheap Girls (USA)
RSVP ON FACEBOOK
TICKETS ON SALE TUE MAY 21
Tix links and info at www.thesmithstreetband.com
Thu Aug 22 – Rosemount Hotel, Perth WA*
Fri Aug 23 – Prince of Wales, Bunbury WA*
Sat Aug 24 – Adelaide Unibar, Adelaide SA*
Sun Aug 25 – Karova Lounge, Ballarat VIC*
Wed Aug 28 – Brisbane Hotel, Hobart TAS*
Thu Aug 29 – The Zoo, Brisbane QLD
Fri Aug 30 – Hotel Great Northern, Newcastle NSW
Sat Aug 31 – Annandale Hotel, Sydney NSW
Wed Sep 04 – Transit Bar, Canberra ACT
Sat Sep 07 – Poison City Weekender – Corner Hotel, Melbourne VIC (SOLD OUT!)
*Joyce Manor not appearing (really, really sorry!)
Check out The Smith Street Band UK/European dates HERE. More to come!