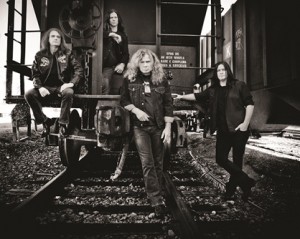 "With worldwide sales of more than 30 million, and a seat at the top of the headbanging pantheon… Megadeth is a force." – Billboard Magazine
MEGADETH, a heavy metal band that's been around for nearly three decades, selling more than 38 million albums worldwide, earning numerous accolades including 11 Grammy® nominations, scoring five consecutive platinum albums—including 1992's two-million-selling Countdown to Extinction—founder, leader, guitarist, lyricist Dave Mustaine premieres Megadeth's 14th studio album titled Super Collider, on May 31 on Tradecraft/UMe/Universal Music Group. The new album reunites Mustaine once again with guitarist Chris Broderick, bassist David Ellefson and drummer Shawn Grover.
Mustaine's lyrics often reflect various viewpoints on society as well as social issues and are crafted in a way that is open to interpretation and promote discussion. "Super Collider itself is more about the metaphoric climax from having a good time with other people, which is comparable to those atoms colliding with one another, and the orgasmic explosion which comes after it," explains Mustaine. "It's also about that person at the top of the mountain, reaching down to help someone else to the top, showing them a better place, a higher road to travel."
Mustaine also draws his themes and lyrics from his personal experiences. Tracks on the album include "Built for War" (co-written with Drover), inspired by Mustaine's martial arts lessons as a latch-key kid which taught him to defend himself, and the corrosive "Off the Edge," a song about a world gone mad, shares the album with cautionary tales about teenage pregnancy ("Beginning of Sorrow," a co-write with Broderick), the ravages of drug addiction ("Kingmaker"), a faltering economy ("Dance in the Rain"), an arsonist ("Burn!"), betrayal ("Don't Turn Your Back on a Friend") and even the very personal and painful process he is currently dealing with as his mother-in-law battles with Alzheimer's (the dark delta country-blues of "The Blackest Crow" and "Forget to Remember").
The Super Collider title comes from the world's largest and highest-energy particle accelerator which allows physicists to smash atoms in the hope of discovering the origins of the Big Bang Theory. The actual device, considered one of the great engineering milestones of mankind, is pictured on the album cover, with permission from CERN (European Organization for Nuclear Research), which developed and built it. Megadeth's Super Collider is set to smash atoms, notes and heads, a worthy entry for one of the world's top heavy metal rock outfits.  It's a soundtrack for today, amped up and in your face, just like Megadeth has been for the past three decades.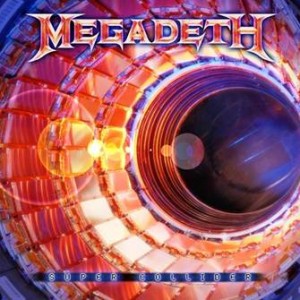 Available on:
–        Limited Edition Deluxe CD – with 2 bonus tracks + exclusive lenticular 3D cover artwork
–        Standard CD
–        Limited Edition Deluxe Vinyl LP – 180-gram heavyweight vinyl with 2 bonus tracks on an exclusive bonus coloured 7" single + download voucher
–        Standard LP – 180-gram heavyweight vinyl + download voucher
–        Download
TRACK LISTING:
1.         Kingmaker
2.         Super Collider
3.         Burn!
4.         Built For War
5.         Off The Edge
6.         Dance In The Rain
7.         Beginning Of Sorrow
8.         The Blackest Crow
9.         Forget To Remember
10.       Don't Turn Your Back…
11.       Cold Sweat