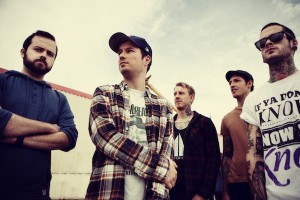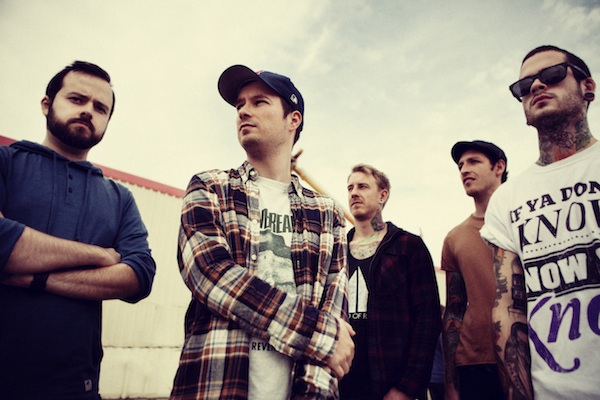 With a new sense of life injected into the band with new drummer Pat, Funeral For A Friend are in Australia to promote their new album 'Conduit' and from all accounts so far, they are ready to put on a show for us tonight in Sydney.
A small yet completely attentive crowd tonight welcome these Welsh lads to the stage with a reception fit for royalty and with the title track from their new album 'Conduit' they're off. The sound is great for their set in here and with the band tighter than a Tupperware seal I can't wait to hear what this frantic hour or so of post-hardcore rock will bring us. Bang, with another new one and 'The Distance' is heavy and melodic and balances the scream with clean vocals and sounded perfect.
Getting the crowd jumping and singing along is 'Roses For The Dead' with this old favourite clearly one that many, if not all here wanted to hear. To then without even stopping melt into 'Recovery' with the crowd now moving and helping singer Matthew with the lyrics as he's a little horse tonight. Well, a pony as he put it. One for the 'old school' and didn't they love this one… 'Red Is The New Black' from their debut 'Casually Dressed & Deep In Conversation' was huge and I have to say that with his voice issues, he is doing a damn good job all things considering, and the screaming parts he's now taken on in lieu of Ryan's departure from the band he is doing his best to make sure he's there tonight. Time for another new one from Conduit in 'Travelled' and it was actually really well received which I love when that happens as it shows that the fans accept it which isn't always the case with some bands new material. To think it's been six years since Funeral For A Friend have done their own headline shows here in Australia, and with a promise of coming back a lot sooner there is a thankful cheer heard throughout the room.
What I think is great about this band is the musicianship, the guitar work is flawless and the rhythm section is full and driving as I listen to song after song such as a B-Side called 'You Want Romance?' followed by 'The End of Nothing' it just gets better and better, and now I've seen everything ha ha, there's a circle pit on the floor of the Manning Bar. Classic. The short and fast 'Grey' keeps the mosh going, and with some instructions on how a circle pit works 'Damned If You Do, Dead If You Don't' and 'High Castles' got some love and 'Broken Foundation' now has some of the crowd launching themselves to crowd surf that's impressive stuff. Again I have to give kudos to Kris on lead guitar as this man is talent, the solo on this one in particular was a highlight.
Playing this one for the first time in Australia, from 'Hours' with 'Alvarez' and it's catchy almost anthemic groove at times has actually now become my favourite song of the night and a few here agreed. Giving a giant middle finger to those that doubted the band; 'History' slows the tempo down a little for what we'll call the ballad of the evening. I am a sucker for a ballad and judging by the number of phones out capturing this, many others here are too. Contender for best moment of the night sees the crowd take the words and finish the song with no music. That was cool and you could see that the band appreciated that. With a couple more to go 'Juneau' takes it way back to the start with their debut single and they loved it and sang it like they meant it. Leaving us with 'Escape Artists Never Die' and another from their debut album it was the perfect way to end the show.
Even with some voice problems, and even though it wasn't a sell-out, the band rocked it tonight and I'm pretty sure that everyone here enjoyed tonight's show, I mean how couldn't they. It kicked ass.
Check out our chat with Rich from the band HERE
Essential Information
Venue: The Manning Bar – Sydney
Date: May 11, 2013
Website: www.funeralforafriend.com
Set List:
Conduit
The Distance
Roses For The Dead
Recovery
Red Is The New Black
Travelled
You Want Romance?
The End Of Nothing
Grey
Damned If You Do, Dead If You Don't
High Castles
Broken Foundation
Alvarez
History
Juneau
Escape Artists Never Die
Make sure you catch Funeral For a Friend at these remaining Australian tour dates:
Tue 14 May – The Basement, Canberra (18+)
Tix: moshtix.com.au, 1300 438 849, destroyalllines.oztix.com.au & Oztix Outlets
 
Wed 15 May – The Corner Hotel, Melbourne (18+)
Tix: cornerhotel.com 1300 724 867, the Corner Box Office & Fist2Face
 
Thu 16 May – Pier Live, Frankston (18+)
Tix: ticketmaster.com.au 136 100 & Pier Live on (03) 9783 9800 or pierlive.com.au
 
Fri 17 May Fowlers Live Adelaide (Lic.AA)
Tix: moshtix.com.au, 1300 438 849, & Venue*Tix on (08) 8225 8888 or venuetix.com.au
 
Sat 18 May – Prince Of Wales, Bunbury (18+)
Tix: heatseeker.com.au 1300 762 545, Heatseeker Outlets & destroyalllines.oztix.com.au
 
Sun 19 May – Amplifier Bar, Perth (18+)
Tix: heatseeker.com.au 1300 762 545, Heatseeker Outlets & destroyalllines.oztix.com.au