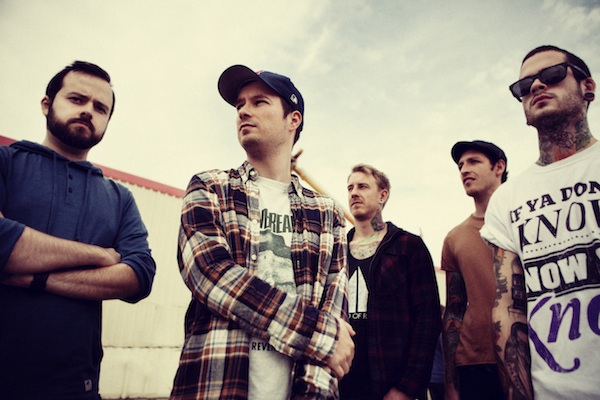 "I think we always like to keep our listeners on their feet *laughs* without giving too much away I think we'll always be a band that's definitely full of surprises and we'll always try and better ourselves and keep things interesting. I don't think we're complacent people at all, so keep a watch on us as you'll never know. *laughs*"
From Press Release: Over the course of a decade, Funeral For A Friend have remained one of the most fascinating bands to come out of the UK. Their debut album Casually Dressed & Deep In Conversation has long been upheld as a landmark punk album of the 2000s but it by no means bred a sense of self-satisfaction for the ambitious Welshmen. The five-piece's musical evolution has been heavily documented and it has seen them arrive at the most confident, kickass juncture of their career in 2013.
We had a chat with Funeral For A Friend bass played Richard Boucher to talk about the band's new album 'Conduit' as well as their upcoming Australian tour…
The album has been out for a couple of months now, how has the reaction been to it so far?
Amazing, better than we could've hoped really… Obviously when you release a new album and have a slight directional change which we have with it, we're always looking to see how people perceive it, but the response has been overwhelming really, can't be happier.
It's a noticeably heavier album than your previous releases, was this planned or did the album just play out that way?
It wasn't necessarily planned, we actually wrote the a song off an EP we released, 'See You All In Hell' and that was 'High Castles' and that was kind of like a catalyst really, for the album, so we wrote that song and sort of had a direction from that song if you know what I mean.
So when you sat down to create the album, was there a specific concept you were aiming for or did it just evolve that way?
Yeah it just kind of evolved from that song really, yeah.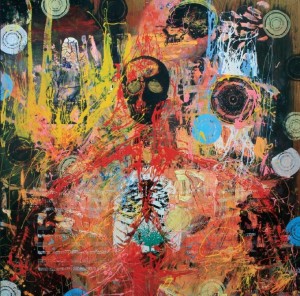 Is there a story behind the choice of the name 'Conduit'?
Not really, it's another song on there, the title track 'Conduit' and we just felt that we liked the meaning behind it and thought it was good enough, the album was short, snappy and direct and we thought it'd be simple to use just one word.  We liked 'Conduit' yeah we'll call it that.
Has the addition of Pat after Ryan's departure helped the band in the creation of what Conduit became?
Well actually all the songs were written before Pat, we obviously re-recorded the drums with him, but definitely his sound has helped the album, it sounds a lot heavier with him playing the album, a lot faster, more direct and we were lucky to have him on board.
Is that the same in the live environment?
Oh definitely, all the old fans are coming to the show and really noticed that we sounded more ferocious and more intense than ever, so yeah, it's been amazing.
Vocally as well, how easy or hard has it been for Matthew to adapt to Ryan's parts, has he had to pick them up?
Not necessarily, it's shared between him and Kris, Kris has done a lot of Ryan's actual screaming parts and Matt has kind of developed a whole new vocal style in the sense where he goes for a shouty hardcore screamy kind of sound which he's just kind of found natural himself just for this album I think.
It must be nice to not be the 'new guy' anymore…
Oh definitely, yeah *laughs* yeah I've been in there for years now… *laughs*
When you look back at an album like 'Casually Dressed & In Deep Conversation' compared to 'Conduit' and the evolution of the band, even though you weren't a part of the earlier albums, how have you personally see how the progression has taken place?
Yeah I mean I was obviously a fan and very good friends with them before that and I think the band has definitely progressed and I think time has a part as well and a large third party influence for new albums and stuff as well.  I think with this new album as well it's kind of like a bit more of passion in it as well I suppose and that's had a bit of an effect on it as well.
Is it fair to say that you're still evolving and have plans for something maybe completely different next time around?
I think we always like to keep our listeners on their feet *laughs* without giving too much away I think we'll always be a band that's definitely full of surprises and we'll always try and better ourselves and keep things interesting. I don't think we're complacent people at all, so keep a watch on us as you'll never know. *laughs*
You are heading back to Australia in May, what can we expect to hear this time around?
A god mix of old and new songs, what we think is our favourite tracks off 'Conduit'  and we actually haven't ever been over to Australia for club shows, only ever been over for festivals and stuff, so we're absolutely so excited to get into the club scene over there and play a good number of shows. I think we're probably more excited than our fans are. *laughs*
It's your biggest tour here yet, what do you this it is about the Australian audiences and their connection with your music?
It's hard to say really, I think Australia in general is a nice place, the people are great, and that translates to the shows as well, if the people are really cool and nice and friendly then the shows are as well. It's a great place to be when we come down to Australia, so it's going to be fun. Also we have a hardcore band 'Relentless' with us which are pretty cool as well, obviously we're all big hardcore fans and yeah it's been really positive so far, can't wait to get out there.  Let's just hope the weather's going to be great *laughs*. We just got back from Russia and that was -17, so I'm pretty sure it's going to be warm.
Being cooped up for most of last year recording, what are your, I dare say touring plans for the remainder of 2013?
Basically just touring, we're really excited with the record we've just written, we want to get out there, get across the world. We're going to a lot of new places we don't get to very often, ie like Russia and Scandinavia and stuff. Then coming over to Australia and doing club shows and it's all about getting out there and making a big effort on the touring side of things, so just basically as much touring as we can really…
How do you go when you get to a new territory like Russia, are you going over with any expectations?
Yeah, I didn't know what to expect, the band had been over there before with Linkin Park as supporting, but going over there and now headlining, you kind of don't know what to expect. We actually played Moscow and St Petersburg and the two nights were fantastic, everyone was singing a long and going crazy and it was quite surreal really being that far away from home and having people know who you are and excited to come to the shows, so you just never know what it'll be like.
Essential Information
From: South Wales
Band members:  Matthew Davies – vocals, Gav Burrough – guitar, Pat Lundy – drums, Kris Coombs-Roberts – guitar / vocals, Richard Boucher – bass
Website: http://www.funeralforafriend.com
Latest release: Conduit (out now)
Catch Funeral For A Friend at the following dates:
Wednesday 8 May – The Rev, Brisbane (18+)
Tix: destroyalllines.oztix.com.au 1300 762 545 & Oztix Outlets
 
Thursday 9 May – Surfers Paradise Beer Garden, Gold Coast (18+)
Tix: destroyalllines.oztix.com.au 1300 762 545 & Oztix Outlets   
 
Friday 10 May – The Cambridge, Newcastle (18+)
Tix: yourcambridge.com & The Cambridge Hotel
 
Saturday 11 May – Manning Bar, Sydney (18+)
Tix: manningbar.com & 1300 762 545
 
Tue 14 May – The Basement, Canberra (18+)
Tix: moshtix.com.au, 1300 438 849, destroyalllines.oztix.com.au & Oztix Outlets
 
Wed 15 May – The Corner Hotel, Melbourne (18+)
Tix: cornerhotel.com 1300 724 867, the Corner Box Office & Fist2Face
 
Thu 16 May – Pier Live, Frankston (18+)
Tix: ticketmaster.com.au 136 100 & Pier Live on (03) 9783 9800 or pierlive.com.au
 
Fri 17 May Fowlers Live Adelaide (Lic.AA)
Tix: moshtix.com.au, 1300 438 849, & Venue*Tix on (08) 8225 8888 or venuetix.com.au
 
Sat 18 May – Prince Of Wales, Bunbury (18+)
Tix: heatseeker.com.au 1300 762 545, Heatseeker Outlets & destroyalllines.oztix.com.au
 
Sun 19 May – Amplifier Bar, Perth (18+)
Tix: heatseeker.com.au 1300 762 545, Heatseeker Outlets & destroyalllines.oztix.com.au