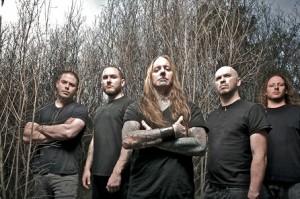 DEVILDRIVER have confirmed that the title of their new album is Winter Kills, out August 23 via Roadrunner Records Australia. The band recorded the album in Florida at Audio Hammer Studios and vocals in Los Angeles, CA at Dez's home studio with Mark Lewis (Black Dahlia Murder, Whitechapel, All That Remains) handling production duties.  
DEVILDRIVER has worked with Lewis previously on Beast and The Last Kind Words and producer Mark Lewis's prolific leadership of the new school of metal has yet again helped DEVILDRIVER deliver another Epic heavy Metal record.  This record melds what the band does best. In your face power as well as the California Groove sound the band pioneered.
DEVILDRIVER has always been a band on a three-pronged mission: Work hard, rock harder, and kick as many asses as possible in the process. The band tours forever and has since its beginnings. Their live performances and circle pits are as legendary as their music.
"This is by far DEVILDRIVER's most cohesive, powerful, groove laden record to date! We delivered our signature California Groove sound alongside a Raw and Biting guitar tone, mixed it with massive hooks, added in thunderous drums to rethink, and reshape another different sounding unique piece of Rock-N-Roll! Cutting our own path is something to be proud of. DEVILDRIVER has always and will forever be about thinking outside the box and delivering on something different from record to record, we cannot be assimilated into any scene or even genre of Metal and we will continue to do things our own way with a massive middle finger in the air to the status quo!" Hail RockNRoll, Dez FaFara
The band will be hitting the road worldwide in support of Winter Kills.  Touring as always will be a focal point for the band.
https://www.facebook.com/DevilDriverOfficial1
http://au.roadrunnerrecords.com/