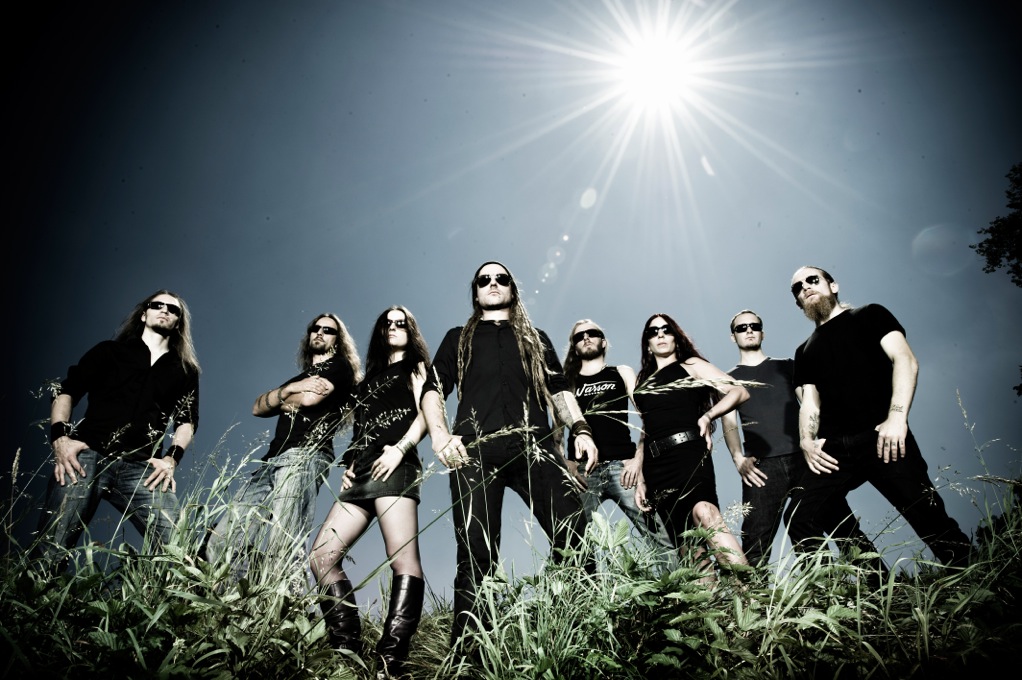 "When we started, it was clear to us from the very beginning that we want to work hard and we want to work a lot to get where we are as a band and move forward, but if you're within that it's more like taking one step after another, in that sense, everything that we ever did is important to us in some way and everything was just like one little step, one of like a billion steps… *laughs*"
From tour press release: Forming in 2002, Eluveitie have refined themselves over the years into a fine art that incorporates traditional death metal elements and mixes them seamlessly with European folk instruments such as flutes, hurdy-gurdies, violin, bagpipes, fiddles, mandolin and pipes. And with most of the lyrics sung in an ancient Gaulish tongue, the overall effect is mesmerizing, sweeping and grandiose.
They consistently produce unique and entertaining live shows around the world continually gaining rave reviews for their stage presence, energy, articulate sound and amazing way of drawing you into their world.
Bang your head to the heavy parts, whisk yourself away to an ancient land via the searing melodies of the pipes and flutes and jig with your stein in hand when the hurdy-gurdy comes crashing in!
We chatted to Chrigel from Eluveitie about their upcoming Australia tour as well as their latest album and the evolution of the band and just why we shouldn't categorize the band…
You're headed to Australia for the very first time in May for some shows, now being your first time, for those that wouldn't have seen you perform live before, can you describe a typical Eluveitie show…
Well to be honest I've never been to one so it's a little hard to say, but what I read at least in the magazines about our shows is that apparently Eluveitie shows are pretty much energetic, there's a lot of energy there of course because of what we feel on stage, but I think what makes it a little special is what you hear on an Eluveitie album is what you get at an Eluveitie show, so that means there are eight people on stage and we're coming up with historical, traditional folk instruments and everything is hand made. So there's pretty much a hell of a lot going on up on stage.
What can the fans expect to hear set wise?
Of course those shows will be a part of the 'Helvetios' world tour and we're focusing on our latest album and we'll play quite a lot of songs off that album, but of course especially since it's our first time in Australia, we'll try and give a good mix all across our discography.
Having eight members in the band must be a tight squeeze on stage, how do you make sure you're not all falling over each other?
*laughs* Well usually you're doing fine, I don't hope that the stages are that small *laughs* but we're fine.
'Helvetios' was released just over a year ago and was the band's first concept album, what was the idea behind the concept and creating this album?
First of all, I have to say 'Helvetios' music is basically the narrative of Celtic history and so this is what we've been doing on all our albums. As you said correctly this is our first concept album in the sense that it has a continuing story line and I think it originally decided that the album tells the story of the Gaulish wars and that was pretty much a dark chapter in Celtic history, sadly they are an important chapter in Celtic history. We thought it was worth writing songs about, it was worth singing about that and that became why we came up with the idea. Song writing wise it's with Eluveitie our songwriting is pretty much the same because it's a pretty much a natural process with all the information, but nevertheless it was a little different this time, because we didn't want to only express it lyrically but also express it musically, so what we tried to create was almost a little soundtrack to that story.
There was a little bit of a change with Anna getting more lead vocals on this album, was that something that needed to be done to make the songs what they were?
To be honest that was a conscious decision actually and I don't think it's changed, it's always been like that, since our debut there have always been songs that are like that. There have always been songs that mainly consist of female vocals that are a little softer and all that, it is a little Eluveitie tradition, but it's not the same stamp on every album, this is not something we decide per se, in writing the music for Eluveitie, I implement the certain instruments the way that it deserves the songs the best, I also consider the human voice an instrument. Like when I was writing the song 'Alesia' for the latest album it just turned out to be clear from the very beginning that there has to be female vocals just to express what the song is about and capture the atmosphere of what the song should express, so it's an expression of song writing, rather than the idea that we just want to have more female vocals on an album or stuff like that.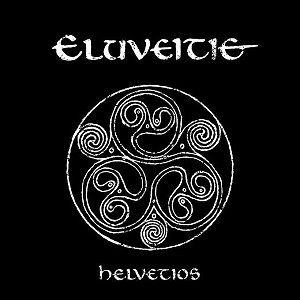 How hard was it in the beginning to blend all the elements and instruments you guys use into the sound that became that of the band?
To be honest it's pretty much exactly what it is today since day one, when I formed the band it was basically the realization of a dream that I had which was to combine the two types of music that I love most which would be melodic death metal and traditional Celtic folk music, so also ten years ago when I formed the band it was absolutely perfectly clear which instruments should be involved and it was clear that someone should be playing the hurdy gurdy. In that sense there wasn't that much of a development, obviously it did develop musically and all that, but instrument wise and music wise it was pretty clear from the beginning that this is what we were doing.
How does the term 'Folk Metal' sit with you as it seems you were the pioneers for this 'genre'?
I guess you want an honest answer here… but actually we don't even care that much. Putting labels on our music is not our job, it's the job of journalists and I don't know, we just play our music, after all it's just fucking rock and roll. After ten years when this music has come up more and more there has been so many different descriptions, especially in Europe. Actually we don't care what we're described as, or if it's like something influences or not, we just want to play music. As long as we can do that and we're happy, we don't care much about anything else.
At over ten years as a band, what has been your career highlight to date?
Well it's hard to say, of course I could mention our newest album which was the first time entering the US Billboard charts, or the second last album which was our first album to land in the Finnish album charts at top five. From the outside there may seem like certain key points in a career or you may think this album was their breakthrough or stuff like that, but here in the band it doesn't seem that way. When we started, it was clear to us from the very beginning that we want to work hard and we want to work a lot to get where we are as a band and move forward, but if you're within that it's more like taking one step after another, in that sense, everything that we ever did is important to us in some way and everything was just like one little step, one of like a billion steps… *laughs*
Now with the ten years, comes a release of 'The Early Years' with the re-recorded 'Ven EP' and your first album 'Spirit' re-mastered, why was now the right time to release this?
There was two reasons as to why we did that, on one hand both of those releases have been sold out for maybe three years or something like that and have not been available anymore, and we suggested why don't we re-release it? We thought it was a little cheesy or boring to simply re-release it, and a little cheap we thought, so we said if we were going to re-release it that we should do something with it. Then there was the other factor that it was our tenth anniversary and we wanted to do something special and all those things just came together and we thought it was cool, even though some of those on 'Ven' we still play live these days, yet as we developed as a band those songs developed together with us during the past ten years. So we thought it would be cool and interesting to record them again and see what they sound like today. So that was the idea behind the whole thing.
Have you already been writing for the next studio album?
Yes and no, we started the touring cycle for 'Helvetios' more than a year ago, and that one will still keep up on the road until at least September this year, it will be close to a two year tour, but after this once the tour is over in September, we actually do have a break from touring to focus on new material. I can gather ideas and stuff but I'm not the person that can actually compose music on tour. I tried to do it but I just can't, I need quiet and can go out for a walk in the forest to write music, so I started working on the concept of it will be after September when the tour is finished and I can focus on new material and maybe at the end of this year or something like that.
You mentioned that the tour is up until September, where are you heading to after Australia?
I think the next stop after Australia will be China or Taiwan, I'm not sure anymore *laughs*
Is there anywhere you want to play yet that you still want to?
We're all just music junkies, as long as we can play, as long as we can hold our instruments in our hands we're happy to play anywhere, but yes there are places, take Australia for example, it's our first time and we can't wait, we're really excited to be coming there. We're also curious about China as it'll be our first time there too, so we'll see.
Well thanks for your time Chrigel, we look forward to seeing you here in Australia.
Thank you, you too.
Essential Information
From: Switzerland
Band members: Merlin Sutter – Drums, Chrigel Glanzmann – Vocals, Mandola & Mandolin, Tin & Low Whistles, Bagpipes, Bodhràn, Anna Murphy – Hurdygurdy, Vocals, Flute, Meri Tadic – Fiddle, Vocals, Ivo Henzi – Guitars, Simeon Koch – Guitars, Patrick Kistler – Tin & Low Whistles, Bagpipe, Kay Brem – Bass
Website: http://www.eluveitie.ch
Recent release: Helvetios (Nuclear Blast)
Catch Eluveitie on tour in Australia this May:
Thursday 23rd Brisbane The Zoo
Friday 24th Melbourne Billboard
Saturday 25th Sydney Metro Theatre
Tickets only $59 + bf. Available now from metropolistouring.com and the venues.
VIP Meet and Greet Packages available for each show.
Proudly supported by Axiom Touring, Metal Evilution, Venom and Riot