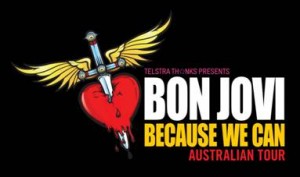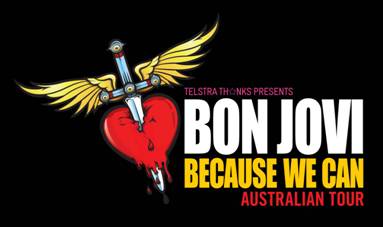 BON JOVI "BECAUSE WE CAN – THE TOUR" – MELBOURNE- SECOND SHOW ADDED!
GENERAL PUBLIC TICKETS TO BOTH SHOWS ON SALE 12NOON TODAY!
Tickets for BON JOVI'S Because We Can Tour go on sale at 12noon TODAY.
When the box office opens to the general public at 12noon today, there will be two Melbourne shows going on sale: Saturday 7th and Sunday 8th December.
Bon Jovi's tour will kick off in Melbourne on Saturday 7th and now Sunday 8th December at Etihad Stadium followed by a show in Adelaide at AAMI Stadium on Wednesday 11th December, Perth Arena on Thursday 12th December, Sydney's ANZ Stadium on Saturday 14th December and Brisbane's Suncorp Stadium on Tuesday 17th December.
Detroit rocker Kid Rock will join Bon Jovi as special guest in Melbourne, Adelaide, Sydney and Brisbane. This will be Kid Rock's first ever tour of Australia and the ONLY SHOWS he does here. 
Bon Jovi is offering a wide range of ticket options starting at $35.00 (plus transaction and credit card charges where applicable).  Tickets can be purchased from www.ticketek.com.au (Perth, Sydney, Brisbane) or www.ticketmaster.com.au (Melbourne, Adelaide).
In this spectacular new show fans will be treated to an unforgettable night of Bon Jovi's huge arsenal of hits, as well as new tracks from the band's latest album WHAT ABOUT NOW which debuted at # 1 on the Australian charts, including the hit singles "Because We Can" and "What About Now".
"What About Now":
Bon Jovi has just commenced the European leg of the "Because We Can" tour with a spectacular brand new stadium show
BON JOVI'S BECAUSE WE CAN TOUR: TICKETS ON SALE AT 12NOON TODAY!
For official tour packages visit: www.showbiz.com.au
Melbourne Saturday 7th and Sunday 8th December – Etihad Stadium, tickets from:  www.ticketmaster.com.au 136 100
Adelaide Wednesday 11th December – AAMI Stadium, tickets from:   www.ticketmaster.com.au 136 100
Perth Thursday 12th December – Perth Arena, tickets from www.ticketek.com.au 132 849
Sydney Saturday 14th December – ANZ Stadium, tickets from:   www.ticketek.com.au 132 849
Brisbane Tuesday 17th December –  Suncorp Stadium, tickets from:   www.ticketek.com.au 132 849
* plus transaction and credit card charges where applicable
For further tour information and all things Bon Jovi visit: www.BonJovi.com or www.daintygroup.com