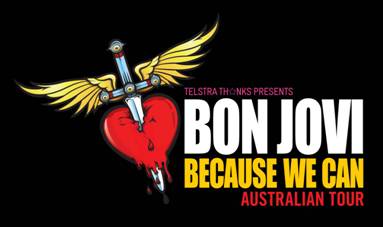 BON JOVI – BECAUSE WE CAN – THE TOUR: AUSTRALIAN DATES ANNOUNCED
Tickets from $35* On Sale Monday 20th May at 12noon
Paul Dainty, Chairman of Dainty Group has announced dates for the Australian leg of the "BON JOVI Because We Can – The Tour".   The tour will kick off in Melbourne on Saturday 7th December at Etihad Stadium followed by a show in Adelaide at AAMI Stadium on Wednesday 11th December, marking the first time Bon Jovi has played Adelaide in 18 years.  The tour then continues on to Sydney's ANZ Stadium on Saturday 14th December and Brisbane's Suncorp Stadium on Tuesday 17th December.
Tickets for the Australian tour will go on sale on Monday 20th May at 12noon.  Ensuring there is something for every fan, Bon Jovi is offering a wide range of ticket options starting at $35.00 (plus transaction and credit card charges where applicable).  Tickets can be purchased from www.ticketek.com.au (Sydney, Brisbane) or www.ticketmaster.com.au (Melbourne, Adelaide).
As presenting partner of the Australian leg of the tour, Telstra is running a special pre-sale for Telstra customers.  The Telstra Thanks Pre-Sale powered by BangTango will run from 9am Monday 13th May to 8:59am Wednesday 15th May 2013 local time.  These pre-sale tickets are strictly subject to availability. Visit www.telstra.com/music  for more information.
In this spectacular new show fans will be treated to an unforgettable night of Bon Jovi's huge arsenal of hits, as well as new tracks from the band's latest album WHAT ABOUT NOW which debuted at # 1 on the Australian charts. The brand new video for the single "What About Now" can be viewed here.
Regarding the ticket pricing Paul Dainty commented, "We wanted to help every Bon Jovi fan get past all the economic doom and gloom and come along to what will be without doubt the best concert of 2013.  This band totally delivers live on every level and I don't think we've seen tickets from $35* for a topline act like Bon Jovi for many years, so this should be a great big Christmas party for fans."
Night after night, this not-to-be-missed tour has earned rave reviews from fans and critics alike: Billboard Magazine recently described the show as "a joyful musical tour de force." Tampa Bay Times observed that Jon Bon Jovi "simply does not age. And when he hits those high notes, and we meet him right there at the top of our lungs, neither do we." Buffalo News called the show "a triumphant, hours-long set of…monster ballads, fist-pumping anthems, and a lot of new material that sounded like all of those things," and the Centre Daily Times recapped that "ending the night on a high note, the members of Bon Jovi took a bow and exited the stage while the rowdy audience continued to cheer and shout their approval long after the band was gone."
The group's return to the road in 2013 has launched the latest chapter in an ongoing blockbuster run which has already secured Bon Jovi's status as the essential live rock band – having performed more than 2,700 concerts in over 50 countries for more than 35 million fans. "BON JOVI Because We Can – The Tour" kicked off in February and is currently making its way across the globe with dates in the US, Europe, the Far East, Africa, Latin America and Australia.
Telstra Thanks presents "BON JOVI Because We Can – The Tour"
Telstra Thanks Pre-Sale powered by BangTango –
9am Monday 13th May to 8:59am Wednesday 15th May 2013 (local time)
Visit www.telstra.com/music for more info.
For Fan Club and Circle Packages go to www.bonjovi.com
GP tickets on sale Monday 20th May at 12noon
Melbourne Saturday 7th December – Etihad Stadium, tickets from:  www.ticketmaster.com.au 136 100
Adelaide Wednesday 11th December – AAMI Stadium, tickets from:   www.ticketmaster.com.au 136 100
Sydney Saturday 14th December – ANZ Stadium, tickets from:   www.ticketek.com.au 132 849
Brisbane Tuesday 17th December –  Suncorp Stadium, tickets from:   www.ticketek.com.au 132 849
* plus transaction and credit card charges where applicable
For further tour information and all things Bon Jovi visit: www.BonJovi.com or www.daintygroup.com