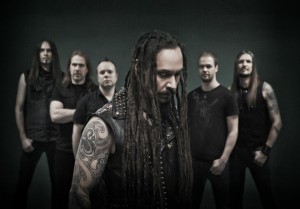 Amorphis tour Australia for the very first time in their illustrious career. Never before has this iconic and distinguished act graced Australian shores; now in October 2013, this is all set to change.
Amorphis has been at the forefront of the scene for well over two decades. Encompassing a large and loyal fan base they have been able, and continue, to win over fans of all genres.
They will be here performing tracks off their latest release 'Circle' but will also perform classic and fan favourite Amorphis tracks across their comprehensive discography. Amorphis are seasoned professionals, they are a class act, they are the complete package, and they are at the top of their genre. Their upcoming performances will be something to behold and their shows are a musical spectacle. This tour will be something special for fans of all musical genres.
Performing shows in Sydney, Brisbane, Melbourne and Perth, fans will be treated to history in the making. Amorphis leaves nothing on the stage as is typical of their energy, power, and 100% raw and honest commitment on each and every one of their live performances.
Ticketing outlets Monday 20th May
TOUR DATES
Friday 11th October – The Factory Theatre, SYDNEY (18+)
Saturday 12th October – The HiFi, BRISBANE (18+)
Monday 14th October – Billboard The Venue, MELBOURNE (18+)
Wednesday 16th October – Amplifier Bar, PERTH (18+)