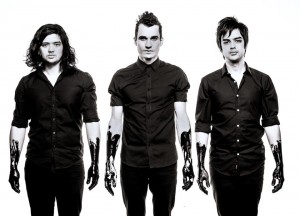 From Bio: Brisbane rock newcomers Aerials kicked the door of the Australian live music circuit wide open in 2012 with the release of their explosive single, 'Silhouettes'. Having received nods from Triple J Unearthed and RAGE, the band wasted no time in hitting the road with respected acts such as The Red Paintings, Over:Reactor and Greenthief.
Aerials debut EP drops on May 1, supported by a massive run of sweaty shows all the way from Cairns to Adelaide. With Forrester Savell (Dead Letter Circus, Karnivool) manning the desk, lead single 'Firefights' is a rock anthem in rave territory as M83-inspired falsettos float over Depeche Mode-esque synth stabs.
Entertaining an audience of over 1,000 punters at iconic Brisbane venue The Arena started what is sure to be a very exciting year for Aerials. This band will stop at nothing to carve a place of their own in a musical landscape over saturated with carbon-copy indie bands.
We dug the sound of these guys, so wanted to share and make Aerials one of our Best Things You've Never Heard…  we caught up with singer Jackson to fill us in on a little about the band…
Let's start with the basics; can you please give us the abridged version of the Aerials story and where the name of the band came from?
Aerials is two brothers who have been playing music together since they were in nappies and an only child who had been playing on his lonesome for not quite as long. Our first show was a single launch for 'Silhouettes' in March 2012. Since then we've toured three singles. We get on the road any opportunity we get.
We had 3 simple criteria for band name selection: (1) it had to really really hard to find on the internet; (2) it had to be likely to get us in a legal dispute within 6 months of getting off the ground; and (3) it had to be likely to be misspelt by the vast majority of people. So we chose 'Aerials'. Check, check and check.
Can you now please introduce each other and give us a rock 'n' roll fact or myth about each of you?
Brendan (drums) insists on speaking in a southern American accent at rehearsals and calling himself 'gospel chops'. Tristan (guitar) spends almost as much money on fancy Asian hair product as he does guitar pedals. And I (vox/bass) apparently refuse to wear clothes when tracking vocals.
If you had to give us your best door to door sales pitch to convince someone to listen to your forthcoming debut EP before they slam the door in your face, what do you say to them?
I would have walked away before they had the chance to slam the door in my face. Errrgh, wanting people to actually like your music is so passé.
In terms of your song writing, what do you consider to be the most important ingredients that make up an Aerials song?
Big lifts. We argue for hours about dynamics. If a song doesn't take us to at least five different places in three minutes, then it needs more work.
Both lyrically and musically, what or who inspires/influences your music the most?
I write lyrics free flow and work out what they mean after they're written. It's an unconscious stream brought on by listening to the demo of the music on repeat. This is the only way I write.
Musically, I'm influenced mainly by post-rock music. Tristan and Brendan are both avid music collectors and draw from a huge range of sources. Brendan, whom writes most of the original ideas for our songs, also reckons he's inspired by soundtracks, but I reckon he just says that to sound hip.
Newest single 'Firefights' is a powerhouse, is there a story behind the song you can share with us?
That song was the last one written in pre-production. We tagged it as the lead single before it even had a vocal! I guess we just loved the way that rhythm made us feel. When Brendan showed us the original midi demo he did we were sold straight up.
Touring wise you're about to head off for some shows in support of the EP throughout Australia, tell us about your live show and what people can expect if they come to see you play?
The live show is everything for us. We are a rock band. We put every single part of ourselves into our performance. I feel very fortunate to play music with two such natural performers. I feed off them and just try to lose myself in the music.
What do you think that Aerials do to stand out from the, as you put it, 'carbon copy indie bands'?
Ha! You read our bio, Mmmm. I bet we've offended a lot of people with that comment hey? Blame our publicist. Nah. We have loads of friends who play in indie bands… we are playing with a lot of them on tour upcoming tour. I guess we'd just like to think that we take our audience on a more emotive journey than a lot of the tracks that are dominating radio at the moment.
You've been doing the rounds for a couple of years now, how have you already seen the band evolve in the time from when you started?
Well, we've actually only been playing just over a year. Soooo you just skim-read the bio! We're just trying to be our own favourite band. Cliché, but what else are you meant to do as a rock band? We're working harder than any other emerging band I know. This band is our lives and it evolves every day, mostly in a forward direction. The shows are getting bigger, and that's the part of the evolution that we care most about.
For a bit of fun, say you get the chance to open for any artist in the world, who would they be and why?
I'd say The National or Sigur Ros. Brendan and Tristan would probably say The Mars Volta, at a time when that would've been possible of course.
To get a little further insight into the band, let's say you were able to cover one song for your live set what would it be and why?
We actually play one cover every set we play. The only criteria is that the original is by a woman…. It's just easier to 'make it your own' that way. We're doing Santigold's 'Disparate Youth' on the upcoming tour.
Lastly, here's a chance to gaze into your crystal ball. In the next year, Aerials will:
…cease to exist after the realisation that the only thing cooler than not wanting people to like your music is breaking up before anyone knows who you are. Our retirement will be spent sitting around naked and applying hair product to each other while singing Cyndi Lauper covers and reminiscing about how much we use to love indie music. Buuuut, before all this happens, we are touring our debut EP Firefights absolutely everywhere. So come to a show, even if it's just to laugh at me when I mangle that ridiculously hard bass line in Disparate Youth.
Essential Information
From: Brisbane, Australia
Sounds like: Rock
Band members:  Brendan Chu, Jackson Walkden-Brown, Tristan Chu
Website: http://www.aerialsband.com