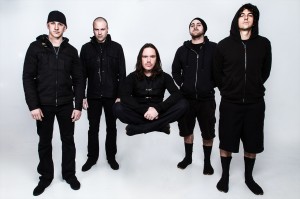 TWELVE FOOT NINJA KILLS & EATS INTERNET TROLL
BREAKING: Twelve Foot Ninja respond to an internet troll with dismemberment and cannibalism. It's a tale of delicious retribution dealt out in the name of those who've experienced the cowardly blows of the infamous 'keyboard warrior'.
If successful, it will break the record for Australia's most ambitious music industry crowd funding campaign!
Making hamburgers out of an internet troll and eating them is only part of the storyline for the music video that Twelve Foot Ninja promises to create for their fans via the crowd funding campaign they have just launched at www.pozible.com/tfn.
Twelve Foot Ninja's highly entertaining pitch video on the crowd-funding website Pozible.com includes Mortal Kombat styled bone busting, head explosions, ninja teleportation, as well as sneak previews of scenes filmed with US prog metal wizards Periphery.
Never a band to do things in half measures, Aussie band Twelve Foot Ninja explore the concept of cyber bullying and are hoping to inspire their supporters to help fund their highly anticipated and elaborate next music video.
So what else will be in the video? For starters: Hollywood grade prosthetics and gore, a seven foot Alaskan brown bear, some serious artillery, a choreographed fight scene, rocky leg squats, chicken chasing, pink flamingos, Periphery, AND a busty Penthouse Pet for good measure.
Twelve Foot Ninja released their debut album SILENT MACHINE in November 2012, debuting at #4 on the AIR charts and attracting wildly complimentary album reviews from heavy music press, underground music blogs, and peers.
In early 2013 they performed on their first headline tour of Australia, selling out every capital city show. Since then they have gained daily rotation on America's largest satellite radio network SiriusXM (20million subscribers), received European festival offers, been listed as one of Alternative Press' '100 BANDS THAT YOU NEED TO KNOW' and reached over 300,000 YouTube views for their previous music video 'Coming For You'.
Can Australia's newest heavy music monsters add 'record-busting, crowd-funding fiends' to their list of achievements? It's now in the hands of their fans…