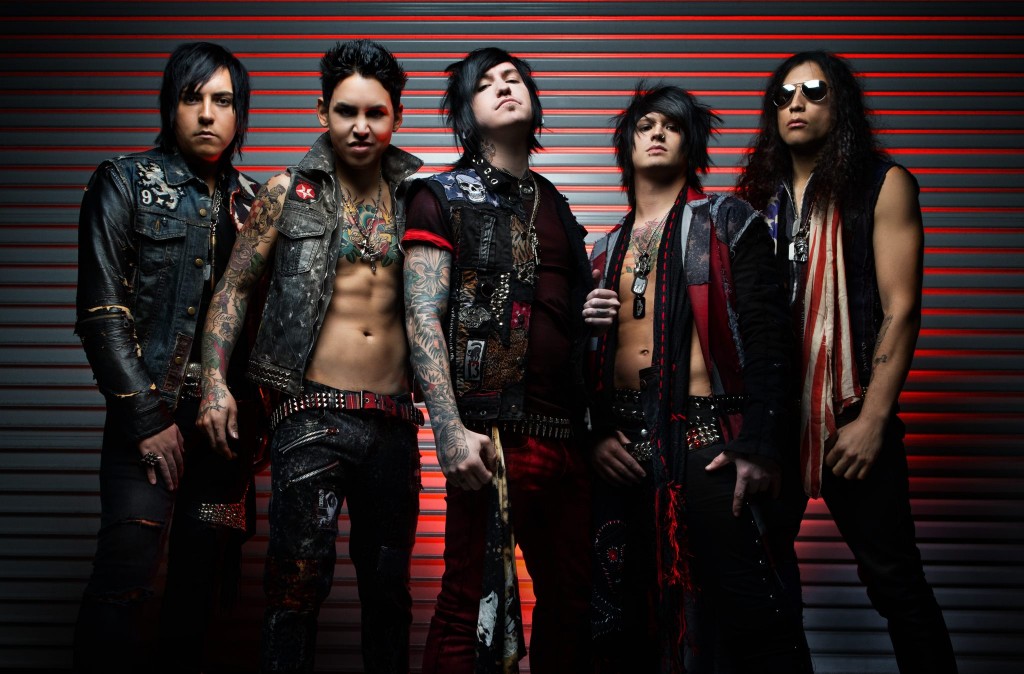 "This album represents everything we need to do right now.  This is our whole identity, this is it, there's no turning back for us, it's now or never, if this doesn't work out for us then we had our chance…and we blew it, we have to, have to make this album work."
Escape The Fate, well there's a band that's sure had a torrid and turbulent history spanning less than 10 years and only three studio albums.  But let's not dwell on the past, the band is 'Ungrateful' and their fourth studio album due out on Eleven Seven Music, May 14th has already got the fans talking, courtesy of the intense video for the title track and first single.
Dialling in from the heart of Las Vegas, we recently chatted with drummer Robert Ortiz about second chances, fourth chances and ninth lives, and a whole lot about what you can expect from the new album Ungrateful!
Hey Robert, thanks for chatting today, so the new album Ungrateful is on it's way out in around 6 weeks – May 14th to be precise, this sure has been quite a few years in the making hasn't it!
You know, we've been to hell in these past few years, and a year ago I didn't know if I'd be playing music to be quite honest with you.  We've gone through so much crap, all the things that could go wrong in a band and all the second chances…  We went through all of that before we even hit our mid-20's.  All that stuff that a band goes through after about 15 or 20 fuckin' years and we went through all that whilst we were still kids.
So I guess without dwelling too much on the past – you've basically changed everything haven't you, ultimately now ending up on Eleven Seven Music who are releasing the new album…
Well what happened, is we are on our ninth life now…  At the end of our eight life, we were done, we were ready to hang up the towel and everything just went wrong.  We just had to start all over basically.  Our label Interscope were cutting ties with all things rock, and just focus on their pop music or whatever the new focus was to be and that's just the nature of the business and the state that the world is in now, specifically rock music.  We needed a fresh life, so we reached out to Eleven Seven who knew what we were about, they got our vision and knew that we were a cool band with credibility.  We come from that scene and we want to take it to the masses, that's our whole thing and they felt really strongly about that and had our backs, so we wanted to run with them you know.
Doing all this press, it must be making you guys pretty anxious given the albums still about 6 weeks away from release!  What's the feelings within the band right now?
Dude, if you want to say anxious, holy crap, I call my manager up every day, I'm freaking out.  There's nothing worse for a musician than sitting around at home.  Sure you might bitch about wanting to be out on the road, it gets tiring, you get sick of your band mates, you get tired of that whole environment and you want to wake up and take a shit in your own bathroom and all that gets draining and everything wears on you after a while.  But when you're home for more than a few hours by yourself, you start freaking out and doubting yourself and wondering what's going on.  This album represents everything we need to do right now.  This is our whole identity, this is it, there's no turning back for us, it's now or never, if this doesn't work out for us then we had our chance…and we blew it, we have to, have to make this album work.  Right now I'm so anxious to have this album out, I want to be sharing it with the world and show them what we are made of and all the things from the past are behind us now.  We're still growing, we're still learning, but all the main things that were dragging us down are now gone.  That's the story we want to share everyone, you can do it, if you just keep trying.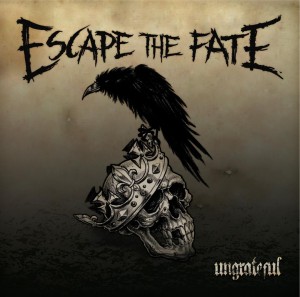 Ungrateful as an album title – is that pretty much capturing all those learning's and realisations for you over the last few years?
Well initially we had a whole different concept all together and we ran with it initially, but then me and Montey talked and we were like, let's just call the album Ungrateful.  It represents everything about us, who we've been, right when they handed us the key to the city, then we just dropped it into the gutter.  That's kind of the feeling we've had, we were assholes and we didn't appreciate everything that was being giving to us.  We hated each other, we took everything for granted when we should have been working on our craft and perfecting our instruments.  Certain members of the band were finding themselves addicted to certain substances and that all just showed we didn't give a fuck.  I didn't care, I went through a massive depression, as did Montey, we went through severe depression and anxiety and all that stuff and a lot of our fans can relate to that kind of stuff.  We didn't want anything to do with the band.  What that album cover represents – we were kings, we had everything going for us and we just fucked it up and we're abandoned now, and the ravens are flying away with this thing, that's how that all went…
Ungrateful the song and video, that's a pretty intense impact and statement to come back with…
Well to be quite frank with you, as I don't want to hide any of our feelings…  But anytime you type our name into anything, a song we post, a picture we post, a tour date we post, a video we post, basically anything that we post…anything we put up is going to have some excited posts, but then just as quickly there's the whole "they were better with the old singer, I miss this, I miss that"… Then you'll have the new fans going "no, I like this better, they were worse with the old singer"…  That's all fine, it's part of our history and I'm happy for them to debate, the music is all there for them to share.  But this time around, whilst there are still a few of those comments, the discussion has turned more to the content of that Ungrateful video.  We wanted to be bold, we wanted to pull no punches.  It was scary for us making a video like that which had a positive message behind it and true meaning, that's never really been anything we're about.  It's normally been about titties and we are drinking and on a plane and we're fucked up and oh, now we are on a stage, lets get fucked up here… You know, that was just our whole vibe, everything had to be a party.  But that song and video Ungrateful is just so representative of everything that was ripping us down, the people that hated on us, that's what that song is mostly about.  People try and bring you down and ultimately we connected that with the message of bullying and what it does to people, the victims, and how everyone, even the bullies themselves, are victims and that's what the cycle is about.  The fans are responding to it, they're certainly talking about it, the pictures at the end are controversial, and we know that.  Believe me, we went back and forth several times about whether we wanted to include them, believe me it wasn't an easy decision.  Those are people's lives, they're real situations and specifically Amanda Todd, everyone's familiar with her story, where she basically put herself into a predicament at a very, very young age and she had to deal with that as a teenager when she wasn't equipped to handle that kind of torture and punishment and escape all that bullying and stuff, so that's where we included her and wanted people to know that we are fucking serious, we mean it.  The fans have responded and are debating it and I love that they're caring more about that, than the rumours they hear about us.
And another video for You're Insane is just days away from being released (since this interview was conducted, You're Insane video clip has been unleashed…)
Well that one is a little more autobiographical, it sort of mirrors our lives and all the rises and falls when you get handed that golden ticket, but just get it fucked up in the process.  It's not as intense or as profound a message, but it certainly reflects our band and what we've done and why we are at, where we are at right now, potentially starting over again.  After a video like Ungrateful, it's pretty damn hard to top something as intense as that.  But we're excited to be having two videos out and about at the same and being out on the road and sharing these songs and hopefully everyone really enjoys it.  If not, they can go and watch Ungrateful again…
So we've spoken a bit about a couple of songs from the new album which give people a taste, what can we expect from the rest of it?
One thing with Escape the Fate I guess is we've never really set in stone what our sound is.  We've always gone in a lot of different directions, but that's because we enjoy a lot of different sounds, whether it be metal or pop or punk, we like all of it, that's just who we are.  This album though is a lot more cohesive, every song fits together and it's a lot more rock.  The last one we were experimenting with a lot of different sounds and gothic shit and we wanted to be dark.  You know it was cool and some of it was good, some of it wasn't our best, but this time we're getting a little more back to our roots and more attitude as a whole and that's what we were going for with the album.
You're soon about to head out on a tour with Papa Roach one of your new label mates, and you've got your own headline shows, which I dare say are going to be all about re-connecting with the fans again?
As you said, the upcoming touring is a little back and forth we are doing some dates with Papa Roach and then mixing in our own headline shows.  Basically just trying to get our fans back you know, it's getting out there and getting in their faces.  We're doing a lot of intimate stuff and trying to engage with them in that way, but it's also finding our legs again you know?  It's been a long time, a very long time and we need to go out there and prove as much to ourselves, as we do our fans that's we can still do it, and better…
Essential Information
From: Las Vegas, USA
Band members: Craig Mabbitt, Monte Money, Robert Ortiz, TJ Bell, Michael Money
Website: www.escapethefate.com
Latest release: Ungrateful (May 14th, 2013 – Eleven Seven Music)
Tour dates:
Headline Dates w/Glamour of the Kill and The Color Morale (5/3-6/1), As Thick As Thieves (5/23-6/1)
Apr 12 – St. Petersburg, FL – State Theatre
Apr 13 – Ocala, FL – Platforms at Ocala Entertainment Complex
Apr 20 – San Antonio, TX – The White Rabbit
Apr 25 – Little Rock, AR – Juanita's
May 03 – Toledo, OH – Mainstreet Bar & Grill
May 04 – Cleveland, OH – Grog Shop
May 09 – Lansing, MI – The Loft
May 10 – Bloomington, IL – Castle Theater
May 11 – Minneapolis, MN – Mill City Nights
May 12 – Des Moines, IA – Wooly's
May 16 – Pittsburgh, PA – Mr. Smalls
May 17 – Worcester, MA – The Palladium
May 19 – Buffalo, NY – Waiting Room
May 23 – Omaha, NE – The Waiting Room
May 26 – Denver, CO – Marquis Theater
May 27 – Colorado Springs, CO – The Black Sheep
May 28 – Albuquerque, NM – Sunshine Theatre
May 30 – Tempe, AZ – Rocky Point Cantina
May 31 – Las Vegas, NV – Fremont Country Club
June 01 – Pomona, CA – The Glasshouse
With Papa Roach, Otherwise and festival dates
Apr 14 – Fort Myers, FL – Fort Rock Festival
Apr 16 – Fort Lauderdale, FL – Revolution
Apr 17 – Panama City Beach, FL – Club La Vela
Apr 19 – Wichita Falls, TX – Kay Yeager Coliseum
Apr 21 – Grand Prairie, TX – Verizon Wireless
Apr 23 – El Paso, TX – El Paso County Coliseum
Apr 24 – Pharr, TX – Pharr entertainment center
Apr 27 – Jacksonville, FL – Welcome to Rockville
Apr 28 – Mobile, AL – Soul Kitchen
Apr 30 – North Myrtle Beach, SC – House of Blues
May 01 – Baltimore, MD – Rams Head Live
May 05 – Concord, NC – Carolina Rebellion
May 08 – South Bend, IN – Club Fever
May 14 – Joliet, IL – Mojoes
May 15 – Libertyville, IL – Austin's Fuel Room
May 18 – Freehold, NJ – Skate & Surf
May 21 – Rochester, MN – Mayo Civic Center Auditorium
May 22 – Fargo, ND – The Venue at the Hub
May 24 – Pryor, OK – Rocklahoma
UK/ Europe
* With Papa Roach
June 8 – Nurnberg, Germany – Rock Im Park
June 9 – Nurnberg, Germany – Rock Am Ring
June 11 – Poznan, Poland – Eskalup *
June 12 – Leipzig, Germany – Haus Auensee *
June 15 – Donington, England – Download Festival
June 18 – Lausanne, Switzerland – Les Docks Festival
June 19 – Treviso, Italy – New Age *
June 20 – Milan, Italy – Magazzini Generali *
June 26 – Tilburg, Netherlands – 013 *
June 27 – Berlin, Germany – Huxley's *
June 30 – Mundenhof, Germany – Zelt Music Festival
July 02 – Dornbirn, Austria – Conrad Sohm *