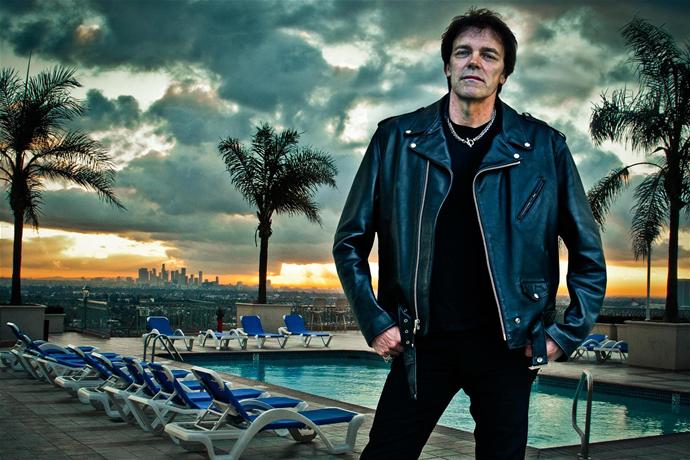 "I don't know, I think at this point in my life I was ready. I had a lot of great material and just wanted to do it you know? I think I owe this… you know I want people to see the other side of me…"
Richie Ramone is known as the fastest, most powerful drummer who ever played with the legendary punk-rock band the Ramones, and along with that he wrote several popular songs during his five years in the group, including "Somebody Put Something in My Drink" making him a major part of Ramones history. In his time since his departure from the Ramones in 1987 he has worked on many projects, you can read about a couple below, but is just now about to release his debut solo album.
So before heading to Australia for the inaugural Stone Music Festival, we chatted to Richie Ramone about his first trip to Australia and what we can expect as well as his upcoming solo album and just what else he's been up to over the years.
OK Richie, let's count it in… 1-2-3-4…
You're headed to Australia for the inaugural Stone Music festival, I guess the question is, what can we expect to hear during your set?
You know, I have a new album coming out shortly, I wish it was out before I got there, but it's not going to be out in time, so I'm going to do some songs off the new album and probably some songs I recorded with the Ramones and maybe a Ramones classic or two. The show is only half an hour, so we're gonna get off nine or ten songs in a half hour probably.
If they were all Ramones songs you'd probably get around forty in that time I'd think…
*laughs* in about a half hour, maybe about fifteen or sixteen…
Would you have ever thought you'd see the day when you were playing alongside Van Halen?
No, never. That's why I jumped at this opportunity, it's really cool.
You're also doing a couple of side shows with Buckcherry too which will be cool…
Right, we're gonna do the 18th in Melbourne at the Espy and then the 19th at the Standard, the day before the festival in Sydney, so I can play a little longer at that show, so I'll probably play fifty minutes so I'll play some more songs so that should be fun. I wanted to do some smaller more personal shows when I was there.
I believe this is your first trip down here, have you been given any idea of what to expect as far as fan wise?
Yes it is *laughs* which is shocking. The Ramones may have been there once or twice, but not in the five years when I was in the band, so it is my first trip there. Fan wise I have no idea, I can see who's hitting me up on facebook and stuff, a lot of kids are real excited as they've never seen me, so I have no idea what to expect, I don't know.
Your first solo album is due this year. Why was now the right time to finally release it?
I don't know, I think at this point in my life I was ready. I had a lot of great material and just wanted to do it you know? I think I owe this… you know I want people to see the other side of me, they know my song writing stuff but taking on the job as singer, drummer and I also move to the front because I have two guitar players and one guitar player goes on drums when I go to the front and sing out front. It's exciting, and sometimes I just want to release this material, you know? I'm excited about it. I originally fought it off, like did I want to come up front? But it's been working out really well.
A lot of drummers find it very daunting to move from the kit to the front, so that's pretty cool.
Yeah, that's why I use two floor toms as I feel bare when I only have one floor tom, like I'm not surrounded enough, you know? I don't know, it's kind of natural for me and just be yourself man, you know?
How would you sum up what we can expect to hear from your album?
The sound is I took Tommy Bolan, he was in Warlock with Doro Pesch in the late 80's, I took a metal shredder guy and I took a punk rhythm guitarist and I put them in the same room, and I got the sound that I really wanted. I love solos, I love shredding and I love that sound, and if you pull them into my world and pull them back a little bit, god, it's a good combination, it really worked well.  It's a very heavy aggressive sound, it's not over the top metal, but there is enough to make the metal kids love Tommy, you know what I'm saying? *laughs*
 Were these songs that you'd had waiting in the wings forever or were they written specifically when you knew it was time for an album?
No they weren't written forever, it's probably maybe two years… I guess we started making this record almost a year ago, so I finished up some, I've dabbled in a lot of songs but I never finish songs unless there's a purpose. It sounds kind of weird, I can have a lot of stuff that's not finished, so when it came time to direct I actually finished the songs and put more direction and with lyrics, the lyrics are always difficult, but the lyrics are a lot about my life and my upbringing and my life story going through this record, so it's kind of cool.
Is that where the title 'Entitled' comes from?  Is there a meaning behind it?
Yeah. No, Entitled, I'm entitled to do my own record or whatever you know, Fuck You I'm entitled *laughs* and that's where it kind of came from, being a Jesus or something you know what I'm saying? *laughs*
When can we expect to hear it?
I don't know, probably in the next month or two. I don't have a slated date yet but check my website and stuff like that.
Seems your part of the Ramones was quite prominent being that you got to sing lead as well as write a number of tracks, how did what you did differentiate from the other members to allow you to be so creative within the band?
Well it was like when you first get in a band you're real quiet and you don't express yourself much and you're just feeling your way through, especially through guys that had been around for I don't know, ten years before I got in there. Then Joey and I became good friends and Joey Ramone was a big, big supporter of me, he loved my song writing, he loved my singing and he encouraged me to do more and more and that's how 'You Can't Say Anything Nice' I sang it on the record, because he wanted me to sing it and I kept saying no, you're the singer, you sing it, so he said no and so he was very supportive in that. Dee Dee as well, they would push me to write more, I'd tell them stories and they'd say oh you should write that song 'Somebody Put Something In My Drink' and that's how it all came about. You know you can get singers that don't want to get outshined, or want any competition within the band, but Joey wasn't like that. If it was good, he wanted you to do it you know?
What was it about your role in the band that kept them alive in the 80's where it would've been a tough era for that sort of music?
Yeah well they came off some weird records before, and we got Tommy Ramone back who produced the first record, and coming into the band, new blood, I have a much more aggressive drumming style than any of the other guys did you know, and I just beat them and very, very solid drummer so that kind of changed the sound a little bit, drummers can change the sound of a band in a heartbeat you know. So new blood, new people to hang out with and talk and joke and it worked out well.
In your five years in The Ramones, was there a moment that stood out above all that you can share with us?
I don't know, there's a lot of standout moments but I'll never forget, was one of the first shows we did and the Ramones were notorious for if we started a song and everyone was lost they would just stop. Johnny would just stop, "That's wrong" he'd say and just start the song again, now that I'd never done in any band before, usually you just go through the mistake and find your way and somehow get out of the song *laughs* but we would be just like *makes sounds of song ending badly* and we would just start the song over again. I thought that was like crazy, like whoa, this is nuts, cause that I was never used to. *laughs* It probably only happened two or three times in that whole time, but if people couldn't find their way we'd just stop and start the same song over. Normally you just go to the next song but no, we'd do the same song over. *laughs*
Seems you've been busy though and not only in the punk world, tell us about some of the other projects you've been involved with over the years, including the orchestral project, how did you get involved with that?
Yeah, well you know I took some time off and I wanted to do something really cool. I was always a fan of Buddy Rich and Gene Krupa, so I arranged this West Side Story piece with a friend of mine and that went really well, and the Symphony shows, there's nothing like it. Rock and Roll you're structured around your 2/4 beat and all of that, and the orchestral stuff you play different time signatures, you get to really drum your head off, so I wanted to do something like that. I'm going to work on a James Bond piece in the next year or two because I'd like to do that again, and get back to that orchestral stuff, but I don't need to do that for some time now. I'm really involved with this record, I want to get out there and play Rock and Roll and see all the fans, you go through stages, something eats at you and you want to do it, you do it, so that's why I did that and it was really cool, but when you have orchestral fans, they're like Governors and Mayors and prominent people who come to those things, it's a whole new audience so it made it kind of exciting. You do one rehearsal and then you play, that's it. Definitely a whole different venue to perform in front of, it was really cool and I'll do that again one day, but this record is just too good and I'm really excited about it.
You kick off the tour in Australia, but what does the rest of the year have in store?
Yeah I'm gonna kick off there and then I'm coming back to the States and then go to Europe and the UK in July, I think I'll be touring a lot this Summer. I'd love to come back to Australia and do more cities there; we weren't able to put it together on this trip. I do have some promoters there and I'd like to go to New Zealand and play Brisbane and a few more cities on my next time back, so hopefully maybe after the winter, October or something.
Thanks for your time Richie and we'll see you soon.
I look forward to seeing you.
Essential Information
From: Los Angeles, CA, USA
Website:  http://www.richieramone.com
Forthcoming release: Entitled (2013)
Catch Richie Ramone with Buckcherry & The Art:
Thursday 18 April, THE ESPY, MELBOURNE
Friday 19 April, THE STANDARD, SYDNEY
And of course at The Stone Music Festival
Saturday 20 April, ANZ STADIUM, SYDNEY
Tickets still available, check out www.stonemusicfest.com