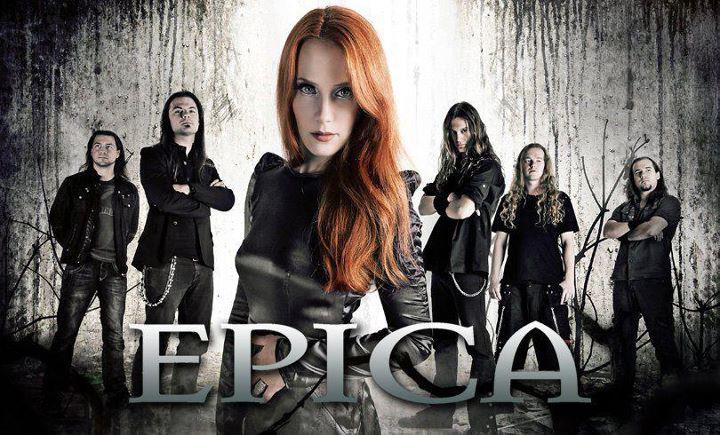 "I've heard some things about the crowds, for example Floor Jansen from Nightwish said on their recent tour that the crowds were really wild, crazy and amazing and that we will have a great time over there. So that definitely raised my expectations, so I really look forward to the shows."
The last 12 months or so, sure have seen some action packed times here in Australia for fans of European styled metal, with a plethora of the world's biggest purveyors having toured.  Leading the charge of bands on their way in the coming months are Epica, who will be bringing their arsenal of symphonic metal to Australia for the first time.  In the midst of celebrating their 10th anniversary, we chatted with guitarist/vocalist Mark Jansen about the upcoming visit to Australia.
Hey Mark, thanks for chatting.  So right now I believe you are in the midst of rehearsing for the big 10th anniversary show, that sounds like it's going to be an epic show with choirs and orchestra, have you been rehearsing that for a while?
Yes indeed it sure is, this coming weekend we have a few rehearsals and all week there's been rehearsals with orchestra and choir, so it's been a busy schedule and every day from morning to evening we've been rehearsing, but then on the night of the show, that's when everything has to come together!
As far as rehearsing for a tour, how long does that generally take, such as for your upcoming Australia tour for example?
The funny thing, Rob our bass player has spent one year in the band and it was the first rehearsal he did with us, for the retrospect show.  So we usually do not rehearse much, when we do normal tours we just play the songs we select and just rehearse them ourselves at our homes.  There's no need to rehearse them as a band, there's always a soundcheck to rehearse some things if need be.  Also because we don't really live close to each other makes it hard, one guy lives close to Munich, Simone lives in Stuttgart, we have some in all corners of the Netherlands.  With the retrospect show there's many songs we haven't played in a very long time so it's been important to get together and rehearse and also with the orchestra it's something that really needed to be rehearsed.
As far as the types of shows you may play, you seem to be able to adapt your songs accordingly, whether it be to large Festivals through to intimate settings – how much adjustment does that take from your part?
Of course our set lists and shows do differ from a big festival to the smaller club shows.  But when a song works well live, it works well live anywhere.
Your last album Requiem For The Indifferent has been out for a while now – that sure seems to have gathered some pretty great responses?
It has been received very well and it's an album you need to listen to a few times to start liking it.  At first when the album came out there were some different reactions from fans, some liked it and some didn't, but as time has gone on, most of our fans have grown to really like the album.  That's a really good sign when you have to really listen to an album before you get into it, that usually means they're the more interesting albums, as there can be a lot of details and things you keep discovering after many listens.  I don't personally like albums right away, as usually after about 3 listens you get bored with it.  Nowadays some people don't have as much patience anymore as everything is moving so fast, so when people really take the time to listen to an album properly, it's kind of unique in this day and age.
It's been around 18 months since you recorded that album, has any writing or basic recording commenced for the follow up?
Definitely, we've already written quite a few songs and they're just waiting for things to be worked out and as soon as we're done with the summer festivals, we will have a rest period around August/September then we will really start working on these new songs and maybe even before the end of the year we will start recording.
Writing songs within the band – how much has that changed over the existence in the band?
In the beginning we were a bit more about sitting down together and working through songs, but now we do far more working on songs on our own, then bring them to the band and then we will work on them together.  To be able to work on songs on your own before you bring them to the band gets you a little more focussed as you don't have all the different opinions early on.  Sometimes opinions are really good, other times they can make you devastated and create chaos. So we've found a way that works for us and like this we can present songs when we think it's the right time.
Having formed in 2003 – how much change have you noticed in the metal scene in the Netherlarnds, your home country, in the decade or so?
I think it's pretty much stayed at a similar level.  A few years ago there seemed to be a bit more death metal, bands like Gorefest and Pestilence, but these bands have either stopped or don't really have huge followings now.  Now we seem to have a really good scene with lots of new bands coming through with some new styles, but it's not really changing that significantly in terms of growing and declining.
So it's your first time to Australia, what are the expectations?
Having never been to Australia before, I really have no expectations of what it's going to be like.  But I've heard some things about the crowds, for example Floor Jansen from Nightwish said on their recent tour that the crowds were really wild, crazy and amazing and that we will have a great time over there. So that definitely raised my expectations, so I really look forward to the shows.
Around the Australian dates you are also hitting up China and Indonesia, is that also your first visits there?
Yes that's correct, it's our first time playing those countries so it will be all new experiences for us.  We don't have any dates in Japan yet as we didn't want to make this tour too long, but hopefully in 2014 or 2015 we can do it again and have an even bigger tour.
As a band, in relative terms I guess you're still very young, so there's still lots of opportunities ahead for touring places such as Japan I guess?
Yes that's true, it was funny you say that as doing an interview yesterday someone asked "when will you stop?".  I says stop, why do you ask that and he was like "many bands want to stop after about 10 years" and I was like, "it's only just beginning for us."
Essential Information
From: Netherlands
Band members: Simone Simons, Mark Jansen, Isaac Delahaye, Rob van der Loo, Coen Janssen, Ariën van Weesenbeek
Website: www.epica.nl
Latest release: Requiem For The Indifferent (2012, Nuclear Blast)
Tour dates:
Wednesday, 17 April – Brisbane Hi Fi
Friday, 19 April – Sydney Metro
Sunday, 21 April – Melbourne Billboard
Tues, 23 April – Perth, Capitol