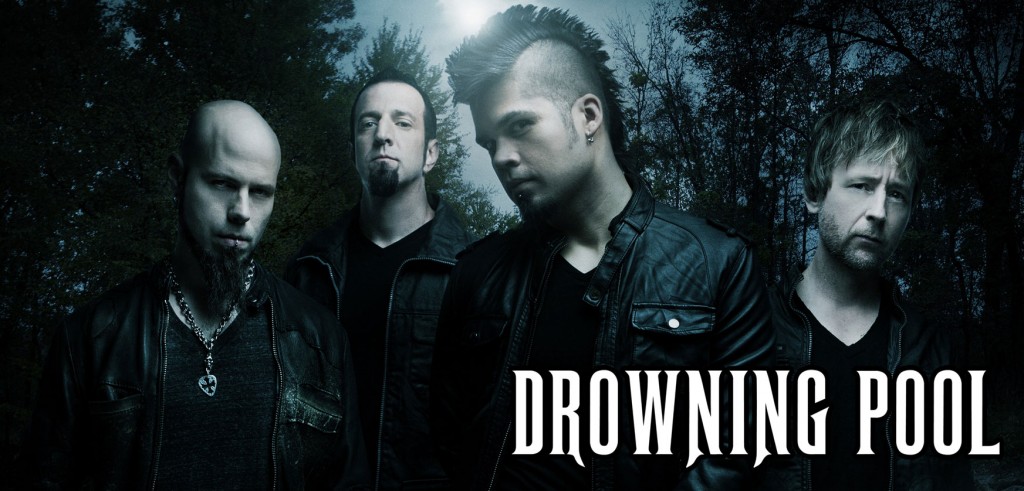 "Resilience" well if ever there's a band that typifies this word, it's Drowning Pool.  Since the breakthrough hit Bodies blasted the band through speakers worldwide back in 2001, the band were hit with the tragic death of vocalist Dave Williams in 2002.  Releasing three albums in the years since, with two different vocalists, now in 2013, the band have just released their fifth album Resilience, with new vocalist, fellow Texan Jasen Moreno.  Lead singles Saturday Night and One Finger and A Fist scream that trademark Drowning Pool intensity, with the "resilient" fans who have stuck with the band through thick and thin, sure to find much to love about the new album.
Days away from heading to Europe to tour with Fozzy, we chatted with new singer Jasen Moreno about settling into the band and delved into the bands psyche in making the new album.
Hey Jason, thanks for chatting today, so Drowning Pool fans worldwide are days away from getting to hear new album Resilience, your first with the band, how are you feeling personally, nervous?
Man, I'm just chomping at the bit, I just want to prove myself if you will, to all the fans and reassure those people who may be a little hesitant.  I want to get out there swinging and that's really the feeling within the whole band, we are all on our toes ready.
I guess you're not such a new singer, you've been in the band a while now, done a bunch of touring, and recorded this new album, how have you settled in?
We are really starting to settle into the groove now and gel together.  We have about a year worth of shows now under our belts and the fans who've come up to me have been pretty honest and some have said that they were a little worried at first and didn't know what to expect, but after seeing us, think everything's going to be alright.  So I thank people for their honesty so far.
For you personally, what would you say have been some of the biggest challenges so to speak in terms of settling in as the lead singer of Drowning Pool?
It's been a welcome challenge to certainly try and keep those hardcore fans into the fold, but I think the fans have been very loyal for the most part and quite understanding.
The new album is titled Resilience, I guess that word equally represents the band, as it does the fans who've stuck with the band through the last decade or so, is that the way you also see it?
I think when you think of Drowning Pool as a family, not just the band, but also the fans who've stuck by Drowning Pool and supported the band and made it all possible, the sheer fact that we've been able to make our 5th album, you can lay that at our fans feet.
You've released a couple of singles so far, are they a pretty good indication of what the album will deliver as a whole?
One Finger especially, it's got that grit and raw energy and a lot of our album has that.  Everyone within the band is just so jazzed and re-energized, it's almost like a rebirth if you will, we just want to take it out and floor it.
Being your first album with the band, how involved did you get with the songwriting – did they have many songs already written when you joined?
Oh yeah, it was a group effort and collective.  There were some songs they had already, they didn't waste any time when the previous singer wasn't in the picture anymore, they went straight back to work and didn't really have any intention of slowing down.  The rest of the ones we wrote together, just felt so natural when we got in the room and started knocking songs out.  We have enough material to release another record, it's crazy how fast these songs were flowing.
As far as recording the album, how was that whole experience for you personally?
Well it was my first time at the 'big show' and I think personally I was in shock.  It was such a crazy process, get up, sing songs, write songs, all day and night.  14 hour days of play the song, record the song, change your part, record it again, change it again…it was a lot of work, but it was a blast, I had a great time.
When you think back to the recording, was there a particular song that maybe gave you the most trouble in terms of recording it, a song that maybe vocally you had to do take after take after take?
There's a song called Blindfold, which if I can be straight about it, just whipped my ass.  It just wouldn't happen, but I had lots of coffee and preserved and in the end I'm happy with it.  I'm proud of it, but it does have a bit of a dark cloud over that song.
You have already done a bunch of touring, the most recent being with Flyleaf, how many new songs have you been including in the setlist?
We played a couple of new songs, I think we are taking this new leaf on the band to revisit some of the back catalogue that may have been lost to both the fans and even the band, so we are playing some deep cuts.
As for the shows themselves, what a great time, I can't stress how much fun that run was, we were so bummed when that last show came around.  It was just an awesome tour to be on, the guys in Flyleaf are great, it was kind of like something out of a cheesy movie, everyone just got along so well.
Then in a few days you get to do it all again, through Europe with Fozzy!
You know I've never been out of the United States before so it's going to be crazy.  It's almost like around the world in 30 days (laughs)…  It's been quite a while since the band has been to a lot of these places and I'm sure quite a few not since when Dave was alive.  So I'm predicting chaos…
When you look at the song Bodies, what is it like to sing a song such as that, which has such meaning to the Drowning Pool faithful?
That is my absolute favourite song to play live.  It's all about that crowd reaction, we have a big build up and get everyone amped up and the crowds eyes light up and their fists go in the air and people are stomping their feet and then we finally launch into the song and its chaos, people go wild.  It's an awesome sight, I'm glad I'm up on stage watching, its just chaos!
Think back to when you first heard that song and when Drowning Pool broke, what were you up to back then, playing in bands?
I was in a local band here in Dallas that played with Drowning Pool, so I remember when they weren't signed and when they just started to tour and then when things really blew up with Bodies.  So I was on the sidelines, rooting them on as friends of mine.  It's pretty kick ass the way it's all turned out.  It's a testament to the guys that they hadn't forgotten me all these years later, that they gave me a shot, it's kind of like family.
Essential Information
From: Dallas,Texas, USA
Band members: C.J. Pierce – guitar/ vocals, Stevie Benton – bass/vocals, Mike Luce – drums/vocals and Jasen Moreno/vocals
Website: www.drowningpool.com
Latest release: Resilience (Eleven Seven Music, April 9th 2013)