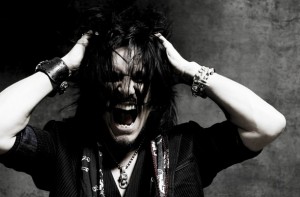 O.K., this guy GILBY CLARKE was in GUNS N' ROSES, he also played guitar for the MC5, NANCY SINATRA, HEART, and ROCKSTAR SUPERNOVA, as well as production duties for THE BRONX, L.A. GUNS and ALICE COOPER.
More importantly, he's been a prolific solo artist, a mash-up of Keef, Johnny Thunders and B.B. King. The Cleveland native hit the L.A. scene at 17 and started CANDY, then onto KILL FOR THRILLS.
In 1991 he was offered the rhythm guitar spot in GUNS N'ROSES and the football stadiums, diplomatic immunity, and decadence that came with it. He spent three years on the USE YOUR ILLUSION World tour, and appeared on the albums THE SPAGHETTI INCIDENT, LIVE ERA '88-'91, and GREATEST HITS. When GN'R imploded at the behest of W.Axl Rose, Gilby hit out on his own and to date has proved a prolific and revered
Singer/songwriter, with releases PAWNSHOP GUITARS, THE HANGOVER, RUBBER, 99 LIVE, SWAG, & GILBY CLARKE under his belt.
In 2012 he was inducted as part of GUNS N' ROSES in to the Rock N' Roll Hall Of Fame.
BLUE PALM TOURING is proud to present for the first time ever as a solo musician in acoustic mode GILBY CLARKE in Australia.
DATES:
JULY 6th 2013: HERMANN'S BAR SYDNEY
W/DEVINE ELECTRIC
JULY 7th 2013: NORTHCOTE SOCIAL CLUB MELBOURNE
W/DEAD STAR RENEGADE