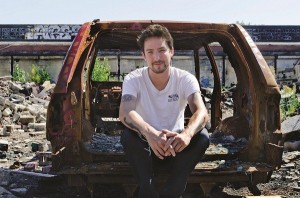 ENGLAND'S FAVOURITE PUNK ROCK TROUBADOUR RELEASES NEW ALBUM TAPE DECK HEART ON APRIL 19
Following a year that saw a headline sold out Wembley Arena and a performance at the London Olympics Opening Ceremony, Winchester-born folk/punk hero Frank Turner will release Tape Deck Heart, his highly anticipated fifth studio album on April 19, 2013.
 
Produced and mixed by Rich Costey (Muse, Weezer, Rage Against the Machine, Interpol) Tape Deck Heart is the follow-up to 2011's 'England Keep My Bones' which has sold over 100,000 copies worldwide.
 
The recurring theme throughout Tape Deck Heart, Frank Turner's fifth album, is change. Those who have followed Turner's career since he went solo in 2005 won't be surprised. After 1,400 incendiary live shows and four acclaimed albums, last year saw the musician previously known as a punk poet become (whisper it) a sort of pop star. From a fake Glastonbury Tor, Turner performed at the Olympics Opening Ceremony (her was personally chosen by Danny Boyle) …and then he headlined Wembley Arena. Yep. Wow.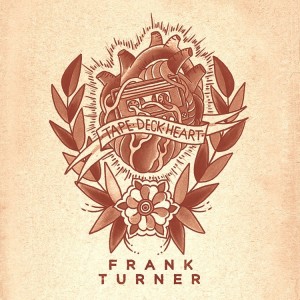 Tape Deck Heart was recorded last October in LA, which gave the 31-year-old more cause for concern. "It's such a cliché – bands reach a certain level of success, go to LA to record an album," laughs Turner. "I was nervous about recording outside the UK because my music sounds English and I like that, but in fact, it didn't make any difference. We stayed at the Holiday Inn next door and didn't finish until dark every day, so I scarcely saw the sun shine."
On Tape Deck Heart, Turner exposes his soul as never before. His most personal album, it is packed with songs he found difficult to record and now worries about releasing in to the world. It's also the album on which Turner pushed himself hardest and allowed himself to be pushed. The reward is in the rich detail, in unusual turns of phrase you'll hear once and never forget, in the raw emotion with which Turner tells of a turbulent 12 months.
Turner was most recently in Australia with his band The Sleeping Souls, performing at Bluesfest and as main support on the Dropkick Murphy's huge national tour. He's now returned home to London to play a string of sold out shows at O2 Academy, Bristol Academy and London's Forum.
Turner has also released an intimate new documentary charting his incredible personal journey from erstwhile frontman of seminal UK punk group Million Dead, to internationally recognized solo artist. Told in Frank's own words, 'The Way I Tend To Be' offers fans an insight into the formative years of one of the UK's leading musicians.
"…he may yet prove to be an English Bruce Springsteen. Today Wembley, tomorrow the world." 4/5 Times
"One of the UK's greatest songwriting talents…these songs will be soundtracking many of our lives for years to come." Rocksound 9/10
"Four albums into his solo career…"folk punk" man looks poised for a breakout beyond his loyal following." Observer