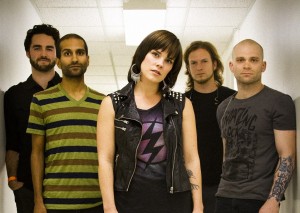 Metropolis Touring and Tombowler present for The First Time Headlining In Australia
"…the sweet-yet-tortured tones of Evanescence with the angry wails of Lacuna Coil" – Rag Magazine
Flyleaf are set for their long-awaited first headline tour of Australia this August.
Flyleaf's style of hard rock is reminiscent of Deftones, Evanescence and Chevelle. Heavy riffs, thrilling arrangements, memorable melodies and mammoth choruses all blazing with a fresh fire and uncontainable energy, spreading positivity and encouraging hope in their fans.
Flyleaf released their acclaimed self-titled album in 2005. The band supported the album touring through 2006-7 on the Family Values Tour with Stone Sour and Disturbed in the US and an appearance on Australia's Soundwave.
Rolling Stone Magazine proclaimed Flyleaf as one of the breakout bands of 2008. In 2009, Flyleaf released their sophomore album, "Memento Mori" to even wider acclaim.
The band's latest album, "New Horizons" was released in 2012 and is the band's most explosive, expansive, and enigmatic work yet. The band's subsequent tour introduced fans to new vocalist, Kirsten May formerly of Vedera.
The band's live performance has been described as "energetic, fiery, passionate and manic, a ludicrously energized live performance". "Shattered, chiming chords and intertwined lead guitar lines were belted out with aplomb, held up by a bombastic rhythm section. Perhaps most thrilling though was the animated, dynamic performance of new vocalist Kristen May."  -Cleveland Sound
Flyleaf return to our shores with a setlist full of anthems including "All Around Me", "Cassie", "I'm So Sick", "Fully Alive" and "Again" to name but a few. Guaranteed to keep their diehard fans happy and impress a whole stack of new ones.
Flyleaf – New Horizons Australian Tour 2013
Thurs, August 15 – Brisbane – Hi Fi
Friday, August 16 – Melbourne – Hi Fi
Saturday, August 17 – Sydney Metro – All Ages
Tickets for all shows are available from metropolistouring.com and the venues.
Check the bands new video for Call You Out