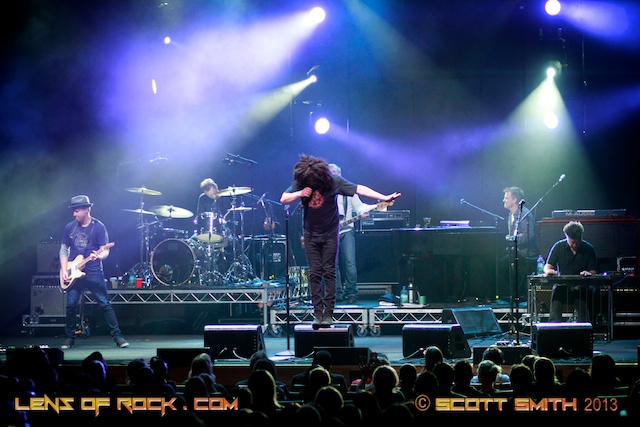 Going way back over a decade, I caught the Counting Crows here in Australia on the back of their new release at the time, Hard Candy.  I walked away having witnessed a show that I ranked as one of the best live performances I had seen, a feeling that's still stuck with me here in 2013.  So tonight heading into Melbourne's Hamer Hall, my expectations were certainly high as to what the Counting Crows would deliver.  When it comes to a Counting Crows show, one thing fans have no doubt come to expect over the years, is when it comes to the setlist, expect the unexpected…
Opening up with one of their most prominent songs, Round Here, it sure was a great start to ensure the fully seated crowd were wide awake in the midst of a 4 day weekend haze of chocolate and Easter buns.  From the outset, front man Adam Duritz was at his expressive and poetic best, with the sprawling rendition of Round Here lasting for the best part of about 11 minutes… With the bands last studio album Underwater Sunshine being made up of cover versions, it was inevitable tonight's set list would be peppered with tracks lifted of this album and early on we got Untitled (Love Song) by The Romany Rye.  When the unmistakable opening strains of Omaha filled the pretty much jam packed three tiers of Hamer Hall, it was one of the night's true 'electric' moments.  For me this track has always been one of my two favourites from that classic debut album, August and Everything After and by the amount of crowd singing along, I'm certainly not alone.
Musically, the Counting Crows are a super tight band and with band members rather adept at flicking between bass and keyboards, or mandolin and guitar or lead vocals and piano, as is the case when Duritz returns from a brief backstage break to lead us on a piano led rendition of Black N' Blue.  Straight into the energetic delivery of Mrs Potters Lullaby with blasts of lead guitar courtesy of Dan Vickery, this was another moment that really tested the "should I get up and dance, or should I remain seated?" dilemma audiences face at seated shows.  Introduced as the "prozac" song, Teenage Fanclub's Start Again got some mandolin action happening, whilst how sublime are those vocal harmonies?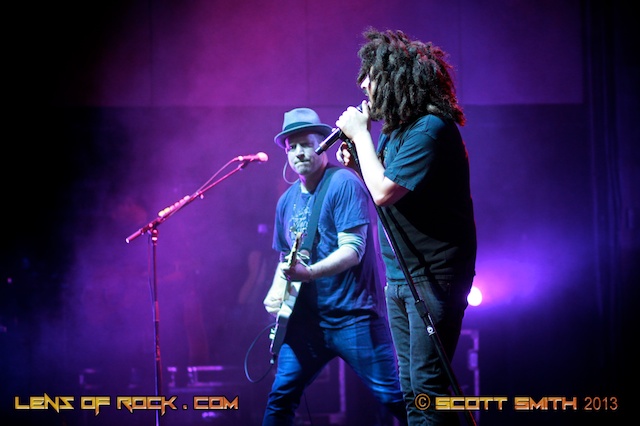 The sound of thundering drums heralded the intro to Rain King, with the reception the crowd gave this one almost worthy of encore status and we were only just over half way through the set.  Dropping back the intensity for the triple play of Four White Stallions, the cover Like Teenage Gravity and A Long December, it gave me a chance to just sit back and take it all in.  Maybe it's because the vast majority of the live shows I generally attend usually involve a stack of Marshall amps turned to 11, but as I sit during these three songs, as I did a decade ago, I marvel at the seemingly effortless ease with which the band allow the songs and each of their respective parts to just breathe and find their own individual space in the soundscape.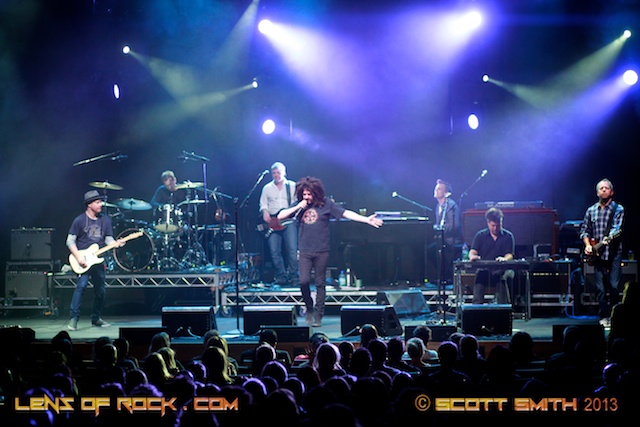 With pretty much all of their album releases represented through tonight's set, kicking of their encore with When I Dream Of Michaelango from their 2008 Saturday Nights and Sunday Mornings release, it's introduced as the song that took 29 years to write.   The cover of Bob Dylan's You Ain't Goin Nowhere was another real hoedown country' fried moment, with Charlie Gillingham leading the way with some honky tonk piano on this one.  For the true discerning Counting Crows fan, it wouldn't have surprised that the encore didn't include Mr Jones, but really that's all part of the bands unpredictable charm and to be honest I wasn't expecting, nor needed to hear it anyways, particularly when they, closed out the set with the wistful and reflective Holiday In Spain, incidentally another of my all time Counting Crows songs.
With The Mama's & Papa's California Dreamin' blasting over the PA as the band bid their farewells and made their exit from the stage, how could you not leave the venue with a smile on your face?, having witnessed a night of sheer musical quality, from a band led by surely one of the most expressive, engaging and charismatic frontmen round here?
Essential Information
Date: Saturday 30th March 2013
Venue: Hamer Hall, Melbourne, Australia
Band website: www.countingcrows.com
Photos: www.lensofrock.com
Further tourdates:
ADELAIDE HER MAJESTY'S THEATRE SATURDAY APRIL 6
SYDNEY SYDNEY OPERA HOUSE TUESDAY APRIL 9 sold out!
SYDNEY SYDNEY OPERA HOUSE WEDNESDAY APRIL 10 2nd show!