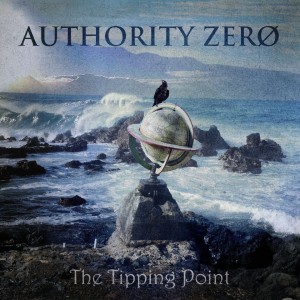 In 25 words or less: "This is a solid album full of catchy, fist pumping songs that you should check out…"
You may or may not have heard of Authority Zero, I'm in the later of that statement, but I was surprised to find out that they have been a band for the best part of almost ten years and to then find out that 'The Tipping Point' is their sixth studio album since their inception is crazy. This album marks their first on 3wise records here in Australia and I get a good feeling that they are a welcome addition to the roster, so I'm looking forward to checking out a band I want to know more about!
From the opening track 'No Other Place' you straight away get an instant punk feel to this band in what to me feels like The Offspring when I heard them for the first time, but with somewhat more power and structure to this track. What I already like is track two 'Undivided' and that bridge is hooky, that's a major selling point for me and the balance of the aggressive type verses with this bridge and chorus is spot on. I'll say now that if the album continues on like this I'll be a very happy camper. Oh and 'For The Kids' keeps this camper content as my favourite chord progression in the chorus makes an appearance I commend the musicality on this track, but that's just my music nerd in me coming out.
This blend of melodic punk rock is really good as it isn't over the top nor too same same which is a trap that becomes many a punk band, and as soon as I say that we get a total 180 as we get a bit of reggae on 'Struggle' which is different to the previous tracks but also a nice way to break it up as I was just saying, so nice work on the production and arrangement here. Back to the punk with 'Lift One Up' and yet another toe tapper as I would happily click repeat on this one, oh sweet it has a guitar solo, well that is always allowed. This just may the best track on the album, well impressed with that one!
'On The Brink' has that Blink 182 'Rockshow' vibe to it but I'd happily take this one over that any day. The drummer also gets a chance on this one to give his snare a great run and it has a perfect set up for the live environment with its 'Whoa oh where do we go now?' you'd really be hoping this one gets a run when the band plays live. They slow it down to start off 'Today We Heard the News' as they head back to the reggae vibe again and throw in some horns for good measure, but what I like about this track is the way it jumps to be a big rocker in the chorus. Title track 'The Tipping Point' lyrically is written for the live show and with its musical ferocity it is perfect to open or close a set. Powering through 'Shakedown in Juarez' and 'Endless Road', the tempo stays up and will have many a fist pumping high in the air, then '21st Century Breakout' follows on from the previous and is rockin' in some places almost metal with the riff running through this song. I really love how this album has remained still so very strong as we get close to the end of the album.
What I do really like is the track named after the band 'Authority Zero' (in case you missed it) which is an acoustic driven song as it a nice refresher that you can just sit with and enjoy and reflect on what you've just listened to as you round out the album.
So, if you like punk rock then you'll dig this album, but for me with the mix of rock and reggae on the album this allows Authority Zero to be their own band and showcase what they can do and stand out from all the clones. This is a solid album full of catchy, fist pumping songs that you should check out, as I got to for the first time tonight. Time to head back and see what I've missed…
Essential Information
From: Mesa, AZ, USA
For fans of: Punk / Rock / Reggae
Release date: 29 March 2013
Record label: 3Wise Records
Website: http://www.authorityzero.com
Track listing:
No Other Place
Undivided
For The Kids
Take Or Leave It
Struggle
Lift One Up
On The Brink
Today We Heard The News
The Tipping Point
Shakedown In Juarez
Endless Roads
21st Century Breakout
Authority Zero