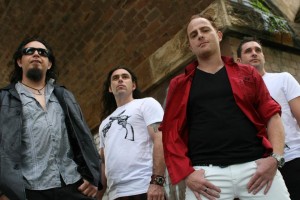 From Bio: 62nd Silence is a 4-piece Rock/Pop band that live and play in Sydney NSW. With all 4 members coming from former bands and being involved with music for most of their lives, experience and passion are a given, from writing and recording to live performance.
Once the vocals of Daniel Ison were heard amongst the riffs, basslines and beats of Wolfgang Maturana, Andrew Barrington and Wade Glennie, the vision became reality.
Forming in late 2011, the band started writing and recording their self-titled debut demo for immediate release. With the CD in hand, 62nd Silence decided to enter the live scene through the form of competition. Placing in several grand finals and taking out the major prize in the 2012 Mounties Battle of The Bands, kick-starting their career on a positive note.
Looking to enhance their fan base and create somewhat of a buzz , the band have poured their heart and soul into the writing of their debut EP.
With a few live shows under their belt to get a feel for the scene and the intention to record and release an EP, 2013 is the year that 62nd Silence leave a mark on the Australian Rock scene.
I dig these guys, they wowed me at the Hard Rock Rising battle of the bands and are definitely one of the Best Things You've Never Heard…
Let's start with the basics; can you please give us the abridged version of the 62nd Silence story and where the name of the band came from?
A long story short, we are a true representation of the power of a drunken pipe dream, after realising what we had in front of us we decided to enter a few local band competitions turning out to be a great decision and an even better response.
The name came about from a combination of a few beers on ANZAC day and a brain fart by our bass player resulting in a pun of "a minute silence".
Can you now please introduce each other and give us a rock 'n' roll fact or myth about each of you?
Daniel Ison, our lead singer opened a show for the screaming jets as a wee 16 year old boy.
The banger of drums, Wade Glennie's first born son was conceived on a snare drum.
Wolfgang Maturana on guitar is a distant relative of Carlos Santana.
Our bass player Andrew Barrington, toured with German metal band Atrocity.
If you had to give us your best door to door sales pitch to convince someone to listen to your forthcoming debutEP before they slam the door in your face, what do you say to them?
Listen to this, You will see why I am smiling.

In terms of your song writing, what do you consider to be the most important ingredients that make up a 62nd Silence song?
Meaning. Each of our songs have meaning whether it be through experience or a personal connection, lyrically and musically we are given an individual voice and these voices are heard in our music.
Both lyrically and musically, what or who inspires/influences your music the most?
Our main inspiration comes from the ups, downs and sometimes sideways moments in our day to day lives and the people in them. Musically we are influenced by bands like Foo Fighters, Pearl Jam, 3 Doors Down and Tonic.
Now, you recently took out the Sydney final of the 'Hard Rock Rising' battle of the bands and now go in to the finals, explain to us what an opportunity like this means for the band?
The Hard rock competition was definitely a step in the right direction for the band to move forward. The opportunity for international exposure has just blown us away but also the results and support shown is a justification for all the hard work.
How can people vote for you in the final to hopefully take the major prize?
Simply go to www.facebook.com/62ndsilence or www.facebook.com/hardrockcafe and click on the vote now link, once you see 62nd silence on the list of bands click vote and receive your free download of our song 'Fading away' featured on our soon to be released EP 'Violation Of Etiquette'.

Touring wise in Australia, do you have any gigs coming up that you want to pimp out?
We have our 'Violation Of Etiquette' EP launch coming up on the 4th of May at the Cabramatta bowling club, Kicking off at 7pm with $12 tickets, we have a great line-up of supporting acts and plan for a great night of Aussie music. For full details visit www.62ndsilence.com
So, tell us about your live show and what people can expect if they come to see you play…
A 62nd silence show is both a visual and musical spectacle driven by raw energy, exploring highs and lows the audience is drawn in to the stories expressed by the bands lyrics, thumping beats, killer riffs and driving baselines.
You've been doing the rounds for a couple of years now, how have you already seen the band evolve in the time from when you started?
The evolution of the band has come a long way in the last year or so, from song writing to management, booking etc we have been somewhat forced to learn the ropes as we progress. So as a band and individually we have quickly realised that being a "band" is more than waking up and rocking out after breakfast, there is a lot more to it.
For a bit of fun, say you get the chance to open for any artist in the world, who would they be and why?
Foo Fighters. Reason: Dave motherf*#king Grohl…
Lastly, here's a chance to gaze into your crystal ball. In the next year, 62nd Silence will:
1. Touring to new places.
2. Gain mainstream radio play.
3. Become a recognised name associated with good music.
Essential Information
From: Sydney, Australia
Sounds like: Modern Rock
Band members: Daniel Ison – Vocals / Guitar , Wade Glennie – Drums, Wolfgang Maturana – Guitar, Andrew Barrington– Bass
Website: http://www.62ndsilence.com
Forthcoming release: 'Violation Of Etiquette' EP