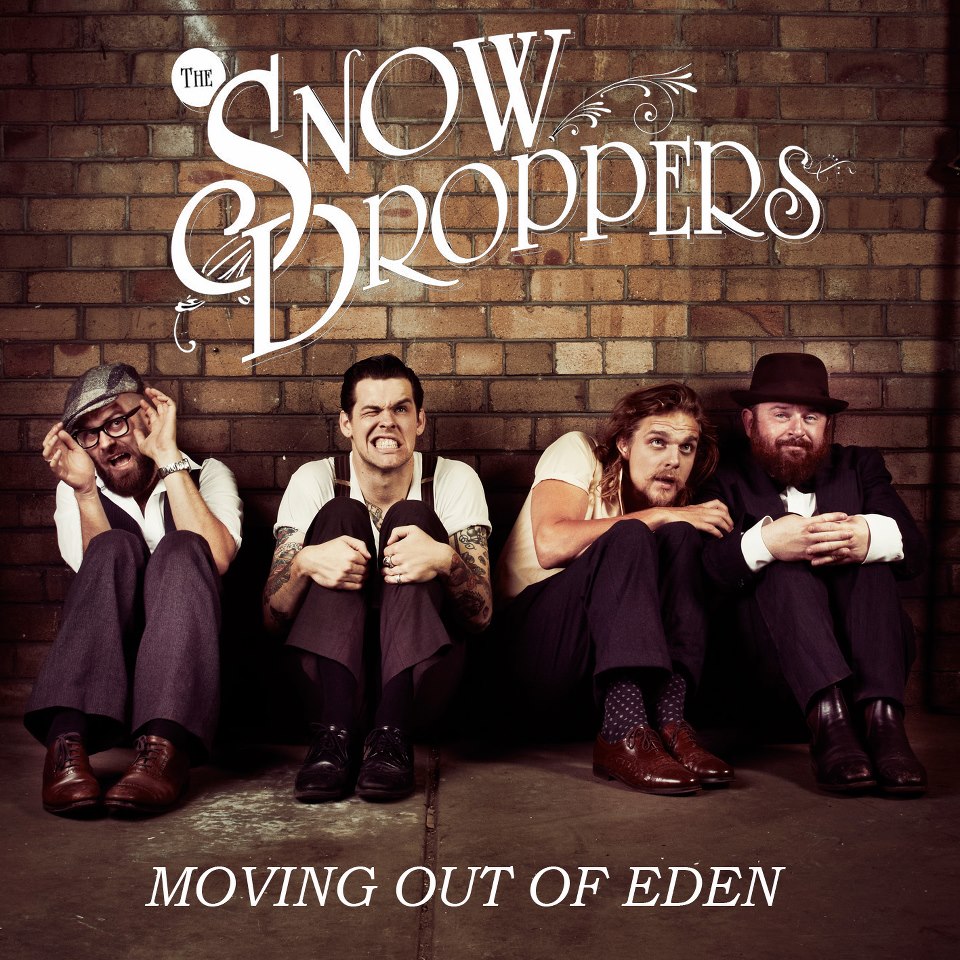 From Bio: Three and half years since their debut long player Too Late To Pray heralded the arrival of a charismatic new talent The Snowdroppers announce the release of their second album Moving Out Of Eden on March 22nd (FOUR | FOUR). Whilst their debut was naturally an extension of the band's swampy blues-rock influences, Moving Out of Eden marks The Snowdroppers arrival in a less stylised, more grounded set of boots. To celebrate and present live the fruits of the writing and recording process, The Snowdroppers announce a run of East Coast album launch events and festival appearances.
Known for their own incendiary live show The Snowdroppers are ratcheting up the party factor by bringing on tour Sydney's Little Bastard. Kicking up a storm of interest Little Bastard are a seven-piece punk string band incorporating mandolin, banjo and fiddle, over the top of a pulsating upbeat acoustic rhythm. Their live performances create the turbulence of Old Crow Medicine Show but can also hold the brutal sentiment of The Felice Brothers, all delivered with a brash clout all their own. Get a grip and hang on!
We chatted to Snowdroppers front man Johnny Wishbone about the new album, the sound and image of the band as well as touring and their live show. These guys are most definitely one of the Best Things You've Never Heard…
Now, nor those that may not have had the pleasure of checking out The Snowdroppers, how would you explain the sound and the band to a newbie?
For an absolute newbie, I just call it Blues Rock, and the look of the band, we look like your dad left the office early to go to rehearsals.
You're about to drop your new album 'Moving Out of Eden' in March, why are you moving out?  Rent too high?  But seriously, what's the story behind the name?
'Moving Out of Eden' is the title track on the album and it's a song that's about change , it's a song about moving out of somewhere that you thought was really good, Eden, into the unknown which is kind of euphemism I guess, kind of a metaphor for the experience of this band over the last couple of years as a whole.
It's a great Australian sounding album; did you intentionally look back to any influences when putting it together?
Yes, we wanted this album to definitely sound Australian, that's right. We kind of came into our skin a little more after the first album and in doing so we realised we are an Australian band, you know what I mean? So it was important for us to sound that way, it wasn't so much a real sharp change, it was just very natural and came very easy for us to do.
Were there specific influences that you went to and said 'I want a little bit of this and a little bit of that'?
I mean were always listening to stuff, I guess we found a bit of a syntax with the pup rock bands of yore, Midnight Oil, we were definitely listening to them, to be honest man, dare I use the term 'classic rock', straight out of drive time… so just bands like that, straight from Skyhooks, Midnight Oil, INXS even, yeah, fuckin' everyone, The Tatts, Hunters and Collectors, but then not just Australian stuff, I'm always listening to harmonica blues and a lot of punk music as well, so we're not purely modelled off any of that, that's just stuff we kinda started feeling a bit of a syntax with, ya know, even if we weren't directly influenced by that kind of music.
In the few years since your debut, what if anything inspired the songs for 'Moving Out Of Eden'?
Yeah, just definitely the classic life on the road was a definite influence, not to say that they were written in vacuum, but written by a band that had gone through a lot of change and was at the point that they were at. I don't know, I'm just not really conscious that I've got to write a song about this, just great songs. The songs were just a product of the band going through some change at the time.
Evolution…
Yes, *laughs* there, perfect, one word answer.
I have to ask about the 'White Dress' video, who came up with the concept for that and how much fun was it to make?
It was a bit of a concept that we all came up with, was kind of steer headed by our guitar player, he's a big horror fan, and then the director I should say, was a big fan of kind of the horror genre, so he really took that and really rolled with it. It was great, very relaxed, everyone we worked with on the shoot was very cool and it was a long tiring couple of days but it was good.
So I guess the question is what sets you guys apart from every other band out there?
Oh well, you know, it's tough being the best band in Australia, it really is *laughs* but not getting recognised for it, not getting any ARIAs, I'm being facetious by the way *laughs*. What is it that sets us apart? I don't know… I guess it's our honesty, we just play hard, we're interested in playing rock songs to the people, we're a band of the people *laughs*. We got very wise very quickly in our career and the way the music industry works, and I don't want to use the word jaded, because it is what it is you know what I mean… but we've always just sat on the outside of that industry so I think that we're the everyman's band to be honest, that's what sets us apart, we're schmucks like everyone else. *laughs*
You're out doing some shows now, but also again in late March at album release time, give us an idea of what a typical Snowdroppers show is all about.
Yeah I always find that hard to answer because generally I don't know before I walk on stage, so unpredictable… you know what man, just fun… I like to think that we inspire some kind of reaction, whether you love us or you hate us, that's the point, you can go away saying I saw a band tonight rather than four dudes staring at their shoes in tight t-shirts for an hour. It's about entertainment, I want to go to a show and be entertained, even though you may not particularly enjoy the music, I want to be entertained and that really makes the music so much better. Let me entertain you…
I wanted to ask about the imagery of the band in particular the use of women on your releases, what's the idea behind the use of these beauties? and FYI I'm in love with the girl on the 'I've Been So Lonely Now Since You've Been Gone' 7 inch ha ha
You and everyone else *laughs*… well you're going to be disappointed with the front cover of the new album as there's not a chick on it… you know how I said before that we're an everyman's band, well not every man, but men like girls and it's that simple *laughs*
You're also hitting Bluesfest, with a line-up that is just ridiculous.  Is there anyone you're looking forward to checking out at the festival?
Paul Simon, Robert Plant, as if you're not going to see that, that's a no brainer… Bluesfest is good to see someone you enjoy, there's always something on and you can see somebody you might never have heard of that you wander in and really enjoy.
Any plans to take the new album and band back overseas or do you have plans to conquer Australia first?
*laughs* yeah we'd love to take it back overseas, but it's a pretty pricey endeavour, so yeah there's definite plans to get overseas in the next couple of years, so we'll just wait and see what happens.
What does the remainder of 2013 have in store for The Snowdroppers?
We'll go on tour and just work out if we make a jaunt overseas to New Zealand maybe, the world is our oyster at the moment but at the end of the day it's going to involve more touring… *laughs*
Essential Information
From: Sydney, Australia
Sounds like: Blues Rock
Band members: Johnny Wishbone – Vocals / Banjo / Harp, Pauly K – Guitar, Cougar Jones – Drums, London – Bass
Website: http://www.snowdroppers.com/
Forthcoming release: Moving Out of Eden (March 22nd)
Catch The Snowdroppers on their 'Moving Out of Eden' album launch tour: with Special Guests LITTLE BASTARD (except *)
Friday March 18 Barrio, Adelaide Festival, Adelaide SA – with Client Liason
http://www.adelaidefestival.com.au/2013/club/barrio/friday_march_15
Friday March 22 The Standard, Darlinghurst NSW – with Little Bastard & The Pieter Van Den Hoogen Band
http://www.moshtix.com.au/v2/the-standard
Thursday March 28, Byron Bay Bluesfest* – with various luminaries
http://www.bluesfest.com.au/
Friday March 29 Byron Bay Bluesfest* – with total legends
http://www.bluesfest.com.au/
Friday April 5th, Northcote Social Club, Northcote VIC – with Little Bastard & The Stiffys
https://corner.ticketscout.com.au/gigs/1157/TheSnowdroppers
Saturday April 6 Bridge Hotel, Castlemaine VIC – with Little Bastard
www.moshtix.com.au
Friday April 12th The Zoo, Brisbane – with Little Bastard & Moses Gunn Collective
www.zoo.oztix.com.au/
Saturday April 13th Woombye Pub, Woombye – with Little Bastard & London Bureau
Tickets through venue ph 07 5442 1155 (credit card)
Tickets on sale now – Presented by SPA, The Harbour Agency & Aloha Management