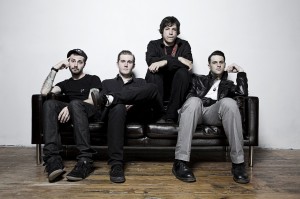 SECOND MELBOURNE SHOW ADDED AND BRISBANE SOLD OUT!
Due to an unprecedented demand from rabid THE GASLIGHT ANTHEM fans, a second and definitely final Melbourne show has now been added! Tickets for the Tuesday 14 May show go on sale Thursday 14 March, 9am. With Brisbane now sold out as well, Sydney, Adelaide and Perth fans be warned that only limited tickets remain for your shows.
————————————————————————————————————————————–
In a few short years, New Jersey quartet THE GASLIGHT ANTHEM have gone from punk rock bruisers to one of the most celebrated and prolific rock acts in the world today.
Wearing their influences as badges of honour, it was the release of 'The 59 Sound' that saw them create a monster that would go down as "one of the greatest rock albums ever crafted." – Sputnik Music
Continuing to raise the bar THE GASLIGHT ANTHEM have returned with their new album 'Handwritten', the most committed, affecting and compelling album of their career and the "record sounds goddamn phenomenal" – Alternative Press
THE GASLIGHT ANTHEM'S live shows have reached epic proportions and now Australian fans will get their turn in the sun this May!
We are thrilled to announce that Philadelphian troubadour DAVE HAUSE will be supporting THE GASLIGHT ANTHEM this May.
Now, as a budding solo artist (front man for The Loved Ones), DAVE HAUSE seems to have found his inspiration. Rock Sound described his new album 'Resolutions' as "an honest, open and fulfilling addition to the music shelf", whilst Moon Back Music said it "managed to capture some of the iconic, American folk style storytelling of Springsteen and fuse it with his own punk rock sensibilities".
Armed simply with a guitar, DAVE HAUSE has the ability to make you feel like you're just an overfilled backpack and bus ticket away from some fantastic journey or its fantastic end… see for yourself.
FRIDAY 10 MAY                    BRISBANE, THE TIVOLI – 18+ – SOLD OUT!
SUNDAY 12 MAY                SYDNEY, ENMORE THEATRE – Lic A/A
www.ticketek.com.au
SECOND AND FINAL SHOW ON SALE THURSDAY 14 MARCH, 9AM!
TUESDAY 14 MAY             MELBOURNE, THE PALACE – 18+
www.oztix.com.au and www.ticketek.com.au
WEDNESDAY 15 MAY         MELBOURNE, THE PALACE – 18+ – SOLD OUT!
FRIDAY 17 MAY      ADELAIDE, HQ – 18+
www.oztix.com.au and www.venuetix.com.au
SUNDAY 19 MAY    PERTH, METRO CITY – 18+
www.oztix.com.au
Presented by Channel V and Soundwave Touring.