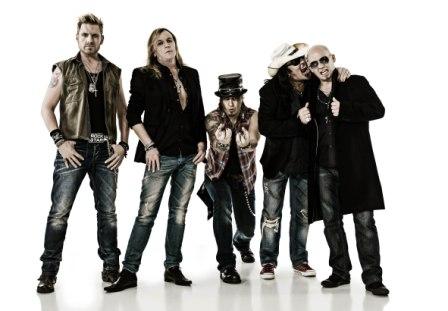 For over 30 years now, Danish rockers Pretty Maids have been at the forefront of European hard rock.  Back in 1987, they released their absolute classic album Future World and following on from their 2010 release Pandemonium, founding members Ronnie Atkins and Ken Hammer and co. deliver another slab of crushing melodic rock with new album Motherland.  All the trademark Pretty Maids traits are present in their sound of 2013, just with an updated modern sound.
On the eve of the album's release, Ronnie Atkins was kind enough to answer our questions about new album Motherland, whilst reflecting on the Pretty Maids sound of today, compared to the early days.
Motherland is released today, March 22nd, on Frontiers Records.
Pandemonium was a very well received album – what was the mindset going into writing and recording the follow up that in a few weeks will be released around the world, Motherland? Well, from when we started writing the material for Motherland, we knew that it would be a tough one to follow Pandemonium.  But, there was no particular mindset really!  We just went in to do the best album possible, out of the ideas that came to us, so to speak!
What is the concept of 'Motherland' as an album title and how does that relate in a lyrical sense to the songs?
There's no concept as such.  We just were in need for a great album title, and someone came up with Motherland. We all thought it was a cool title, so that was it.  Lyrically, it's really just about patriotism in the sense of protecting/defending the good values of our country such as the freedom of speech, without being too political J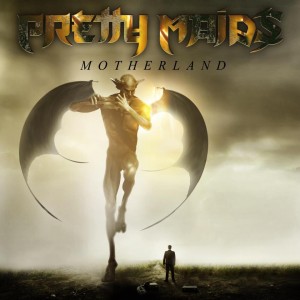 Walk us through the recording process for this album, you've got band members scattered here and there – were you able to undertake the bulk of recording together in the studio?  Over what period of time did you record the album?
We started off recording the album in mid Aug as a unit (doing basic tracks) and then started recording seperately after that. That was mainly because of our touring scedule, so at the end of the day it all became a little stressed, since we normally just focus at one thing at a time.  But that was the situation J
You worked again with producer Jacob Hansen, what things do you feel you changed from a production point of view on Motherland compared to Pandemonium?
Nothing really, there's still a red thread as far as I'm concerned.  It was a pleasure working with him again, I gotta say. If there's any difference, I guess it's more in the material in general, which I find a bit more moody/melancholic and even more melodic than on Pandemonium.
We've picked out three songs for you to provide your thoughts/comments on:
To Fool A Nation: one of the first songs to be written for the album, a song that when it was written we all thought would turn out really good.  We changed bits and pieces though during the process.  Lyrically, it's about the ongoing threats/human time bombs that walk amongst us, whether they're right wing radicals or extreme islamists!
Sad To See You Suffer: actually the very first song worked on for this album, partly a left over idea from the time around Pandemonium.  It's a pop song to be honest and through the process we were in doubt if it was a song to use for a Pretty Maids album. Gotta say I believed in the song from day one J.  It was just a matter of production really !. Lyricly: it's pretty personal.  Obviously, about dealing with depressions and the dark side of the mind and how vulnerable and helpless we all are when something like that hit us, or our close family.
I See Ghosts: one of those mid tempo rockers, pretty simple but nevertheless a good rocker.  I like the verses the best though J Lyrically: Well I guess the title says it all!
When it comes to a Pretty Maids album, as is the case on Motherland, my ears have come to expect equal parts heaviness and melodicness from song to song.  Is this something you also feel is one of the key defining features of the Pretty Maids sound over the years?
Absolutely!  That's exactly the formula we've been trying to maintain since we invented ourselves musically on the 1984 Red Hot and Heavy album.  We've always been quite open minded to music really.  I always thought "a good song is a good song". Whatever the category!
Focussing on Denmark, how have you noticed rock fans in your home country and their level of interest and recognition towards Pretty Maids, over the bands existence?  Is Denmark for example, where you would consider to be your biggest fan base?
These days we have a good solid following in Denmark and not more than that, but because of our more melodic side and some of the radio hits we had in the past, we're still able to play big festivals here in Denmark.  But in Denmark, heavy metal has always been, and still is some kind of a cult thing.  Our biggest fan base must be Germany and the rest of Europe, Japan as well.  But we'd like to go a lot of places to expand that fan base.
Whilst I'm sure there's many bands out there who cite Pretty Maids as an influence, here in 2013 what styles of music does Pretty Maids draw influence from?
All kinds of stuff really.  But I guess we're pretty different in what we're listening to and then again, not that far from each other.  I think that's really good for the sake of the song itself.  But again ,we're very openminded and diverse
For the younger generation of fans who may be just finding the band on the back of your last two albums, how would you compare the sound of Pretty Maids today, to say that of the Future World era?
Well as I say, still the same formula, maybe better songwriters?  Definitely with a 2013 sound!  But talking about songs, I don't think we could write songs like Future World or Red Hot and Heavy today.  We were young curious and had that particular spark, back then. That's life and how it should be J
How far and wide are you planning to tour the new album, and I dare say there are new territories waiting to be explored on the back of this album, as the interest in the band continues to grow, even after 30 years?
You know, we wanna tour as much as possible with this one and hopefully reach new territories as well.  We wanna look our fans and followers straight into the eye J.  We've been travellin' the world forth and back over the years, but there's still a lot of places and people we'd like to see!
Best,
Ronnie Atkins
Denmark 2013-03-12
Essential Information
From: Denmark
Band members: Ronnie Atkins – vocals , Ken Hammer – guitars, Morten Sandager – keyboards, Rene Shades – bass, Allan Tschicaja – drums
Website: www.prettymaids.dk
Latest release: Motherland (March 22, Frontiers Records)