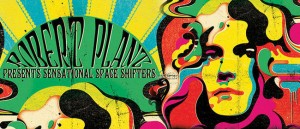 There are few bands and few voices that have made an impact on lives than a band like Led Zeppelin. Tonight here as part of Bluesfest, we have the voice of said Zeppelin, Mr Robert Plant.
Playing For Change are the openers tonight and wow, what a concept and I won't go into it now but check it out at the website below. These talented musicians put together as part of this project, this idea is something else. There is so much love here and passion for music, it's exciting to hear and witness tonight. Through songs of blues and rock and soul, this is just a pleasurable experience. Their version of 'A Change Is Gonna Come' was outstanding, followed by some Raga Rumba as they coined it was funked up reggae and actually a kick ass sound. What is amazing about this tonight is as each singer takes a lead vocal, they are just so damn good. Right now as one of the ladies from Tel Aviv is singing 'Teach Your Children Well' by Crosby, Stills, Nash and Young and you can hear a pin drop, the entire arena is just transfixed. This is truly amazing.
Now check this out, as they introduce the band, this is how diverse it is, those on stage are from Cuba, Italy, New Jersey, South Africa, California, Congo, Congo, Tel Aviv, Cape Town, Netherlands and New Orleans. As they lead into 'Stand By Me', the song that started it all for Playing For Change and a perfect way to end this inspiring and beautiful set.
Robert Plant is introduced and slowly makes his way to the front of the stage as the opener Tin Pan Valley' starts hauntingly and builds to monster rocker and hearing that voice live is something else and the applause after that opener say it all. 'Not bad for a Saturday…' he says to us, it's Thursday… he realises and with an 'oops' it's straight into 'Another Tribe' which the crowd loved, as he and his band play through these songs effortlessly. The psychedelic rocker cover of Howlin' Wolf's 'Spoonful' is as trippy and sounds like its straight from the Led Zep era, and who are we kidding? Most of the people here tonight are here in the hope that they might get to hear the voice of Led Zep sing the songs they all know. That's not to say that his solo material isn't good, it is, but if he busts an old one out, let's see what happens.
Ha ha no sooner had I just finished typing that here we have 'Black Dog' but this version is slower, bluesier and pretty damned awesome. In fact this song was my introduction to Led Zep back in the day, so this is pretty cool to hear this reinvention this 'little folk song' as he put it tonight. Turning it down a bit further staying on stage with only a mandolin and guitar, they take on 'Going to California' and its magic, receiving the biggest reception so far and deservedly so, that was cool.
At 64 years old, Mr Plant can still sing, so bloody well. It's amazing to hear what comes out of his mouth, it's just insanely good. As you could imagine though, with his new band the Sensational Space Shifters in tow, the music and songs are extremely psychedelic and out there musically, bordering on electronic at times but it works. The drums and tambourines come out for 'The Enchanter' as he introduces the band, the crowd is extremely happy as he rocks out 'What Is and What Should Never Be' from Led Zeppelin 4 which was a nice little treat. 'Heartbreaker' was heavy and allowed the band to groove on it and give us a bit of a jam as he keeps throwing in Led Zep track after Led Zep track and this is so good. Through 'Four Sticks' and as he explains tonight is a game called 'spot the tune' as no show is the same, and knows that some of these versions are a little different tonight. I don't hear one person complaining. At all. The diversity of song choices is so cool too as I wouldn't have expected all the 'hits' anyway, but some of these Led Zep tracks are outstanding.
'Funny in My Mind (I Believe I'm Fixin' to Die)' was great but just hang on a second, I need a moment…  right now I'm listening to Robert Plant sing 'Whole Lotta Love' and well that wins everything for me. That's a tick off the list. I can go now, but I won't… The breakdown is odd as the song takes a turn musically but it suits it so well and that was just amazing. As he thanks us and leaves the stage as the applause and cheers only get louder and louder until thankfully they return to the stage.
"A song written in the misty mountains, under a local anaesthetic, about a dog…" is how the next track is introduced and it's 'Bron Y Aur Stomp' and I'm looking around watching a primarily older crowd now on their feet and loving this as a select few dance around and continue having the time of their lives. Here's another tick off the list 'Rock and Roll' and it is just that tonight. Rock and Roll… and even though it may have been a long time, been a long time, we're all stoked here and by the way the crowd were singing this one, well, they absolutely love it, and the night.
Really, how often do you get to see a legend like this sing live? So, yeah… nothing else to say.
Essential Information
Venue: Sydney Entertainment Centre
Date: March 28, 2013
Website: www.robertplant.com  & www.playingforchange.com
Set List:
Tin Pan Valley
Another Tribe
Friends
Spoonful
Black Dog
Going to California
The Enchanter
What Is and What Should Never Be
Heartbreaker
Four Sticks
Funny in My Mind (I Believe I'm Fixin' to Die)
Whole Lotta Love
Bron Y Aur Stomp
Rock and Roll