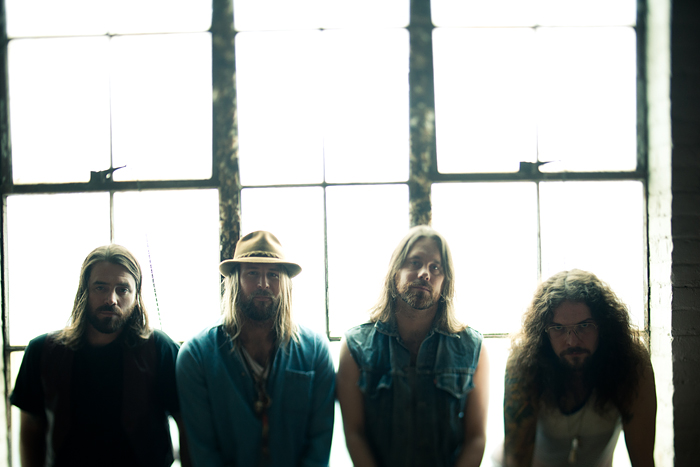 Canada's prodigious sons MONSTER TRUCK have just announced the details of their debut full-length on Dine Alone Records. The album aptly titled FURIOSITY, is scheduled for Australian release on May 24.
Produced by JUNO-nominated Eric Ratz (Billy Talent, Three Days Grace, Cancer Bats) at Vespa Studios in Toronto and Echo Mountain Studios in Asheville, Furiosityshowcases Monster Truck's ability to seamlessly integrate influences from grunge and punk era greats that they love so dearly with alt-sounding, flare-wearing, beard-sportin' vintage rock.
The resulting album remains anchored in grooves, yet propulsive and volcanic, fueled by frontman Jon Harvey's colossal vocal delivery. The crushing first single "Sweet Mountain River" features a highly infectious chorus and can be streamed at Guitar World here.
Monster Truck was formed in 2009 by Jon Harvey (bass, lead vocals), Jeremy Widerman (guitar, vocals), Brandon Bliss (organ, vocals) and Steve Kiely (drums, vocals). The band was initially formed as somewhat of a side project for their other more serious bands (The Reason, Saint Alvia), but their original plans of getting wasted and playing sloppy rock morphed into something new entirely.
The band has released 2 EPs since their inception; a self-titled, and notably self-released EP produced by Gus Van Go & Werner F (The Stills, Priestess, Hollerado) and The Brown EP (also produced by Ratz) on Dine Alone Records.
True to their notorious maxim "Don't F*ck With The Truck", the band steamrolled across their home country, becoming one of the biggest stories in Canadian rock this past year. Just this last two months, the band garnered a 2013 JUNO nomination for "Breakthrough Artist of the Year" and won a 2013 CRMA (Canadian Radio Music Award) in Rock for "Seven Seas Blues".  The band was also hand-picked to open for Slash on his 2012 North American tour, and opened sold-out dates for Deep Purple, Clutch and The Sheepdogs.
"Monster Truck are what you'd imagine an American diner in some backwater town during a three-day wedding would be like." – Australian Inked
"Monster Truck is for those that love their music loud, raw, sweaty, hairy and soaked in beer" – May The Rock Be With You