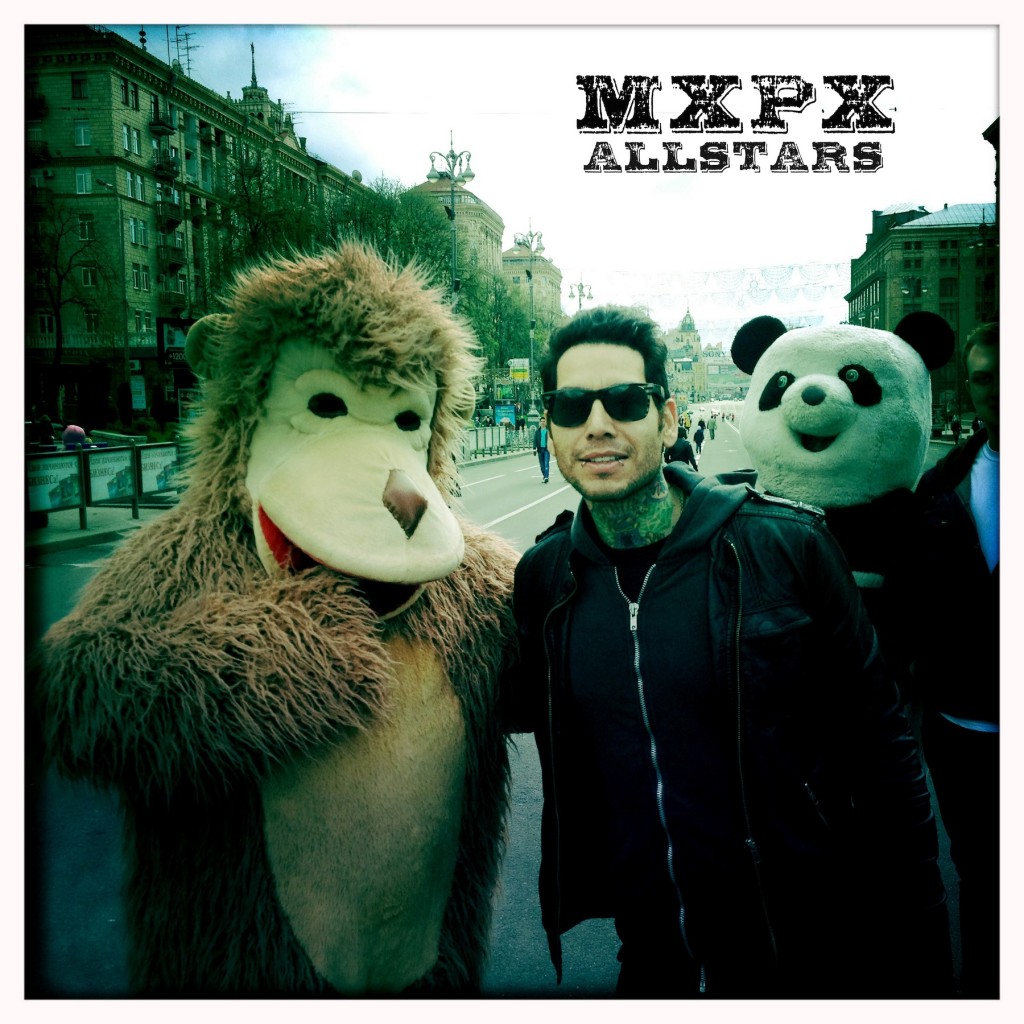 For just over 20 years now, MxPx have been delivering their brand of punk to a fan base that extends to all corners of the globe, none more so than Australia.  This coming week front man Mike Herrera and his MxPx Allstars yet another visit to Australia for a run of headline shows.  Existing for 20 years in music is no easy task and even for a band with the prominence such as MxPx, the realities of the music business as it stands today is that members Tom Wisniewski and Yuri Ruley have scaled back their touring commitments in recent years, balancing fulltime work commitments, with frontman Herrera performing with lineups under the MxPx AllStars moniker.  Joining Herrera on this run of Aussie dates will be his European Allstars, armed with a bunch of new songs from latest release Plans Within Plans and of course that kick ass high energy show for which audiences around the world expect nothing less.
We recently had the opportunity to chat with Mike about the upcoming Aussie tour and the legacy of MxPx…
The association with Australia – obviously it's mutual, you keep coming back and there's obviously the demand to keep coming back, what's your take on the Aussie fans apparent love for the band?
You guys really have a knack for being into rock music, live music and the fans are just really top notch!
I know a common observation from bands similar in style to MxPx is also the strong skate and surf culture down here in Australia, which could also explain part of that association as well?
You know as soon as we started touring over there we immediately had a really symbiotic relationship with the fans as you guys are so into that kind of culture and boarding kind of lifestyle.
One of your visits in the 2000's was for the very first Soundwave, which sure has grown from that first lineup!
It's amazing how really big it's gotten and it makes me proud to have been a part of it, definitely.  And it is one if the best tour Festivals on the world for sure.  It's gotten better and better line ups, which are always great, you're treated really well and hopefully from a fans point of view, hopefully they're having a good time and enjoying the lineups too.
Maybe you guys will get a return invite in the coming couple of years?
I'd definitely love to do it again, I've done it a handful of times and its never too much and like anything you don't just only want to do Festivals.  What if someone only wants to go see your show?  So that's why we're doing this tour right now, just to come down there and do a club tour, which we regularly do all over Europe and the US so why not Australia as well?
So with Tom and Yuri having scaled back on their touring commitments these days, who is heading out to Australia with you for these shows?
Well as you said I've got two different bands because Tom and Yuri have full time jobs so they're just doing the records and maybe the occasional fly out show.  But anything that's longer than a weekend they can't really do.  Which is totally cool, we get along great and they hang out with the other guys I play with – it's a very strange situation, almost like a swingers club in a way (laughs). This time I'm going to have my band from Europe come out, we're doing a European tour straight after, really great amazing musicians who have played in a lot of a different bands, metal bands, punk bands and even some UK 90's rock bands like shugazer kind of stuff, so they certainly have an eclectic taste in music.  They are from a band called Cancer originally and it doesn't translate that well in English, when I mention that band name people are like what, Cancer?  But they actually mean the astrological sign (laughs).
You have obviously built up a pretty strong musical connection then with these guys, to be able to take the AllStars all over the world?
Those guys are awesome, we've been all over the place, Russia, all over Europe, the UK, Scandinavia.  One of the things with MxPx all stars is if I'm going to do this without Tom and Yuri, it's got to be better, I've got to have better musicians and we have to play the songs not just surgically better, but something a little different that kicks things up a notch.  For me, I don't want to disappoint people, so that's my way of being sure it's going to kick a lot of ass and that people will love it.
I guess where MxPx is at in 2013 is a great example for those who think the life of a rockstar is all fame and fortune – no better example than a band such as MxPx and your 20 year history who has to make the tough decisions and balance the need for fulltime work.
You know, yeah it is a tough business these days and music is just a whole new business, if you can call it a business these days.  They always say "if you want to be a musician, then prepare to be hungry".
Looking at your fan base demographic, how has that changed over the years do you feel – have you really noticed that people who grew with the band are still turning up to the shows with maybe even their kids now!
It's been really cool, we just did a run of shows late last year in the US and it was the first official MxPx All Stars tour in the US, because before I was doing it just internationally.  But it went really great, I was a little apprehensive how people would feel about it, but the fans came and they had a great time.  They get to hear the songs they grew up listening to and it's just that shot of nostalgia you've got to get when you go to an older bands show.
It's also obviously an interesting thing for you personally singing songs that would have lyrically reflected how you felt at a certain point in time, some no doubt over 20 years ago – then conversely, you have fans out there that have had these songs as part of their lives for 2 decades…
That's been an interesting tightrope to walk definitely.  You want to give them what they remember, but you also want to give them what you are doing at present and right now what you're excited about.  So I go back and forth and I always pay tribute to those old songs, then I play a new song off the latest album and go "ok, so these lyrics are totally different to the ones I wrote when I was 15yo and the band was just starting out, but they're still positive, lets kick it and do this".
In 2012 you released your first full-length album in five years with Plans Within Plans, it's been out around a year now, how do you feel the fans have responded to this one?
You know every fan will have their own favourite album, whether it be Life In General or Slowly Going The Way Of The Buffalo and some even like Before Everything and After which came out in 2000 and was our most commercial sounding album and one which some fans love the most.  So putting out this new album was like dipping my toes in the water and seeing if people are still interested.  Are people still wanting to listen to MxPx and this style of music?  I think we waited long enough because people were chomping at the bit and they really loved the record, so mission accomplished.
Essential Information
From: USA
Website: www.mxpx.com
Latest release: Plans Within Plans (April, 2012)
Australian Tour Dates:
Wednesday 6th – Brisbane – The Zoo [18+]
Thursday 7th – Sydney – Manning Bar [18+]
Friday 8th – Adelaide – Fowlers Live [18+]
Saturday 9th – Melbourne – Forest Edge Festival
Sunday 10th – Melbourne – Corner Hotel [18+]
Tickets are only $44 + bf available from metropolistouring.com, halomusic.com.au and the venues.