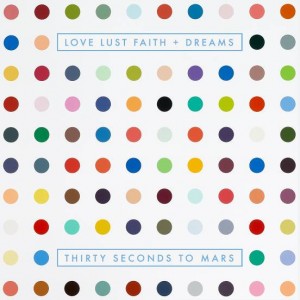 Love Lust Faith + Dreams – THE NEW ALBUM FROM THIRTY SECONDS TO MARS SET FOR MAY 17 RELEASE
New Single "Up In The Air" Premieres Today In Space And On Radio Worldwide
"Up In The Air" Set For Global Release On March 20 As Album Pre-Order Goes Live
 Love Lust Faith + Dreams, the new album from Thirty Seconds To Mars, will be released on May 17. Written and recorded around the world from Europe, to India, to the band's studio in California, LOVE LUST FAITH + DREAMS was produced by Jared Leto with previous collaborator Steve Lillywhite (U2, The Rolling Stones, Peter Gabriel) co-producing four of the twelve tracks. Jared says that "this is more than an evolution, it's a brand new beginning. Creatively, we've gone to an entirely new place, which is exciting, unexpected, and incredibly inspiring."
In partnership with NASA, THIRTY SECONDS TO MARS launched the first single from the new album into space. Literally. The first copy of "Up In The Air" was recently carried aboard the SpaceX cargo mission to the space station. The single gets its ground breaking premiere today from the astronauts in orbit 230 miles above Earth. Thirty Seconds To Mars will be standing by at Mission Control Houston while the track is played and will do a Q&A thereafter with Tom Marshburn, one of the astronauts aboard the space station. Fans have been contributing questions for the chat, which can be seen live today from 12:10 – 12:25 p.m. Central Time at www.vyrt.com and http://www.nasa.gov/ntv.
Annise D. Parker, Mayor of the City of Houston, has proclaimed today Thirty Seconds To Mars Day. City Council Member James G. Rodriguez, District I will present the proclamation to Thirty Seconds To Mars prior to the band's arrival at NASA.
 The single premieres on radio worldwide this morning. "Up In The Air" will be available at all digital retailers on March 20. The iTunes pre-order for Love Lust Faith + Dreams will launch simultaneously. Fans who pre-order the album on iTunes will instantly receive a download of "Up In The Air."
The album cover for Love Lust Faith + Dreams was revealed today on the band's social networks. It features "Isonicotinic Acid Ethyl Ester" (2010 – 2011) from internationally renowned artist Damien Hirst's Spot Paintings series. A second Hirst work, which is from the Colour Charts series, will appear on the CD itself. See below for further details regarding the art.
Love Lust Faith + Dreams is the band's fourth studio record. It follows This Is War, which was hailed as "an artistic triumph" by Alternative Press, "a shimmering epic" by MTV.com, and contained the No. 1 Modern Rock radio hits "This Is War" and "Kings and Queens." During its two-year tour in support of This Is War, the band sold out arenas around the globe, playing over 311 shows in nearly 60 countries on six continents to three million people – and breaking the Guinness World Record® for the longest ever concert tour by a rock band.
Thirty Seconds To Mars – comprising Jared Leto, Shannon Leto and Tomo Milicevic – has sold over five million albums worldwide and the band's videos have more than 300 million views on YouTube. The group has received numerous awards, including a dozen MTV awards worldwide, a Billboard Music award and honors from NME, Kerrang! and Fuse.
Artifact, a documentary about the band's battle with its record label, has won the People's Choice documentary award at the 2012 Toronto International Film Festival, the Audience Award at the 2012 Gotham Independent Film Awards and it was also an official selection of the 2013 SXSW film festival.
Track Listing – Love Lust Faith + Dreams
1. Birth
2. Conquistador           
3. Up In The Air
4. City Of Angels
5. The Race
6. End Of All Days
7. Pyres Of Varanasi
8. Bright Lights
9. Do Or Die
10. Convergence         
11. Northern Lights
12. Depuis Le Début 
Art for Love Lust Faith + Dreams
Appearing on the album cover:
Isonicotinic Acid Ethyl Ester 2010 – 2011
Household gloss on canvas 
99 x 147 in 
Photographed by Prudence Cuming Associates 
© Damien Hirst and Science Ltd. All rights reserved, DACS 2013
Appearing on the disc:
Monochromatic Sectors from Primary, Secondary & Tertiary Colour Ring, Dark Centre 2012
Signwriting paint on canvas 
96 in (2438 mm)