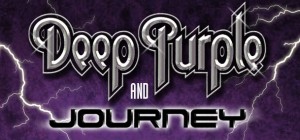 Tonight, a night of old school classic rock with two bands that really are miles apart in terms of style so it will be quite interesting to see how the balance is tonight and not only with the bands but also for the fans that will be here tonight.
I personally am more excited for Journey; I mean I have a 'Dont Stop Believin' tattoo, so that should tell you that straight off the bat. Seeing them once in 2008 in Nashville when then new singer Arnel Pineda was given the huge job of fronting America's darlings Journey, he stepped up and absolutely amazed with what he could do. I won't say too much more but let's see how he holds up tonight. Hopefully though there are some real Journey fans here and not just the ones that want to hear 'that' song, which I'm sure there are plenty of and that's fine, I suppose the same could be said for Deep Purple tonight when you look at it, it could really be the battle of 'Don't Stop Believin' vs 'Smoke On The Water'. Round 1, ding, ding…
Doing their best to warm up the crowd and doing it in the best way by kicking it off with 'Separate Ways' I'm sure we're in for a set of hits tonight and man, seriously if you can't love this kind of music then there's something just not right especially when a song like 'Any Way You Want It' begins. Not only do I feel like I'm in an 80's chewing gum commercial but this song just makes you feel so good inside, this music is infectious and an absolute pleasure to listen to. With 'Ask The Lonely' the band  musically kick it up a notch  with some outstanding guitar work from Neal Schon proving to me at least that this is kind of the musicians band, these are high class players, as Jonathan Cain showcases his talents to round out that jam he then starts a slower one in 'Who's Crying Now' that builds into a monster jam which was superb but to then rock it back up as Jonathan straps on a guitar to belt out 'Only The Young' and this one let's Arnel hit the notes that he was hired to sing, man this guy has a set of pipes on him. It is amazing to watch as he jumps around the stage like a madman, he really is loving what he does and so he should.
Neal Schon is currently playing an amazing guitar solo, unbelievable, this has soul and feeling and is truly rockin' then as he hits the opening chords of 'Stone In Love' they are finally getting some crowd love with this one, I really think these Journey boys are starting to win over these old metal heads. Deen Castronovo on drums takes lead vocals on 'Keep On Runnin' and man, what a voice, unbelievable. Arnel, mate, watch your back ha ha. Returning to the stage with 'Edge of the Blade' but then it's 'Faithfully' that gets the largest cheer yet and rightfully so, what a song it is. When the 'whoa ohs' kick in that's just the clincher for me.
'Lights' gets the phones out and held high making the Entertainment Centre look magical, I always love that kind of interaction, I do miss the old lighter though. Mr Cain takes to the piano for a solo and yeah he's pretty good too ha ha of course, this is a perfect intro to 'Open Arms' now when you talk power ballads, this song has enough power to light a city and if there's one song that Arnel has truly channelled Steve Perry it's this one, that was simply amazing. Playing the title track from their I guess hallmark album which is now over thirty years old in 'Escape' and man, it's aged so well, I really wish people still made mainstream music like this, don't get me wrong, it exists but oh how I wish it was popular is what I'm trying to say, in an age of manufactured music, the world would be a much better place if bands like Journey could reign supreme once again. 'Dead Or Alive' also from Escape gets a run and sounded perfect then followed by another instrumental piece which allows Neal to shine again and leads directly in to 'Wheel In The Sky' and just makes me miss the 80's just that little bit more… this one got a little heavy too which was spectacular.
Of course the one that closes the show and gets them in their feet is THAT song… 'Don't Stop Believin' and how could it not with the exposure it received all over the world a few years back, but to hear it in this live environment and the way people loved it was pretty amazing to see and be a part of, with an entire crowd singing along, yes, I even saw some old rockers bopping along to it and when that happens, you know you've got a winner and a song that is a perfect way to end an unbelievable set of feel good rock and roll.
It's kind of unbelievable to think that this is Journey's first tour to Australia after forty years as a band, let's hope this isn't the last time but if it is, then I couldn't be happier that they got to make it here. This really is a band you must see at least once, mark my words and never stop Believin'
Deep Purple are back in Australia for the first time since 2010 and from the reception simply to the lights dimming this is easily a Purple heavy crowd. Round 2, ding, ding… The curtain drops and the crowd cheers as the band immediately turn up the volume and open with 'Fireball' complete with bass AND organ solo, blending in to 'Into The Fire' this really is a tight band, that's for sure. As Steve Morse now takes care of his first solo for the evening, I must say that I've been a fan of his playing for many years so to hear it live tonight is pretty amazing. As I mentioned earlier, the contrast between these two bands is like chalk and cheese but that's what's interesting about music, when you can check out one band by seeing another, tonight, that's exactly what a lot here are doing as there are 'Journey' fans here and 'Deep Purple' fans, not sure how many would be both. Vocally Ian Gillan has the chops and when you've been singing these songs for this long you'd kind of have it down you'd think, although his gong skills need some work, his tambourine technique is second to none… I can tell though that tonight is going to be a very, very musical night as song after song allows the members of this classic band to showcase their talents and they do it well.
Addressing the audience for the first time to an amazing reception, and as Ian put it, putting an end to the 'jazz' section of the evening; does that mean no more jams? Let's see… This one sounds more like it, this is heavier 'Knocking at Your Back Door' is killer, and the guitar melody here has that essential Deep Purple sound, that gritty late 70's early 80's style rock they're known for, this was my favourite of theirs so far. Time for another guitar solo from Steve Morse… and man, that cat can play; his technique is something out of this world, watching his right hand is just amazing. Belting through more of the same classic Deep Purple tracks that look, to be honest I don't know that well, but hearing them tonight I am starting to dig, sure they're a far departure to my day to day listening material but it's somewhat exciting to hear these songs tonight.
Time for a drum solo, I always love a good drum solo and tonight, thanks to Deep Purple drummer Ian Paice we got one and at 64 years old, wow, he can still hit the skins pretty hard. As the band re-join Ian to jam it out for a bit before they vacate the stage leaving organ player Don Airey there to do his thing and it's fair to say this is the first organ solo I've ever heard at at a live show, ever. I'm not kidding when I say that I think Ian Gillan has spent more time off stage than on due to these lengthy musical interludes but when you have a band that are that good at their craft and instruments then why not let them shine and with 'No One Came' they did just that.
'Perfect Strangers' is interluded by yet another lengthy organ / piano intro including a nice little rendition of 'Waltzing Matilda' and a whacky out there kinda spacy keyboard piece that Ross from FRIENDS would be proud of, but 27 minutes later (give or take a few) when the song finally started this absolutely rocked! Another rocker in 'Space Truckin' is where it's at but now it's time for THAT song, much like Journey had their 'Dont Stop Believin' moment before now it's Deep Purple's time to get the place to its feet with 'Smoke On The Water' and yes… I'm one of them, those that have been waiting for this one song. Never hearing it live before this is a moment, I mean it's the first song anyone ever learns on the guitar, right? It's a classic and I can now say it's something I've seen and was a part of as were the thousands here tonight. I dig this tune, man. The band thanks us all and departs…
Yet, only to return for an encore… well of course they have. Here is 'Hush' and they smashed it out of the park, what a cool version of this track which of course was turned into a jam mid song but I have to say that the organ vs guitar battle was pretty amazing!! That's some talent right there! While Roger Glover gives us a bass solo I'm now looking around at the crowd and watching some of them as they truly get into the songs, there are a few classics here tonight that's for sure and I'm not just talking about the songs. You wouldn't guess what was next now, would you? Ok, you might, it's 'Black Night', and the other 'oh my god I know this song' moment of the set for many. I've always loved this riff and the heaviness of this one and hearing it turned up to 11 tonight was the perfect way to end the set and the night.
So in a night of chalk and cheese, I personally think chalk (Journey) took out the night but it was very close. I feel like Journey wanted to prove something tonight and to make up for their lack of touring here and they sure did that, whereas cheese (Deep Purple) did put on one hell of a show musically and the very 70's style heavily organed songs really are a sound that suits the band and what made them what they are today and as part of rock history.  Overall a really good night of live music regardless of the differing styles from two musically brilliant bands. Now I'm off to buy some Juicy Fruit…
Check out our photos from the Melbourne Journey & Deep Purple gig HERE...
Check out our recent interview with Deen Castronovo HERE…
Essential Information
Venue: Sydney Entertainment Centre
Date: March 2, 2013
Website: www.journeymusic.com , www.deeppurple.com
Journey set list
Separate Ways
Any Way You Want It
Ask The Lonely
Who's Crying Now
Only The Young
Stone In Love
Keep On Runnin'
Edge Of The Blade
Faithfully
Lights
Open Arms
Escape
Dear or Alive
Wheel In The Sky
Don't Stop Believin'
Deep Purple set list
Fireball
Into The Fire
Hard Lovin' Man
Maybe I'm a Leo
Strange Kind of Woman
Knocking at Your Back Door
Contact Lost
Guitar Solo (by Steve Morse)
Wasted Sunsets
The Well-Dressed Guitar
The Mule (with drum solo by Ian Paice)
Lazy
No One Came
Organ Solo (by Don Airey)
Perfect Strangers
Space Truckin'
Smoke on the Water
Green Onions (Booker T. & The MG's cover)
Hush (Billy Joe Royal cover)
Bass Solo (by Roger Glover)
Black Night