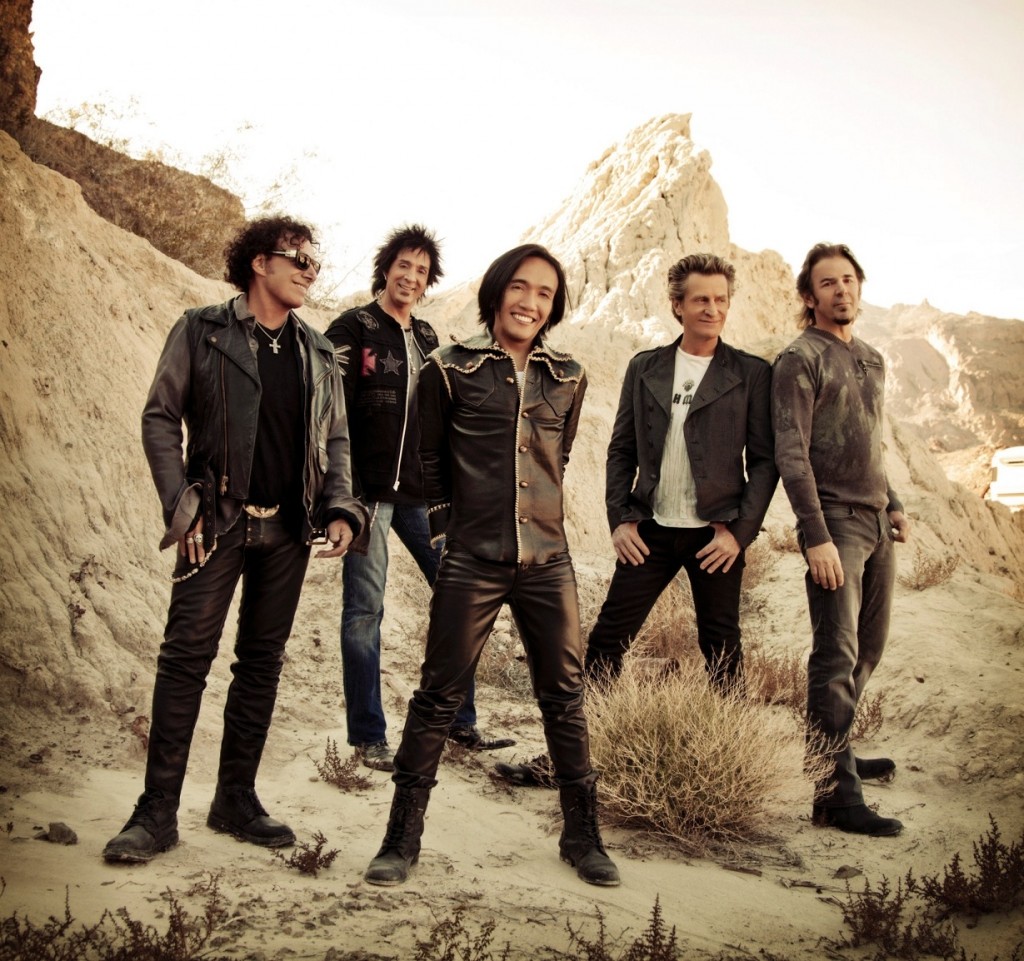 "To write songs for the people and the people can like it, instead of writing something about drugs or chicks, that's not Journey's thing, it was more about beautiful ballads, great rock songs with a cool message for the people, they were a band for the people, still is."
As a band for forty years now, with some of the world's biggest songs you probably know and love with the classics like 'Don't Stop Believin', 'Open Arms', 'Faithfully' and 'Separate Ways (Worlds Apart)', Journey are just one of those bands that are hard to not enjoy listening to. Still making music and still touring now with an amazing line-up including phenomenal vocalist Arnel Pineda who was found on YouTube of all places, they are still one of the best bands out there and amazingly about to tour Australia for the very first time…
We chatted to drummer Deen Castronovo this morning after a huge night for him (read on to see why) all about Journey's first tour to Australia, the band itself, his involvement over the last fifteen years, the moment he met Steve Perry for the first time and more.  Journey is one of our favourite bands here at MTRBWY, so have a read and of course never stop believin'!
I do have to start by saying that Journey is amazingly headed to Australia for the first time ever. I guess the question is, what has taken so long?
Well you know what, back when Journey was in their heyday a couple of guys in the band didn't want to travel over here and a couple of those guys are not in the band anymore *laughs* so we've decided to come over now and it's great, it's very cool. We're excited to be here bro, very excited to be here.
I saw you in 2008 in Nashville and Arnel was an absolute power house and it was an unbelievable show. With him in the band how have you seen the songs take on a new life compared to previous singers like Jeff Scott Soto or Steve Augeri?
The great thing about Arnel is he's got the pipes to make it similar to Perry but he's got his own style as well which is huge, he actually does it his way and it's not so identical you know what I mean and that's what make the fans I think realise that this is the real deal, it's not a karaoke thing, it's not just a guy going up there sounding like Steve Perry to make some cash, he's his own guy and that's huge man, it's huge.
And he's so little and it's so huge…
*laughs* I have to agree, when he joined the band I was like oh he's about half my size, this is awesome!
Journey are quintessentially the all American band and it's hard to find someone over there that don't love the band. What is it about the music of Journey that you think people relate to so much?
You know from my point of view I look at it as a fan, before I was in the band I was a fan and that music just touched me, I don't know why, I was a heavy metal drummer dude, ultra, ultra heavy like Thrash metal and Journey was my guilty pleasure. I just loved the musicianship, the band members were stellar performers, stellar players and great at their instruments and the songs were brilliantly written and that's what it is, they write songs for the people and it's huge. To write songs for the people and the people can like it, instead of writing something about drugs or chicks, that's not Journey's thing, it was more about beautiful ballads, great rock songs with a cool message for the people, they were a band for the people, still is.
Why do you think this never happened internationally?
Like I said, a couple of guys would only go to Japan and not to name names obviously, so they only hit Japan.  They wanted to go to Europe a couple of times but a couple of those guys didn't want to go, they didn't want to work that market, I swear to God dude, so we didn't go. When we joined the band John Baruck our manager said we're going to go everywhere, so this is the first place that we've been invited to come that we've never been.  I was here back in '91 I did a drum clinic here and it was ridiculous, the most beautiful country, I love Perth, Perth is my place, that city is awesome. I spent a lot of time here and I loved it, actually I've gotta tell you now, I just proposed to my fiancé last night at the Sydney Opera House so I'm engaged now, and it was the most beautiful thing ever, was a beautiful night, gorgeous and it's something she'll remember for the rest of her life and so will I, awesome, we're moving here!
In 2007 when 'Don't Stop Believin' became probably the most played song of the year if not ever, how if at all did this inject a new energy into the band that may have been somewhat lacking before?
Well you know what, it brought us a new audience, a younger audience, 'Glee', 'The Sopranos' almost every Adam Sandler movie *laughs* that song kids got it and now their kids kids are getting it and we're seeing three sometimes four generations of fans it's incredible. That song is positive it's got a message and positivity doesn't go away.
Now, I personally have 'Don't Stop Believin' tattooed on my arm, have you had many Journey tattoos surface that you know of?
Oh yeah dude, I have one dude, and you're going to love this, has all of my tattoos on one of his arms, every tattoo that I have on my arms he's got them on, the exact ones.  It's a little freaky, he's also a NYPD police officer, coolest guy ever, we call him super fan Matt. He's awesome.
Playing with both Neal and Jonathan before in Bad English and then Neal in Hardline, how easy was the transition for you to Journey?
Dude I was a big Journey fan, like I was telling you earlier, they were my guilty pleasure, so I knew every Journey song, so when Neal called me and said 'hey we're reforming the band without Perry and Smith has decided to leave, do you want to do it?' and I was like 'YEAH!' I was the obvious choice, because Steve Smith was one of my favouritie drummers number one, I grew up with Steve, he's a good friend of mine so it worked out fantastic and I just slid right in there.  I remember when I got the gig going to Steve Smith's house and going 'OK dude, I need to make sure that I have these songs right because I know the fans will crucify me if I don't.'  So, we ended up sitting down for a couple of hours and working on some of the parts and some of the songs and for the next two hours he was just ripping me a new butt, killing it on the drums and I was like 'I can't do that' *laughs* he's an incredible drummer, just awesome.
So what was your reaction when you were asked to join Journey?
It's funny dude I knew one day for some reason, I knew in my gut of guts I knew someday I would play with this band.  We had the San Francisco connection, I was living there at the time and I knew one day I'd run in to these guys and sure enough I ran into Neal at a rehearsal studio while I was doing some records for Shrapnel records Mike Varney so within two months I went from being in another guys band, to bad English and Neal took me, I mean I followed Neal, Neal took me everywhere he went, I went from Bad English to Paul Rodgers to Hardline, I had my little time with Ozzy and then boom, I've been in Journey fifteen years.
Hey and maybe one day we could hear a Bad English reunion, thoughts?
You know, I would love that, I think the other guys would love that, I don't think John Waite would love that.  He's pretty down on us, he really does not like Journey, he's like 'The whitest music in the world for the whitest people.' I was like 'WOW, brother, careful' *laughs* that was in an interview dude, an interview, it was like wow John, why so bitter? *laughs* but I love John Waite, he's the sweetest guy ever.
Then when you were asked to taking on lead vocals on a few tracks originally, was there ever any worry or uncertainty of actually putting your voice to a Journey song?
Well you know the funny thing was when I was eleven years old I was in a band with guys that were twenty two, twenty three years old and I remember my guitarist bringing over 'Infinity' and like I said I'm eleven, twelve years old, I never really knew who Journey was and they played 'Infinity' and I learned 'La Do Da' and a bunch of these songs, and I ended up singing them as I had a really high voice as I hadn't hit puberty yet, so I could sing all of that stuff and I ended up ever since.  Steve Perry to this day is still one of my favourite singers of all time, always will be, he still is, so for me to even be able to sing a couple of songs for this band is pretty heavy, but as a front man I could never do it, I'd be shaking and I'd be standing in front of the podium shaking *laughs*.
So behind the drums is a safe spot…
Dude that's why I sing behind the drums, exactly, I've got a nice big fortress in front of me that nobody can crack it's a huge big drum set and nobody can get near it, it's awesome.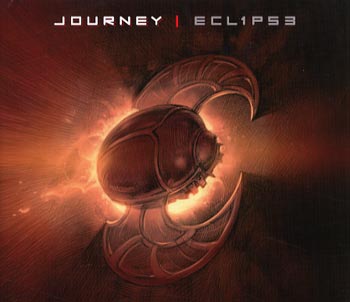 Let's talk about the latest album 'Eclipse' which is great by the way, in this day and age what inspires the songs for Journey?
You know the funny thing was that Neal goes 'Look, we've written the same stuff over and over again, we've always been a pop rock band, let's make this rock, I want to make a rock record' so we're all like alright bro, whatever you want to do, and he wrote a rock record, there aren't many ballads, maybe two, maybe even one I don't even remember. It was a hard record and very dark, a lot different from most Journey records but it came out great and we're very happy, very proud of that record.
Is there talk of when we could expect to hear a new album or is any writing happening?
Well not right now, like I said we're touring bro, we just came here then after the Australia and New Zealand dates we're in Japan and all that stuff then I think we're going to do some stadium shows this Summer with Rascal Flatts of all bands, which is fantastic, great friends of ours and just kind of tour, we're not ready to do a record.  We might, we're not sure yet, we're kinda doing what we do, and that's just touring, we love touring.
As far as defining a career to this point, is there a moment that stands out above everything throughout your career with Journey that you can share with us?
Oh let me see bro, for me honestly, two things, we got a star on the 'Walk of Fame' and of course I had nothing to do with that legacy, I really didn't, obviously I'm just carrying the torch perse. When 'Revelation' went platinum, it was heavy for us because Journey finally did a record without Steve Perry that sold a million or so records and that was a crowning achievement for us, it really was, and Arnel coming in and just taking over like he did was huge, just huge.
I believe Steve Perry turned up to the ceremony too for the star on the 'Walk of Fame' was that the first time you'd met him?
Yes sir, the first time ever. I walked around the corner and there he was and I was in shock, seriously, because I'm a fan dude. I'm sure he looked at me and thought, poor kid, look at him shaking *laughs* and I went up and shook his and he was like 'Nice to meet you' and that was it, but I was still 'Oh my God, Steve Perry's here, oh my freaking God' because we didn't think he was going to come, he came and it wouldn't have been the same without him. He was the voice, I don't care what anyone says, those three guys are the reason that band was huge, Neal, Jonathan and Steve Perry, simple as that.
So how have you personally seen the band grow over your time with them?
Well obviously the chemistry is amazing with all five of us, that's huge and that's probably the biggest thing, and we're brothers, they're more a family than my own family they really are. Like I said, last night, I got engaged and we had a huge party right at the Opera House, it was just incredible, we're very close, we're very tight and we've got each other's backs, when there's an issue we all can talk about it, with other bands people travel away from each other, one person will take a private jet, one will take the bus, different hotels, we don't do that. We're friends, that's what makes it great!
Lastly, do you have a message for your Australian fans who have been waiting so long to see you?
Yes, I'll tell you what, we are so honoured to be in this country and we're thankful that Chuggie brought us, we're so grateful  that Chuggie gave us a chance to come over here and do this tour and we can't wait for the fans to see us play. They're going to see the energy and the love that we have for our fans. The set hopefully will light a spark and we can come back every other year dude, because I love it here, I've got grab a koala or something, my fiancé wants to hold a koala so bad, so we love it here and we can't wait to play for you people, we cannot wait, it's gonna be awesome.
Well we're really looking forward to seeing you, like I said in 2008 it was amazing, so I can't wait for this run.
Well you know and we've grown and improved since then, we only get better, that's the cool part we just get better as a band, thank you for having us bro and thank you for talking to me, appreciate it.
Essential Information
From:    San Francisco, CA, Nashville, TN, Manila, Philippines
Band members:  Neal Schon (guitars, vocals), Jonathan Cain (keyboards, vocals), Ross Valory (bass, vocals), Deen Castronovo (drums, percussion, vocals), Arnel Pineda (lead vocals)
Website:  http://www.journeymusic.com
Latest release: Eclipse (Out Now – Frontiers Records)
Catch Journey on tour for the first time in Australia, along with Deep Purple on the following dates:
You can WIN tickets to see Journey in Australia HERE
Tuesday, 26 February, 2013   www.ticketek.com.au or 132 849
Brisbane Entertainment Centre
Friday, 1 March, 2013             www.ticketek.com.au or 132 849
Rod Laver Arena, Melbourne
Saturday, 2 March, 2013         www.ticketmaster.com.au or 136 100
Sydney Entertainment Centre
Monday, 4 March, 2013           www.ticketek.com.au or 132 849
Adelaide Entertainment Centre
Thursday, 7 March, 2013         www.ticketek.com.au or 132 849
Perth Arena