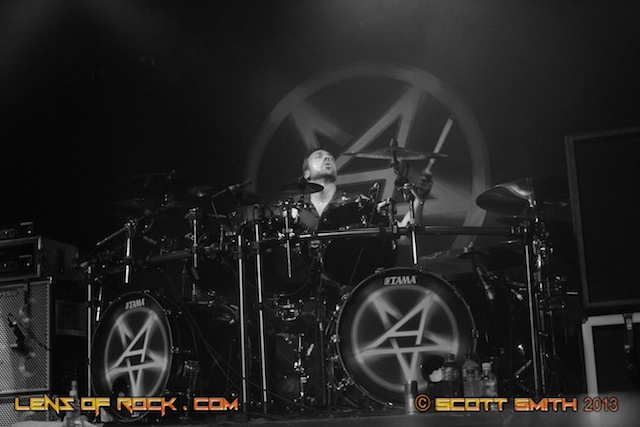 "It's been great man, it seems like it would be a little more challenging *laughs* which it is, but it's a welcome challenge and I'm just taking care of myself out here, not having as many beers as I probably would like to have *laughs* but it's been going great, the shows have been going amazing and everybody seems really happy with the way things are turning out."
He has played with Slayer, Testament and has been around the traps for years, and just recently Australia got a double dose of Jon Dette as he became the unofficial busiest man at Soundwave 2013 as you'll read below, but drummer extraordinaire gave us the lowdown on playing with both Anthrax and Slayer on this Australian run and how that all came about, as well as just being a fan of the bands he is currently playing for. An absolute gentleman to talk to!
Mate, you're pretty much the busiest man at Soundwave, correct?
*laughs* it appears that way…
How are you coping pulling double duty for both Anthrax and Slayer?
It's been great man, it seems like it would be a little more challenging *laughs* which it is, but it's a welcome challenge and I'm just taking care of myself out here, not having as many beers as I probably would like to have *laughs* but it's been going great, the shows have been going amazing and everybody seems really happy with the way things are turning out.
So who did you get the call from first to come to play down here in Australia?
Well originally it was Anthrax which I knew a few weeks ago that I was going to be coming with them because Charlie was still dealing with some stuff back home, so yeah I was coming on board with Anthrax, then I got the call from Slayer, God, Kerry called me literally, I mean it was so last minute, I think it was four days before we were actually leaving for Australia, so whatever had gone on with them and Dave obviously had come to a head and that's when they gave me a call. I'm happy to do it so that the fans could at least see Slayer play as well.
Were you upset when you didn't get the call for Blink 182?
*laughs* well what makes you think I didn't? No, I'm kidding *laughs* no, two is my limit, that's all about probably all I could physically tackle at this point, you know?  Plus logistically, there are just so many stages at Soundwave and to actually be in one area at one time and one area at another time the bands are playing close together then you could actually run in to problems if you had to do that.  Fortunately Anthrax and Slayer, well now as the shows go forward will both be on the same stage, the first two shows they had stages set up side by side so that made it not only easy for me but we had to think about the crew and do we have to get a second drum set or whatnot and so that made things very convenient that the stages were next to each other.
You've played with Slayer before back in 1996 but how was it stepping back in after so long away?
You know, it's all happened so suddenly but it feels like riding a bike, I mean from the moment we started playing again it felt great and it's been an amazing time out here, hanging out with the guys has been great, the crew has been great, everybody just really seems happy under the circumstances on how things are going right now and I'm just having a great time.
I do have to ask, but with the issues in Slayer with Dave Lombardo at the moment, do you know what your status is with the band at the moment?
Well I mean I can't comment on what's going on with them and Dave, it just wouldn't be appropriate for me to do that, but all I can say is that as a fan I love Dave's style and his playing and he's certainly an integral part of Slayer, and I hope that they can work their issues out.  That's really all I can say about that.
That's no offence to you of course…
No, No, none taken. I'm a Slayer fan first and I totally understand that Lombardo is an integral part of Slayer.
I watched both sets at Soundwave in Sydney and thought you were absolutely killer. Have you been a fan of both bands for some time?
Oh yeah, in fact the first day I started playing a drum set it was on my fourteenth birthday and I also got the Anthrax 'A Fistful Of Metal' record which had come out three months before that and literally the first song I ever tried playing on a drum set was 'Metal Thrashing Mad', so when I first started playing drums, the first three bands I immediately gravitated towards were Anthrax, Metallica and Slayer. The great thing for me too is that back in 1984 again when I started playing drums, all those bands literally came on to the scene at the same time, so I gravitated towards that and my style started developing from those bands in particular.
Did you ever make it out to any of the Big 4 shows?  That would've been a dream for you wouldn't it?
*laughs* I have not seen any of the Big 4 shows, honestly I think there's only been two Big 4 shows in the States, there was one on the west coast that was close to me but I think I was out of the country when that was going on. I want to say I was in japan when they were doing that, so I have not seen any of the Big 4 shows yet, but I get to see the Big 3 right now *laughs* and the only thing for me that sucks about that is I'm looking at the back of people's heads for two of those bands now. I'm too busy now, I have to look at the back of their heads, I can't enjoy the show.
But, have you had a chance to see Metallica yet?
I saw a little bit of Metallica in Sydney but hopefully I'm hopefully going to really get a chance to watch them on Friday, because our flight schedules going from one city to another, I've literally, the first day I got off stage with Slayer I had about thirty minutes in a dressing room and then I had to go catch a flight and I was literally leaving the venue thirty minutes after I got off stage. Sydney I had a little bit of time to watch Metallica, but the same thing, the way that we're travelling right now sometimes they're getting us out of there before the concert's over, but I believe Friday I'll have time to check them out.
Now, how did you go on Monday night here in Sydney when you had double duty playing both an Anthrax and Slayer set on the same night?
You know, I just did it. I tried not to think about it too much, I just made sure I had a lot of supplements, there's a like a pre workout drink I was taking about thirty minutes before I went on stage and then this electrolyte drink that I would drink while I was on stage and again, I made sure I got enough rest the night before and just eating properly, not really abusing my body, not drinking a lot or stuff like that and I just did it. I've got to be honest with you, I was pretty toasted about three quarters through the Slayer set but it was a great night, it was a welcome challenge and it seemed like everybody enjoyed it.
Do you have a favourite song to play?
Well, with Anthrax, my favourite song to play live is 'Deathrider' just because it's a fast drum song, there's a lot of double bass in it but also its just one of my favourite songs, it was just literally one of the first songs that I heard when I listened to Anthrax, it's the first song on the first album and when I heard that double bass for the first time, I mean that's literally the song I went 'Whoa, I want to sound like that' so, now the fact that I'm actually playing it with the band live is awesome.  As far as Slayer goes, there's so many favourite songs *laughs* but the one that I think stands out for the most for me right now, it's actually two songs that are back to back together, 'Alter of Sacrifice', 'Jesus Saves' yeah, that's like the fun part of the set for me.
What's it like for you playing a festival like this in Australia in front of so many people?
Oh it's great, I've done a lot of festivals before and I always love the festival experience, some people don't like it if they're playing the daytime, but that doesn't bother me at all, I love it. I will say the Australian fans are amazing, just the other day in Sydney in the Anthrax set, the 'War Dance' mosh pit that they did was just insane, it was amazing, I thought somebody was going to get injured *laughs* as it just kept getting bigger and bigger.  It was incredible and I love seeing that because I have this really good view from the stage of watching that and I can not only see that and I look over at Scott and I see the smile on his face and I'm looking over at Joey and Frankie and seeing the smile on their faces, it's like they're getting in to it even more that they're seeing that.  So yeah, Australian fans are great.
You're also known for playing with Animetal USA and released an album last year. How is that going?
It's going good actually, we just did some touring last year in Japan to support that record and you know, up until recently it's been focussed just in Japan, so we're actually going to be doing another record towards the summer and they're actually going to try and see about getting this outside of Japan now, so we'll see what happens. It's a fun project, I love doing it, I love jamming with Rudy Sarzo and Mike Vescera and Chris Impellitteri, they're all great guys and great musicians and it's just this fun little project we've got going on.
It's an interesting concept…
Absolutely, it's completely based on Japanese animation and so that's where the costumes and the make-up come in to play, but like I said the Japanese fans they love it and they truly enjoy the way that we're playing their songs and it's a great experience.
You replaced Scott Travis in that one…
I did, Scott got busy with Judas Priest and so Mike gave me a call and asked if I would be in to doing it and I said 'This sounds like fun' I mean as kids we all talked about it at some point or another dressing up as KISS and now we get to dress up and make music and do it for a living so to speak.
Are you happy that you seem to get bumped around from band to band, do you ever just want to have a home?
*laughs* gee I've never heard that before… *laughs* Um, yeah, it's been crazy, back in the Nineties when I was in Testament, then I was in Slayer and I was back in Testament, I joined those bands as a full member and a lot of people think that I was just a touring drummer, it just worked out I'd joined the band after they had recorded a record so they were in a touring cycle. So, I mean it's just kind of the way it went for me back then, I joined Testament right after they recorded 'Low' and then I got asked to join Slayer right after they recorded 'Undisputed Attitude' and then got asked to join Testament again after the Slayer thing right after they recorded 'Demonis'. So yeah I was really hoping that I was going to do that Slayer record that was the 'Diabolus in Musica' record, we had actually worked on about eight tracks for that record at the time and that's when they decided to bring Paul back in to the band.  With the Testament stuff it was just full tour mode, so yeah, I'm looking for a home, it would be nice to actually have a home somewhere, so I'm just looking forward to seeing what the future brings now.
So what does the rest of the year have in store for you when you head back to the States?
Well, we're trying to work out the dates with Anthrax right now, Anthrax has a US tour coming up at the end of March and through April called 'The Metal Alliance Tour' so there's going to be some dates that Charlie cannot make on that run, so I will actually be doing some of those dates on The Metal Alliance Tour.  It's actually pretty cool, it's Anthrax is actually going to be playing the entire 'Among The Living' record in its entirety and that's with Exodus as well, so that'll be a fun tour. As I said, I can't tell you what's going on with Slayer, I honestly don't know, I know that they also have some touring plans coming up, I'll stay as a fan, I hope that they can resolve their issue with Dave but if they can't then we'll see what happens and I guess that's all I can say about that at this time.
Well they've got your number I suppose, yeah?
*laughs* oh you know, email, text, so many ways to contact people these days. As I said, Animetal USA will be recording a record at some point during the Summer.
So there's no downtime, you're in fact pretty busy…
Yeah, things have actually started to get really busy for me now, but again, it's a great thing, I'm doing it all with a smile on my face.
Essential Information
From: USA
Playing currently with:  Anthrax, Slayer, Animetal USA
Website:  http://www.jondette.com