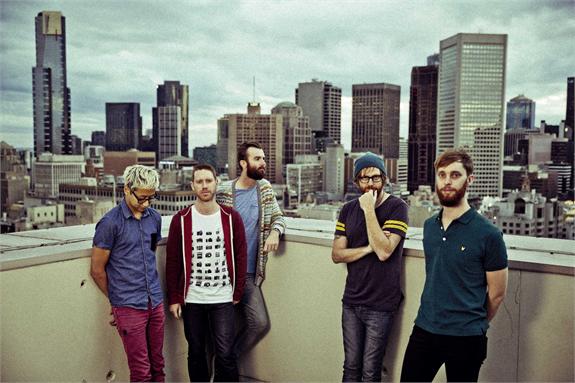 "The whole idea of this record is like a very communal based thing like engaging people as listeners and it's a record for a listener rather than a record for musicians or about a singer in the band or the band itself.  The idea of being able to read it as a headline sort of connected the community to the record if that makes sense?"
From press release: Over the course of their first two studio albums (2007?s "Day One" and 2008?s "Universes") Birds of Tokyo carved out a niche for guitar driven anthems. Lots of touring around Australia gradually turned them into indie chart toppers. Their eponymous third release in 2010 shifted things up a gear with double platinum certifications and hit singles "Plans" and "Wild At Heart". They received songwriting awards from APRA, had their work voted "Rock Album Of The Year" by their peers and then capped it all off by winning the publicly voted gong as "Most Popular Australian Artist" at the 2011 ARIA Awards. Not surprisingly their heads were swimming. But rather than milk a formula they decided to throw themselves into new ways of being a band.  Burnt it down.  Started again. The result is 'March Fires'.  The album's title directly reflects its phoenix-like conception plus in the northern hemisphere the March fires are typically a natural source of renewal each spring.
We had a chat with bass player Ian Berney about being the new 'Bird' as well as the new era of the band along with talking about their new album 'March Fires' and all about touring and what the future holds, well sort of…
Firstly, welcome to the band!
Thank you very much, it's been two years now…
Yes, but still the new guys…
Still the new guys *laughs*
This is your first Birds of Tokyo full length album you've played on, how was the experience of recording with the band for 'March Fires'?
It was amazing really, it was a whole different level for me, the only records I'd ever made before were in Perth where I'd grew up and it was whatever budget we could pull together and get the local guy who knew how to work pro-tools and do that. This time it was just like we had a producer and an engineer and people running around buying coffees for us, or lunch so it was just awesome the facilities as we did it all over in LA, it was just something else.
Tell us about the recording of the album, seems it was a little unconventional compared to the normal 'routine' of the past releases?
Yeah well I think first of all we used 'Ocean Waves' studio in Hollywood and that was a serious recording studio, like when we walked in it was just placards and platinum records all over the walls, from TOOL to Radiohead to Pink Floyd to Enrique Iglesias and No Doubt, just massive acts like Green Day and stuff like that so immediately we went 'Whoa, what are we doing here?' *laughs* and then we started using the room, just the drum sounds we were pulling from this incredible room were just insane, so they pulled out all the stops to capture the right drum sounds. After that we moved to a much more affordable studio to do the rest of the record. We were these for about four months, we tracked for I'd say three of it and then we mixed it as well which was really just us going in at the end of the day and having a listen to Tony Hoffer's work telling him if it needed any tweaks or anything like that.
Was the 'This Fire' EP recording treated any differently compared to the album?
No it was the same sessions, 'This Fire' is also featured on the record, but they were all worked together in the same format, so yeah the two extra tracks on there because I think the song 'Boy' is also going to be on 'March Fires', the two other songs on there just didn't feel right as far as a continuity that we have on March Fires but we still felt like they were strong enough to release, so we ended up pulling together and EP rather than just doing a single.
Now, is there a story behind the name of the album you can share with us?
'March Fires', it's like a feeling you get, originally it was 'The March Fires' which sounds like something you might read as a headline in the newspaper and that was kind of like the feeling we were trying to get.  The whole idea of this record is like a very communal based thing like engaging people as listeners and it's a record for a listener rather than a record for musicians or about a singer in the band or the band itself.  The idea of being able to read it as a headline sort of connected the community to the record if that makes sense?  March also comes after the pretty strong theme in 'Lanterns' as the chorus, about marching on with lanterns on and Fire is also quite a strong metaphor for the chaotic world we're living in which is pretty much what 'This Fire' is about.
AND it's released in March…
And it's released in March which is quite cool, I don't know how we timed that so well but it just seemed to work out quite well *laughs*
It also seems this 'change' was a needed thing within the band, a re-birth I believe has been used as a term, why did the guys feel something needed to be shook up?
I'm not sure what the theory was there, maybe there was insecurity about the image or the perception of Birds of Tokyo that they weren't comfortable with so they just felt like a complete rebranding had to kind of happen, I'm not sure… they were a young naïve band when they came out and they did it all independently and they did very well but I think they're in a position now, especially with the success of the last record that these simple matters of image and personality and style needs to just be really refined correctly if we're going to try and be a successful careerist kind of band you know? So I guess from that viewpoint there just needed to be a lot more focus on the image of the band and because we felt like the music was shifting and also felt like it was going up a gear in the way of maturity, so it felt like the artwork and the imagery really needed to follow.
How hard was it to step in to an already established band with the success they have already had, were there any doubts or insecurities around it?
Yeah to be honest I suppose at first I was quite flabbergasted as to why I was invited in to the band? I thought I was an OK bass player, I didn't think I'd be worthy of a band that would be willing to put me on a wage, so I was humbled by that. When we started writing music together I noticed the dynamic of the band is quite rigid already, so for me finding a space in this new set up was going to be a bit of a challenge, so yeah I guess it's been a while. It was a good year and a half of me not feeling so confident, but these days it feels like it's changed, I feel excited about things, I feel confident to express opinions, I'm looking forward to the next record starting with all the chemistry and the understanding of all the nuances that works in Birds of Tokyo, you know?
So it's fair to say you've found your footing now within the band?
Yeah, definitely, ever since the record was finished I've felt really good.
You're about to start a tour in support of the new album, what can people expect should they come and see a Birds of Tokyo show?
It's gone up all kinds of levels *laughs* we've spent hours and days pulling together a visualisation effect for every song, we were massively inspired by Radiohead's tour when they came by and they just seemed to turn every song into this amazing event, like a thematic colour to every song that changed from track to track and we just thought it was so elegant the way they did it. Also instead of trying to bleed into songs and making the whole set as one big song it was like stop, start, stop, start and to make every song an event was just really cool, so we've kind of taken that approach to the visual side of things. We're forking out a lot more money this time for like a bigger kind of lighting show and visually these shows are just kind of next level for us and we're excited as hell to see how they go.
You played Homebake in December and showcased some new material which was great and the highlight of my day, how was that show for you?
I loved it, I had a real blast, we just played the Annandale the night before and that was just dirty sweaty rock pub lovery which I really enjoyed and we were still high off that so we just kept that momentum for the Homebake show.
How was the reaction for you of the new material? It's always a bit daunting when you play new songs for people, but for me it seemed that the crowd loved it, was that the success of the last album that they just really want to hear more?
I don't know what it is, man… sometimes I think they just love Kenny *laughs* if you ever got to know Kenny he's a very likable guy, he's a popular dude and he sounds great when he sings, he's never off key or anything like that and I think Australians love that about him. *laughs*
So, do you have a favourite song to play live yet?
At the moment I'm loving 'The Others' and this is specifically just off 'March Fires', there's another called 'When The Night Falls Quiet', those two I've been really enjoying and we've been adding a lot of stuff to the set and we're also adding a lot of older stuff from Day one.
How did it feel when a song like 'This Fire' took off and now 'Lanterns' seems to be following very quickly in its footsteps?
I don't know man, it's all just kind of whatever for me to be honest, I should really be jumping up and down and doing back flips and things like that, but I'm just kind of stoked *laughs*, it's all just feeling great, I didn't expect any of this and every time something wonderful happens or someone says it's selling really well, or we're going to do an International tour or something like that, it's just like 'OK… wow…' I don't know what to do *laughs*
Are you heading internationally with this?
Well we're hoping to, there's nothing I can officially report but we're definitely looking outside the waters.
After this run of shows, what does the rest of 2013 have in store for you?
I think we've got a couple more festivals, we're going to do things that involve stuff that I can't really tell you about, yet, I guess we'll be hoping for more summery fun time festival stuff as well, but all that's still in the works.
Essential Information
From: Perth, Australia
Band members:  Ian Kenny – vocals, Adam Spark – guitars,  Adam Weston – drums, Glenn Sarangapany – keyboards, Ian Berney – bass
Website:  http://www.birdsoftokyo.com
Latest release: March Fires (Out Today, March 1 – EMI Music Australia)
Check out Birds of Tokyo on their 'March Fires Tour'
Friday 1st March: Kay St, Traralgon
Oztix – www.oztix.com.au / 1300 762 545
Moshtix – www.moshtix.com.au / 1300 (GET TIX) 438 849
Venue – 03 5176 0463
Saturday 2nd March: The Forum, Melbourne
Ticketmaster – www.ticketmaster.com.au / 136 100
Sunday 3rd March: The Forum, Melbourne
Ticketmaster – www.ticketmaster.com.au / 136 100
Tuesday 5th March: HQ, Adelaide
Moshtix – www.moshtix.com.au / 1300 (GET TIX) 438 849
Venuetix – www.venuetix.com.au /  08 8225 8888
Oztix – www.oztix.com.au / 1300 762 545
Thursday 7th March:  Prince of Wales, Bunbury
Heatseeker – www.heatseeker.com.au
Moshtix – www.moshtix.com.au / 1300 (GET TIX) 438 849
Friday 8th March: Fremantle Arts Centre
Heatseeker – www.heatseeker.com.au
Sunday 10th March: Breath Of Life Festival, Launceston
www.breathoflifefestival.com
Tuesday 12th March: UC Refectory, Canberra 
Ticketek – www.ticketek.com.au / 132 849
Oztix – www.oztix.com.au / 1300 762 545
Wednesday 13th March: Waves, Wollongong
Moshtix – www.moshtix.com.au / 1300 (GET TIX) 438 849
Oztix – www.oztix.com.au / 1300 762 545
Friday 15th March: Panthers, Newcastle
Moshtix: www.moshtix.com.au / 1300 (GET TIX) 438 849
Oztix – www.oztix.com.au / 1300 762 545
Saturday 16th March: Enmore Theatre, Sydney
Ticketek – www.ticketek.com.au / 132 849
Sunday 17th March: Enmore Theatre, Sydney
Ticketek – www.ticketek.com.au / 132 849
Tuesday 19th March: Laurieton United Services, Laurieton
Oztix – www.oztix.com.au / 1300 762 545
Venue – 02 6559 9110
Wednesday 20th March: Plantation Hotel, Coffs Harbour
Venue – www.plantationhotel.com.au / 02 6652 3855
Oztix – www.oztix.com.au / 1300 762 545
Park Beach Music – 02 6652 3725
Thursday 21st March: The Tivoli, Brisbane
Ticketek – www.ticketek.com.au / 132 849
Oztix – www.oztix.com.au / 1300 762 545
   
Friday 22nd March: The Tivoli, Brisbane
Ticketek – www.ticketek.com.au / 132 849
Oztix – www.oztix.com.au / 1300 762 545
   
Saturday 23rd March: Coolangatta Hotel, Gold Coast
Oztix – www.oztix.com.au / 1300 762 54